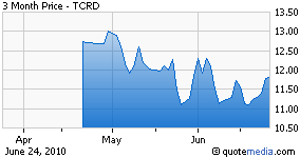 The most recently minted Business Development Company (BDC), THL Credit (NASDAQ:TCRD), announced its second investment since the April 2010 initial public offering. Today's deal was unusually secretive, as the quote from the press release below shows, but at least we know that the transaction involved was a recapitalization rather than a buy-out. (The number of true Leveraged Buy Outs going on in this unsettled marketplace is still relatively low, but that's another subject altogether.)
[THL Credit] announced that it participated in a recapitalization of a leading Midwest-based industrial products company sponsored by a West Coast-based private equity firm. At the request of the company and its sponsor, the terms of the recapitalization and the identities of the parties involved remain confidential.

Hunter Stropp, Co-President of THL Credit, commented, "We are continuing to build a high-quality investment portfolio comprised of growth-oriented middle market companies with strong management teams."

Kunal Soni, Managing Director of THL Credit Advisors LLC, added, "Our investment in the company is part of that effort and demonstrates our commitment to becoming a long-term strategic and financial partner of choice for companies with proven performance in attractive industries."
Earlier in the month, THL Credit announced its participation in the recapitalization of HealthcareFirst Holding Company led by The Riverside Company. HealthcareFirst, operating through its subsidiaries HealthcareFirst and Lewis Computer Services, provides computer software products and related services to home healthcare and hospice agencies across the United States, including solutions such as agency management software, point-of-care applications and billing services. Again, no transaction details were provided.
The BDC Reporter is just initiating coverage of THL Credit. Here's what the newbie BDC says about itself:
THL Credit provides junior capital to private and public middle market companies that operate in a variety of industries. We target companies that require capital for growth, acquisition, recapitalization and for change of control with revenues between $25 million and $500 million. We invest primarily in privately negotiated subordinated debt securities, which in many cases includes an associated equity component such as warrants. Our investment objective is to generate both current income and capital appreciation from these investments.

Our principals have, on average, over 23 years of investing experience and have been responsible for over $40 billion of investments in credit and equity securities. The team has worked together extensively in the past and have invested through multiple business and credit cycles, investing across the entire capital structure.

With its headquarters in Boston, THL Credit also has offices in Houston and Los Angeles allowing us to be close to both our portfolio companies and origination sources. Over the years, THL Credit has developed deep and diverse national origination relationships that we leverage to maximize investment opportunities.
What the press releases and even some of the IPO related prospectuses are very coy about relaying (for reasons that are completely unclear to us) is that the new BDC is a public offshoot of Thomas H Lee Partners, which in its own words is "one of the oldest and most successful private equity firms in the United States." The firm has a stellar record, and hundreds of buy-out and add-on transactions to its credit since 1974.
THL Credit came about by absorbing THL Credit Opportunities Fund (which we will call "Credit Opportunities"), a private partnership investing principally in mezzanine and equity. The new public company bought 5 of the 7 deals on Credit Opportunities books, and the private partnership also invested in the new company. The managers of Credit Opportunities have become-through an external advisory firm-the managers of TCRD as well.
Speaking of the managers, their background is less on the sponsor side and more on the lending side of the LBO business, having managed AIG (NYSE:AIG) and SunAmerica debt portfolios before joining the Thomas Lee universe three years ago. We're not yet convinced that the Thomas Lee affiliation will help materially in deal identification as the relatively small size of the BDC will keep them lending in the lower end of the middle market, while the sponsor business of the parent is in companies substantially larger.
Anyway, with these two deals booked, plus the $62 million of assets purchased from Credit Opportunities, TCRD is beginning to build its portfolio. Just after closing the company had $250 million in assets, of which $190 million was cash. If we assume each of the new deals was around $12 million, total investment assets may be under $90 million, so TCRD is only one-third of the way to using up its initial capital. We may be getting a dividend announcement after the first full quarter of operations (based on the Prospectus), which would be the calendar third quarter. It's unlikely to be anything very material with so much cash and only 7 investments but Rome was not built in a day, and investors may take comfort that the company has a fresh portfolio being constructed, all booked since the IVQ of 2008.
We're not impressed by the level of public disclosure by TCRD, but it's not unusual given the new company's affiliation with a private equity sponsor, an industry which is very sparing with information. Just look at the company's website, which is very spare. Two press releases, no presentations, no mention of any of the portfolio companies, and no reference to the IPO. Then there's minimalist approach to providing information about the two deals booked to date (rank and serial number only). We can only hope that after a few quarters in the public eye, TCRD will loosen up.
Disclosure: No positions