The Chinese New Year has only just started, and already trade tensions are ratcheting up. The strength of China's yuan gave the world the confidence to end the peg, and acted as a cushion against the global financial crisis and European debt worries.
China's yuan soared at 6.7980, its highest level against the US dollar since its July 2005 revaluation, after the central bank signaled it would allow the yuan to continue its rise.
Revaluation or Revolution?
The yuan policy change signaled that the Chinese economy "the world's third-biggest economy" is on more solid footing. China has been under intense global pressure, especially from the US, to introduce more flexibility between the yuan and the dollar in order to encourage the cash-rich Chinese to buy more from the heavily indebted west.
Click charts below to enlarge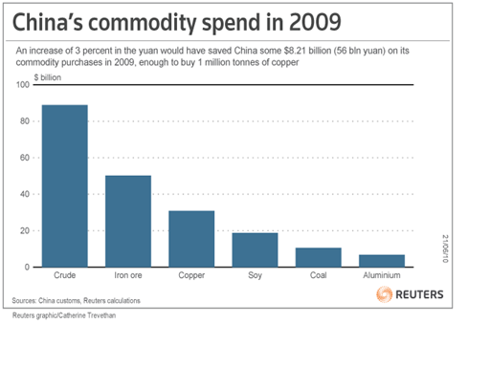 Needless to say, a stronger yuan would allow China to lower the cost of its imports, particularly commodities. Even a small rise in the yuan could shave billions off the cost while raising the volume of China's commodity purchases. China's economy is still in a cycle towards overheating. China's inflation accelerated in May to 3.1%, the quickest pace in 19 months, highlighting overheating risks in the fastest growing major economy. Inflationary pressures may convince China to allow its currency to appreciate. A stronger yuan is in China's best interest, as it will help the country to satisfy its appetite for resources.
Appreciation of the yuan should benefit China's importers of bulk commodities like soybeans, cotton, copper and various mining products, including iron ore and other metal ores, as these commodities, priced in the dollar, will be cheaper. The appreciation will support commodities prices in dollar terms in global markets, as China will be able to accept higher prices in the dollar terms.
Below are some likely winners and losers from any yuan appreciation.
Foreign resource companies - They stand to benefit on hopes that China's move will increase their resource imports.

Foreign heavy machinery makers - The US sells billions of dollars worth of machinery and products to China each year.

Foreign automakers - Foreign automakers that sell cars in the world's largest vehicle market, should also gain.
US companies - US companies such as General Electric (NYSE:GE) and Procter & Gamble (NYSE:PG) are likely to make currency exchange gains when their China profits are converted into US dollars.

Chinese airlines - China's three top carriers, Air China (OTCPK:AIRYY), China Eastern Airlines (NYSE:CEA) and China Southern (NYSE:ZNH), which borrow in foreign currencies to pay for aircraft but generate revenue in yuan, could benefit the most. Airlines also use dollars to buy fuel.

Foreign luxury firms - A firmer yuan would likely boost other Asian currencies, as a strong yuan is seen by investors as a pledge of confidence for Asia's growth. That should help luxury goods makers, whose imported products will be cheaper across the region, just as more Asians benefit from increased wealth.
Foreign retailers- Companies that signed earlier memorandum of understanding for projects to build would have to spend more in US dollars to fund investments.

Chinese commodity firms – Companies with dollar-linked prices for their output but with their costs in yuan would find their revenues falling while their costs remain steady, if yuan strengthens.
G-20 Impact
The yuan climbed on Friday to its highest since its July 2005 revaluation, after the central bank set the daily reference rate at a post-revaluation high, in an apparent goodwill gesture ahead of the G20 summit. Weekly volatility in the spot yuan rate versus the dollar hit its highest since mid-2008, when China repegged the yuan to the dollar to help ease the impact of the global financial crisis on its economy.

China, the world's biggest soybean importer, increased purchases in the past two weeks to between 17 and 25 cargoes, or as much as 1.5 million metric tons, as crushers expect processing margins to improve, according to a range of estimates from three executives familiar with the trade. Most shipments will be from July to September, with a few in October and November, said the people who declined to be identified as the transactions are private. Chinese buyers had curbed buying in recent weeks as port inventories surged, they said. Each cargo weighs about 60,000 tons.
The country may buy 47.5 million tons of soybeans in 2009-2010, said the China National Grain & Oils Information Center. Imports may climb to 47.5 million tons in 2009-2010 from 41.1 million tons the previous year, said the China National Grain & Oils Information Center on June 2nd. China's cash prices of soybean meal have increased by 50 yuan to 150 yuan ($22) a ton in the past week as the market expects demand to strengthen.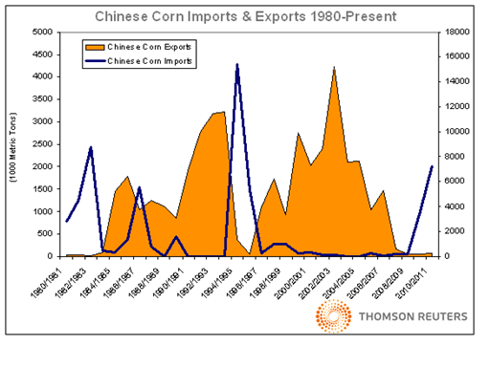 US corn sales to China are at a 15-year high. China has purchased more US corn this year than at any point since 1995, as soaring domestic prices and rising needs for livestock feed have boosted China's demand for corn from the world's top exporter. One cargo of US corn has already landed in China and started unloading and two to three more are scheduled to begin loading at US ports this week, tempering at least some fears that China could not take delivery of the corn. They also booked 60,000 tons of corn last week for 2010/11 shipment, although shipment of that corn is far from certain.
China bought 130,000 tons of new crop corn in early May, but canceled it all the following week. Sales to China helped to lift US corn export sales last week to a five-week high, according to data released by the US Agriculture Department on Thursday. Net sales of US corn in the week ended June 17 totaled 1.123 million tons for the 2009/10 marketing year and 332,300 tons for 2010/11.
In a nut shell, China is not shying away from commodity consumption any time soon. They still have roads to pave, factories to build, and cities to expand. China is thinking ahead in terms of commodity demand. The shift toward a stronger exchange rate may give more purchasing power to its people. Chinese consumers might buy more while their counterparts in the US may have to pay more and cut back on their spending as the cost of goods imported into America rises. This move is a net plus for the world economy.
Disclosure: No positions