By Carla Fried
If you're a what-have-you-done-for-me-lately type, Chevron (NYSE:CVX) is not likely in your portfolio, or on your short list of potential adds.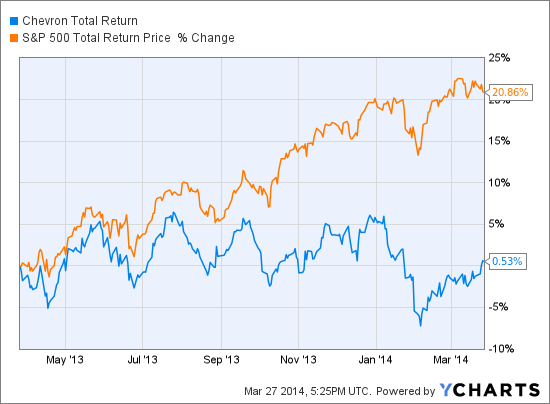 CVX Total Return Price data by YCharts

But now's the time to take a look. Chevron is setting up as a very smart stock to consider rotating into if you're looking for a what's-next investment after taking some profits in the pricier nooks of your portfolio.
In terms of valuation, it would be nice if a tank of gas were as cheap as Chevron stock; here we look at P/E ratio and P/E ratio less cash: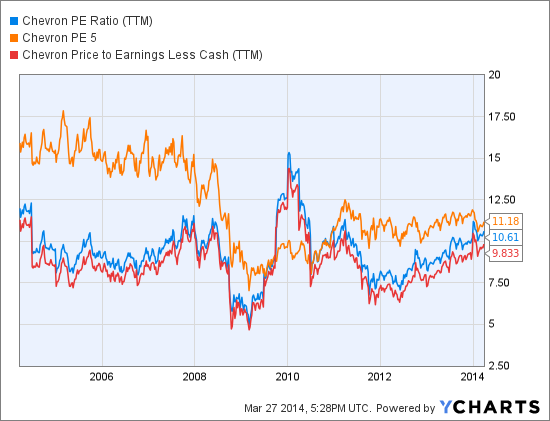 CVX PE Ratio (TTM) data by YCharts

Much of the lack of love stems from the fact that Chevron has spent the past few years investing heavily in capital expenditures in pursuit of new energy resources. Meanwhile, revenue growth has been sluggish amid tepid global demand. This chart shows how that's played out: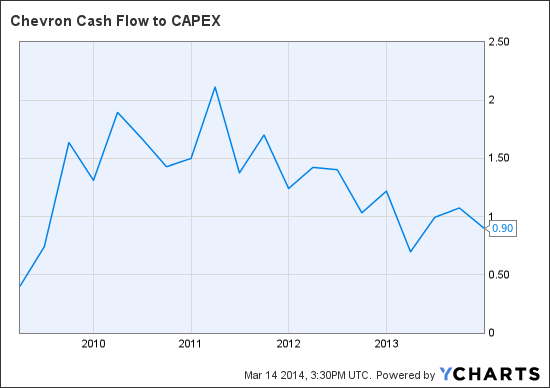 CVX Cash Flow to CAPEX data by YCharts
But in a mid-March analyst confab, Chevron management confirmed that 2013 was "peak spending" and it expects the trend line to flatten through 2016. Meanwhile one of its big cap-ex projects, a liquefied natural gas system in Australia, is expected to come on line later this year, and another large Aussie LNG project is set to start producing in 2016. With spending growth in check and pipelines coming on line, management expects the recent Cash Flow/Capex trend line to move sharply higher going forward.

After the analyst meeting, Raymond James reiterated its Strong Buy on Chevron, noting that everything it heard supports "the potential for a modest catch-up trade over the next six to 12 months."

While a price rally would be welcome, Chevron is actually delivering in spades for income investors. So much so, that it has been hard to avoid lately when the investment research focuses on dividend income and dividend growth.

Chevron bubbled to the top of a recent YCharts Stock Screener for quality income. What's impressive is that Chevron is not only among the biggest dividend payers in aggregate dollars, it is also the rare Dividend Aristocrat that currently delivers a juicy yield along with strong inflation-beating dividend growth.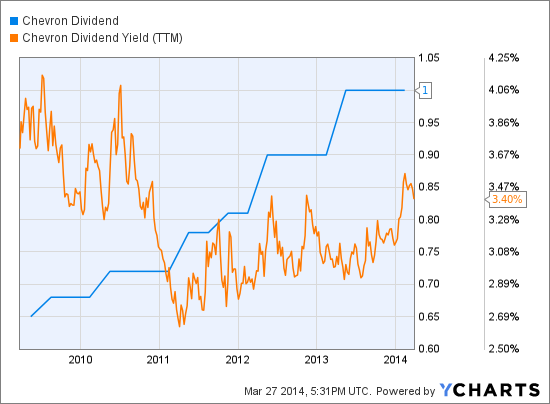 CVX Dividend data by YCharts

At the analyst meeting, management reiterated its intention to keep up the strong shareholder returns. With a payout ratio below 40%, there's plenty of capacity to keep dividend growth coming. And Chevron has a long-term commitment to share buybacks as well. Last year it spent $5 billion on buybacks, and over the past 10 years has allocated $40 billion on buybacks. That helps push the shareholder yield well above 4%.
Disclosure: None