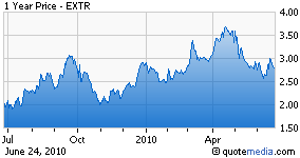 Extreme Networks (NASDAQ:EXTR) is a company with a history of delivering high-performance, high-availability Ethernet switching technology. The company's very first product won Best of Show award at Networld+Interop, and by 2001 Extreme had won the award five consecutive years with one innovative 1 gigabit product after another.
In 2002, the company introduced its BlackDiamond modular switches, which featured leading-edge 10 gigabit technology. By 2002, annual revenues for Extreme rocketed to over $400 million. Between 2002 and 2009 the competition for gigabit Ethernet stiffened as the technology commoditized and a mass migration to 10 gigabit never materialized. Then, after being stuck in neutral between $300 and $400 million, the company underwent an extreme makeover in 2009.
The makeover started at the top. In October, 2009, after serving on the board for six years, Bob Corey was appointed acting CEO and chief financial officer. Familiar with the company, Mr. Corey promptly streamlined the organization to improve accountability and to accelerate decision making. Three business units overlaid with multiple corporate teams were replaced by Sales, Marketing and G&A units. Independent engineering teams in Santa Clara, CA, Research Triangle Park, NC, and India were combined into a single global development team.
The organizational makeover paid off almost immediately. For Extreme's fiscal Q2 ending March, 2010, the company posted 20% quarter-over-quarter revenue growth and delivered earnings of of 5 cents per share, beating analyst estimates by 3 cents (see conference call transcript here). For the current quarter ending July, 2010, Extreme provided guidance of $82-85 million, including an 11% quarter-over-quarter increase in product revenue.
The "good" news for Extreme employees, customers and shareholders is it only took some fine tuning of the organization to yield measurable improvements in both top-line and bottom-line results. The "great" news is that Extreme also executed a makeover of their technology portfolio, which positions the company for a growth spurt in the near future.
This year marks a point in time when virtual machine sprawl is pervasive, and when 10 gigabit Ethernet server and storage ports are finally taking off with shipments more than doubling year-over-year. Virtual machine sprawl has created the need for networks that can provision network resources on a per-virtual-machine basis and manage the virtual machines across a network with multiple switches from a central management console. In response, Extreme developed the unique ability to migrate individual virtual machines across switches as well as maintain a central inventory of virtual machines so that activity can be tracked across an entire network.
The explosion in demand for 10 gigabit ports is creating demand for backbones with even higher speeds to switch all the 10 gigabit links and Extreme is one of the first companies with the solution – a 40 gigabit Ethernet switch. And unlike 10 gigabit technology that was an order of magnitude more expensive than 1 gigabit technology in 2002, Extreme is offering 40 gigabit switches at about $1,000 per port, a price point close to the price per port of most enterprise-class 10 gigabit switches available today.
In this episode of Extreme Makeover Networking Edition, the company is left streamlined for profitability and first-to-market with technology that can be used to address two important growth markets. I expect Extreme's trajectory in fiscal 2011 to be up and to the right.
Disclosure: No positions