By Sridharan Raman, Senior Research Analyst at Thomson Reuters
Restaurants are crying in the soup over months of winter weather that kept diners home and tables empty. Bob Evans (NASDAQ:BOBE), which operates restaurants and stores and sells products such as pork sausage to supermarkets, was no exception. However, the Ohio-based company is affected by additional factors that are pointing toward poor earnings quality, as indicated by a poor StarMine Earnings Quality score of 7.
In addition to weather and rising pork prices, an inability to pass those on to the consumer means that the company saw margins fall again; it's been a trend for the past five quarters and declining margins are a sign of poor earnings quality.
As we can see from this Reuters News report, pork supply may be short for the peak summer barbeque months because of a virus. That's bad news for a company that still sees more than a quarter of its revenues from pork products. Higher grain prices from poor harvests (again as a result of the bad weather) are likely to push swine prices higher. As you can see in the chart below, trailing 4Q operating margins have fallen to just over 5%, the lowest level in five years and far below the industry median of 11%.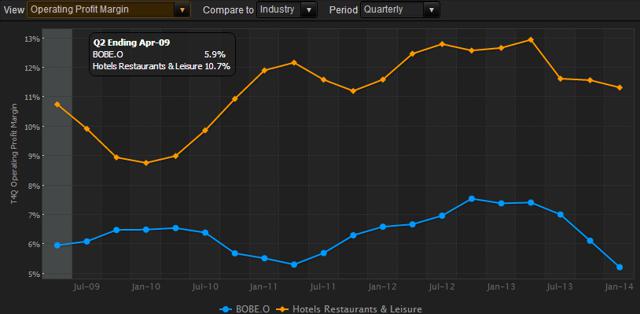 Click to enlarge
Financial indigestion
Another sign of poor earnings quality is poor free cash flow. Over the last three quarters, Bob Evans has seen negative free cash flows despite recording positive earnings. Part of that is because of the larger capital expenditures to upgrade stores and open its Sulphur Spring production facility (which management admitted took longer than expected). While that kind of capital expenditure may come down, management made a commitment to open more stores in the coming year than in years past, which should increase capital expenditures. These expansions need to be financed from operations, and that looks difficult given Bob Evans' commitment to continue to pay dividends and also do a $100 million stock buyback in the coming year. We continue to keep a close eye on the free cash flow in the coming quarters.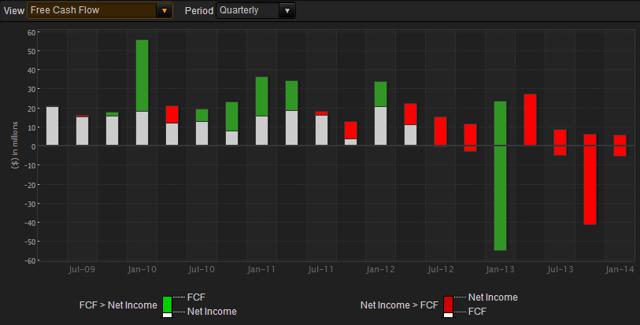 Click to enlarge
A menu of excuses
On the earnings conference call, CFO Paul DeSantis seemed to give a long list of reasons for the company's underperformance in 2013. He talked about higher sow prices, the longer-than-expected startup for the Sulphur Springs facility, the bad weather, a supplier dispute and higher legal and professional fees. These were all projected as one-time exceptional events by management. But with global climate trends, it would not be a surprise if harsher winters became more of a norm than the exception. Given the poor execution over the last year, there is no indication of a strong turnaround in performance. The poor earnings quality is an early indicator that earnings at Bob Evans in the coming quarters may be as appetizing as a cold sausage.
Disclosure: I have no positions in any stocks mentioned, and no plans to initiate any positions within the next 72 hours. I wrote this article myself, and it expresses my own opinions. I am not receiving compensation for it. I have no business relationship with any company whose stock is mentioned in this article.