As real estate values strengthen, homeowners are spending their increased home equity on renovations. This trend means that Masco Corp. (NYSE:MAS), a building products company that specializes in cabinets and faucets, may be able to turn on the tap and fill its glass with higher earnings.
Masco also benefits from strong new home construction, and was only mildly affected by the winter weather. As the weather improves, demand for new homes is likely to increase. The company is one of the largest suppliers to Home Depot (NYSE:HD) and is showing signs of pricing power as margins continue to expand. Masco scores a strong 98 on the StarMine Earnings Quality (EQ) model which leads the Thomson Reuters research team to believe that these earnings are based on solid fundamentals and are likely to be sustainable going forward.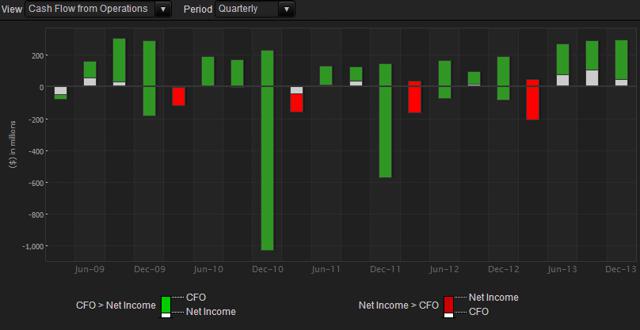 Source: Thomson Reuters Eikon/StarMine
Opening doors
Strong cash flows are a key sign of earnings quality. Research has shown that earnings backed by strong cash flows tend to be more sustainable in the long run than those backed by poor cash flows. By this measure, Masco is opening the doors to earnings quality. As you can see in the chart above, the company has had three consecutive quarters of positive net income, something that has not happened in more than five years. Encouraging for Masco, net income is also backed by the strongest cash flows in five years-- three consecutive quarters of cash flow from operations greater than $250 million, another first for the company since the financial crisis of 2008.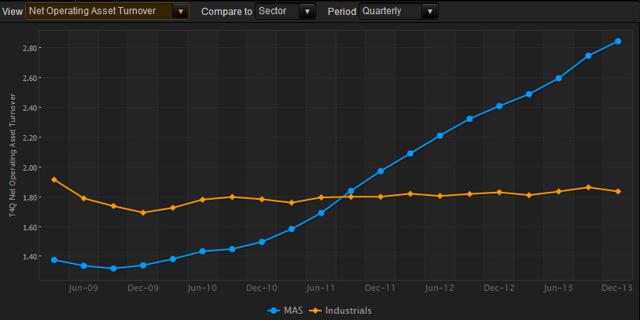 Source: Thomson Reuters Eikon/StarMine
Making a splash
Masco performs best on the operating efficiency component of the EQ model. Masco saw trailing 4Q return on net operating assets increase to 25% in the latest reported quarter. That increase has been gradual since the housing recovery in 2009.Although the rest of the industry has also done well on this measure, Masco's performance has been exponentially better. Consider this: return on net operating assets for Masco and the industry were about even in 2010 at 8%. Since then the industry has improved to 12% while Masco hammered out a 25% gain.
We break out the return on net operating assets into its two components: operating profit margin and operating asset turnover. By both these measures Masco has seen tremendous improvement. We've already mentioned that Masco has had the ability to price its products at a premium and still keep revenues amid strong demand. Furthermore, our research has shown that upward trends in net operating asset turnover also contribute to greater operational efficiency and therefore, better earnings quality. The chart above shows that asset turnover more than doubled over the last five years and increased steadily, showing management has delivered operating efficiency.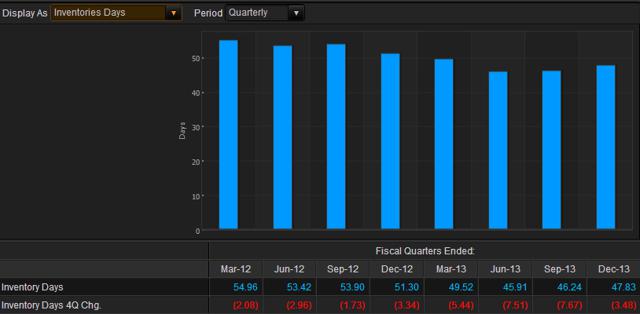 Source: Thomson Reuters Eikon/StarMine
Nailing inventory management
Another positive sign for Masco is falling inventory levels despite strong demand. The company has resisted the urge to build up its inventory levels to meet demand, and instead has managed its inventories more efficiently, a good sign for the coming quarters. The chart on inventory days shows that Masco has reduced inventory days (over a year ago) every quarter for the last eight quarters. That's an impressive feat in this growth environment.
On the last earnings conference call, CEO Tim Wadhams made an impressive case for the strength of Masco earnings. He backed up claims of execution with hard numbers. He pointed to profitability in the cabinet and installation divisions, the success of new products, strong international growth (which could be a key driver of earnings growth in the coming quarters) and an improved balance sheet as the company retired more debt.
He does not see a slowdown ahead. He said Masco continues "to benefit from increased new home construction activity and from improving repair and remodel activity, as consumers invest in bigger-ticket projects like windows and cabinets." Strong earnings quality at Masco backs up his claims and bodes well as the company bangs out results in the coming quarters.
Disclosure: I have no positions in any stocks mentioned, and no plans to initiate any positions within the next 72 hours. I wrote this article myself, and it expresses my own opinions. I am not receiving compensation for it. I have no business relationship with any company whose stock is mentioned in this article.