Jabil Circuit Inc. (JBL) reported strong results for the third quarter 2010, beating the Zacks Consensus Estimate.
Revenues and earnings both jumped on a year-over-year and sequential basis. Moreover, the company provided an upbeat fourth quarter guidance, well above the consensus expectation.
In our view, this is significantly positive, as results continued to improve consecutively in the last four quarters.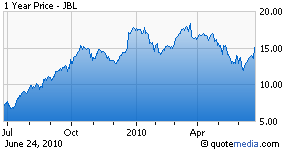 Results for the quarter benefited from significant operating margin expansion. Each of the segments grew above management's expectation both sequentially and year-over-year given strong end-market demand. The company continued to witness strong sequential growth in the Healthcare, Instrumentation and Industrial segments, and a recovery in Mobility led to a leap in revenues for the quarter.
We expect Jabil to witness strong growth by the end of fiscal 2010 and in 2011 on account of new business wins, an increase in customer orders, the improving economic environment and stability in IT spending.
Jabil's business outlook is improving faster then the industry; however, intense competition from Flextronics International Ltd. (FLEX), Sanmina-SCI (SANM), Benchmark Electronics (BHE) and Plexus Corp. (PLXS) is a matter of concern.
Jabil is currently rated as a Zacks #3 Rank ('Hold'), implying that the stock is expected to perform in line with market. We have a long-term Neutral rating on Jabil with an expectation for potential revenue growth based on a recovery in the overall EMS industry this year and next, aided by a reviving economic environment and rise in IT spending.
Quarterly Revenue Details
Total revenue for the quarter was $3.46 billion, an increase of 32.1% from $2.62 billion last year. On a sequential basis, revenues spiked 15% and were above management's guidance for $3.1 billion to $3.3 billion or a growth of 3% to 10%.
The rise in revenues is due mainly to increased customer orders and growth in all of the sectors.
Sectorwise, revenues for the EMS Division of $2.1 billion increased 40% year over year and 14% sequentially, versus management's guided growth of 8%. This division represented 61% of total third quarter 2010 revenue.
Included in the EMS division, Computing & Storage (11% of total revenue) increased 13% sequentially and 26% year over year; Industrial, Instrumentation & Medical (23% of total revenue) increased 14% sequentially and 59% year over year; Networking (19% of total revenue) jumped 20% sequentially and 51% year over year; and Telecommunications (5% of total revenue) rose 9% sequentially and 10% year over year.
Revenues for the Consumer division (representing 33% of total third quarter 2010 revenue) increased 19% sequentially, versus management's estimated growth of 5%, thanks to a rebound in the mobility division and huge growth in the Digital Home Office sector. Mobility revenues (18% of total revenue) climbed 23% sequentially and 17% year over year, while Digital Home Office sector revenues (15% of total revenue) soared 13% sequentially and 36% year over year.
Aftermarket Services revenues (6% of total revenue) advanced 8% sequentially and 13% year over year, in line with the company's expectation.
During the quarter, the two largest customers accounted for more than 10% of the total revenue, and the top ten customers accounted for 60% of the revenue.
Earnings
Core earnings or non-GAAP earnings (excluding one-time items and discontinued operations but including stock-based compensation expenses) were 28 cents in the quarter, up from a loss of 2 cents last year. The reported earnings beat the Zacks Consensus Estimate of 26 cents by 2 cents. Improvement in profitability came from increased focus on operations.
Core earnings, excluding one-time charges and stock based compensation, came in at 40 cents for the third quarter, above the company's guided range of 30 cents to 36 cents per share. This was a 36-cent increase from 4 cents reported in the year-ago period. Core earnings grew 900% year over year and 38% sequentially.
Operating Performance
Gross margin increased to 7.6% from 5.7% in the year-ago quarter, due to an increase in net revenues and a decrease in cost of sales.
Excluding one-time charges but including stock based compensation expense, core operating margin increased to 3.0% from just 0.6% in the year-ago quarter, which was commendable. Although SG&A expenses increased in the quarter, it was more than offset by a considerable rise in revenues.
During the quarter, Jabil generated $37.0 million in cash from operations, versus $31 million in the previous quarter. Cash and cash equivalents were $600.3 million and long-term debt (including the current portion) was $1.13 billion at the end of the quarter. Cash was down by $193.8 million and debt was down by $70 million from the previous quarter.
Accounts receivable grew about $100 million, but days sales outstanding were down two days to 36 days. Inventory increased about $220 million, but days of inventory declined one day to 50 days. Annualized inventory turns remained consistent with the previous quarter of 7 times.
Core return on invested capital (ROIC) was 22% versus 18.2% in the previous quarter. Core EBITDA in the quarter was approximately $195 million. Capital expenditures were approximately $127.0 million, while depreciation was approximately $63.0 million for the quarter. The company also paid 7 cents per share in dividend yield on June 1, 2010.
Outlook
Jabil provided better-than-expected guidance for the fourth quarter and expects the full year 2010 to be a record year in terms of both revenues and earnings. The company expects net revenue for its fourth quarter of 2010 to be in the range of $3.8 billion to $4.0 billion, an increase of 10% to 16% sequentially and above the consensus expectation of $3.40 billion.
The EMS division is expected to grow 8% sequentially, while the consumer division is expected to grow 25%. The AMS division is expected to have consistent revenues with those of the third quarter. For the long term, the company expects 50% of revenues to come from the consumer division with a growth target of 5% to 10%. The remaining 50% is expected to come from the EMS and the AMS division with a long-term growth target of 20% to 30%.
Core operating income is expected to be in the range of $144 million to $160 million, a growth of 9% to 21% sequentially. As a result, core operating income margin is expected to be in the range of 3.8% to 4.0%.
Core EPS for the fourth quarter is expected to range between 45 cents to 50 cents, a growth of 13% to 25% sequentially. The earnings per share forecast remains above the consensus estimate of 38 cents.
The company expects $750 million or $3.43 per share in EBITDA in fiscal 2010, approximately $244 million higher than 2009. For the long term, annual revenue growth is expected to be in the range of 10% to 15%, generating free cash flow of 25% to 35% of annual EBITDA.
Divestiture
Jabil also announced that it has entered into a deal to divest its manufacturing operation in France and Italy, which includes four sites where 1,500 people are employed. This transaction is expected to close during the fourth quarter and the company currently believes that the loss on divested operations will be approximately $10.7 million or 5 cents per share.