The much anticipated March 2014 United States Department of Agriculture Prospective Plantings report was issued at Noon EST today. It said US farmers would plant less corn, more soybeans, and about the same amount of wheat as last year.
Corn planting intentions for 2014 were estimated by the USDA at 91.7 million acres, down 4% from last year and 1.2 million below the average trade estimate of 92.9 million.
December new crop corn futures rallied from $4.79/bushel down 8 1/4 cents shortly before the report to $497, up 9 3/4 at 1:15pm EST.
The USDA Grain Stocks report announced simultaneously with the prospective planting estimates, said corn storage in the US as of March 1st was 7.01 billion bushels, about 100 million less than expected by the trade, according to DTN/Telvent.
May old crop corn prices were boosted from $4.79 per bushel, down 13 cents before the report, to $499 up 7 cents by 1:15 pm.
At 2pm, the rally had been extended to $5.02 3/4, up 10 3/4. This price won't help farmers that have presold their crops, but the higher price indicates storage levels at the end of the crop year (August 31), will be lower than expected.
Soybeans have been in short supply in the US and as expected, acres to be planted were estimated higher, at 81.5 million acres, up 6% from last year but only slightly above the average trade estimate of 81.37 million acres. Problems with either excessive rain, or drought, have plagued the about to be harvested soybean crop in Brazil, which is the second largest producer in the world.
US soybean storage was estimated by the USDA at 992 million bushels, in line with trade estimates.
Soybeans sold off before the reports, and November new crop beans continued to be down afterwards, at $11.84/bushel, down 6.5 cents.
All types of wheat acres to be planted, mainly spring and winter wheat but also duram, were estimated at 55.8 million acres, down 1% from 2013 and slightly below trade estimates of 56 million.
Wheat stocks at 1.06 billion bushels, were 200 million bushels higher than pre-report trade estimates of 1.034 billion.
New and old crop wheat prices were down a few cents after the reports, recovering from being down 5-6 beforehand. At 2pm, December wheat had rallied to $7.19, up 2 3/4 cents.
The 2014 demand situation for nitrogen fertilizers such as ammonia, UAN solutions and dry urea had deteriorated slightly due to the USDA reports today, but supply factors loom larger in my view.
Less demand from the all important corn crop due to the 1.2 million less acres being planted could be offset by slightly higher corn prices, helping farmer crop budgets. Corn requires about 150 lbs of nutrient nitrogen per acre on average, whereas soybeans require no applied nitrogen. Wheat also requires nitrogen fertilization.
All three crops require phosphate and potash. However, more phosphate demand increases ammonia demand, as ammonia is a primary component of monoammonium phosphate, the most widely used type in the US, and diammonium phosphate, the most common seaborne type of phosphate fertilizer traded.
According to DTN, domestic phosphate prices have been firming, with DAP barge prices moving up from $460-485 to $495-505/short ton recently.
The USDA was quick to point out 2014, although down from the last few years, would be the fifth largest corn acreage in the United States since 1944. However, the market has become accustomed to greater and greater corn plantings, to satisfy the federal Renewable Fuel Standard requirement to make corn ethanol for fuel. The mandate has been reduced for 2014 to 13.0 billion gallons, versus a previously anticipated demand of 14.2 billion.
The nitrogen fertilizer supply side remains in flux. Tampa benchmark ammonia prices have risen sharply as I discussed in this article. It is hard to know exactly why, but I suspect the reason was a lack of import competition caused by plant curtailments in Libya and Egypt.
Here is a chart of New Orleans, LA barge prices for the two major nitrogen fertilizers as well as the main phosphate fertilizer, DAP, courtesy of DTN/Telvent. Units are in short tons (1 st = 2000 lbs)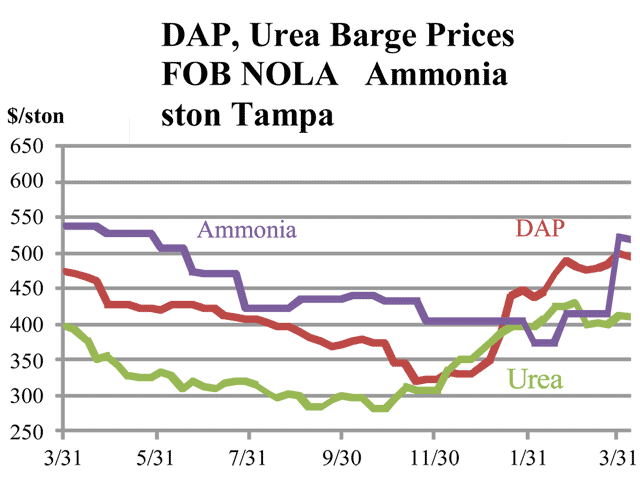 In my view, Ukrainian and Russian fertilizer exports of ammonia to the US are still subject to risk, even though Russia has recently indicated it would not invade mainland Ukraine. I wrote about this issue here.
Algeria has recently emerged as an important urea and ammonia exporter, but has been discussing constraining fertilizer imports and nitrogen exports to help sustain its domestic agriculture economy. International ammonia supplies could be tightened further.
Cold wet weather from the long and hard North American winter has already caused some delays in planting activity in the southern states, according to the Delta Farm Press.
Sometimes a delayed spring fertilizer application period can boost prices for urea and ammonia, due to the rush to obtain supplies hampered by logistics problems getting product up the Mississippi River and across already constrained rail lines.
All in all, it is "steady as she goes" for major North American nitrogen fertilizer producers, such as CF Industries Holdings (NYSE:CF), Agrium Inc. (NYSE:AGU), Yara International (OTCPK:YARIY), Terra Nitrogen LP (NYSE:TNH), CVR Partners LP (NYSE:UAN), OCI Partners (NYSE:OCIP) and Rentech Nitrogen Partners (NYSE:RNF).
The stock and unit prices of some of these producers have languished year to date, but I see better pricing of ammonia as a harbinger of good Q1 financial results.
We have been positive on Agrium during all of 2013, and the USD price of the stock is approaching the one year high of $98.54 set on April 9, 2013. The TSX listed price in CAD is up even more.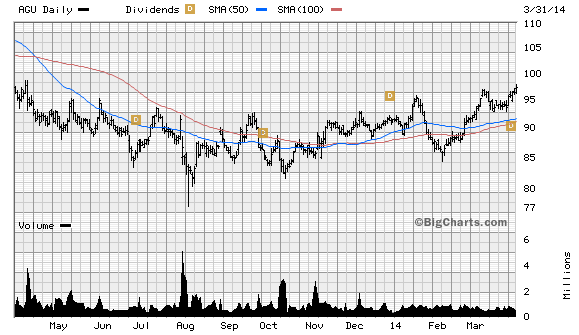 I am most bullish on US ammonia production, and prefer those producers that have the most leverage to ammonia, which would include CF Industries, Terra Nitrogen and OCI Partners.
Ammonia is difficult and expensive to transport, and is used not only in agriculture, but as an input for a variety of industries. US economic growth and low natural gas prices continue to offer extremely attractive margins for ammonia producers.
Urea imports from China and the Middle East should continue to limit any price gains available to producers such as Potash Corp (NYSE:POT).
Rentech Nitrogen Partners is leveraged to Midwest ammonia, but also must buy ammonia in the Gulf for its Pasadena, TX ammonium sulfate plant, almost nullifying the advantage of premium ammonia pricing in the cornbelt.
The next USDA reports of significance will be the Monday afternoon Crop Progress reports which start April 7 at 4pm, and the April 9 WASDE and Crop Production reports.
Inclement weather, and the potential for flooding in the Midwest, will continue to be market moving for crop and nitrogen fertilizer prices.
Disclosure: I am long OCIP, TNH. I wrote this article myself, and it expresses my own opinions. I am not receiving compensation for it (other than from Seeking Alpha). I have no business relationship with any company whose stock is mentioned in this article.