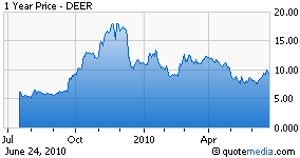 Click to enlargeDeer Consumer Products (NASDAQ:DEER) is a market leader in the design, manufacture and sale of home and kitchen electric appliances, targeting the vast Chinese domestic consumer markets as well as customers in more than 40 countries worldwide.
Data Ended 6/24/2010:
Price = $9.31
Trailing GAAP EPS = $0.62
Fully-Taxed Trailing EPS* = $0.56
EPS Estimates (15% tax rate) = $0.77 (2010) , $0.96 (2011)
Fully-Taxed EPS Estimates = $0.69 (2010) , $0.86 (2011)
P/E based on Fully-Taxed Trailing EPS = 16.6
Reasons for Optimism
DEER meets 8 out of 10 bargain requirements:


Requirement
Comments

Recent 52-week High

(generally within 3 months)

Must exceed $19.10
30% EPS Growth Rate

1st Qtr. 2010 EPS increased 300% over same quarter 2009
Full year 2010 estimates implies an EPS growth rate of 49.9%

10% Revenue Growth

1st Qtr. 2010 revenue increased 248%.
Full year 2010 estimates implies a revenue growth rate of 93.6%

Strong Balance Sheet
As of 1st Qtr. 2010
NO
Positive Cash Flow
(1,246,494 )
YES
Debt to Equity Ratio less than 20%
0.0%
YES
Current Ratio is at least 2:1
4.8:1
Return on Equity is at least 15%
Currently tracking at 12.8% (will likely exceed 15% if guidance is met).
Minimum Pre-tax Operating Margins of 8%
20% as of 1st Qtr. 2010
Preferably Under 50 Million Shares
33.8 Million shares as of 1st Qtr. 2010

High Insider Ownership

(generally greater than 15%)

43% as of December 2009
Limited Institutional Ownership

(generally less than 20%)

15% as of March 2010
P/E Divided by Growth Rate (PEG Ratio) is Less Than 1.
0.33

DEER has been extremely vocal regarding business prospects:


Reinforces that it "sees absolutely no signs of a consumer buying slowdown in the high margin Chinese markets for Deer's products."
Reassures that currency risk is minimal since DEER uses US dollars as the sole currency for its international sales.
Stated that it does not foresee any down side risk due to the European crisis.
Recently raised 2010 full year sales and earnings guidance:
We are comfortable with raising Deer's 2010 earnings guidance to approximately $26 million in net income on revenues of approximately $160 million, with significant growth anticipated in our seasonally strong second half of 2010. We see little execution risk in achieving and potentially exceeding these new earnings growth targets.
DEER has a commitment to increase shareholder value and understands that EPS growth is the name of the game: DEER has initiated a $20.0 million stock repurchase program and DEER appears in no hurry to dilute. Mr. Bill He, Chairman & CEO of Deer, commented:
Deer feels strongly about taking proactive actions in enhancing shareholder value. Deer has sufficient cash on hand to fund both the share buyback program and grow our business.

At March 31, 2010, we had $75.3 million in cash and cash equivalents on hand. Our principal demands for liquidity are to increase sales in China, adding capacity, inventory purchase, sales distribution, and general corporate purposes. We anticipate that the amount of cash we have on hand as of the date of this report as well as the cash that we will generate from operations will satisfy these requirements.
DEER is set to exceed 2010 analyst estimates:


Estimates have still not factored DEER's updated guidance.
Estimates likely do not factor Deer's stock buy back program.

As evidenced by the first quarter, net income is growing faster than sales:


Revenues of $23.9 million, an increase of 248% from Q1/09
Net income of $4.04 million, an increase of 515% from Q1/09
Note: We do require an explanation as to why cash flow from operations is negative. Also, DEER's P/E ratio is higher than many other US-listed Chinese stocks. DEER's commitment to increase shareholder value and strong communication efforts with the street have given us reason to overlook these two factors.
Potential Valuation Scenarios If the Company Can Achieve Its EPS Growth Goals
Short-Term Potential value based on fully taxed adjusted trailing EPS:
P/E 25 * $0.56 = $14.00
*DEER is not paying a full U.S. tax rate. Therefore, all EPS numbers have been adjusted by the GeoTeam to reflect a Chinese tax rate of 25%.
Disclosure: Author long DEER