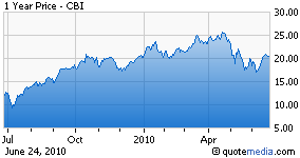 Chicago Bridge & Iron (NYSE:CBI): $20.09 on NYSE on June 24, 2010:
52-week price range: $25.88 – $9.07
Diluted shares: 101.0 million
Market cap: $2,029 million
Net debt: $(216 million) – Cash exceeds debt
Enterprise value: $1,813 million
Company Description
Chicago Bridge & Iron ((CB&I)) provides engineering, procurement, fabrication, and construction services on a global basis primarily for customers in the oil and gas industry. The company also provides proprietary technologies that are critical in the processing of oil and natural gas. As of March 31, 2010, over 70% of the company's backlog was for business to be done outside of the US.
CB&I is comprised of three business sectors: CB&I Steel Plate Structures, CB&I Lummus, and Lummus Technology. Some of the main activities in each sector are as follows:
CB&I Steel Plate Structures is the world's largest builder of storage tanks for oil and gas. This sector also provides storage tanks for water and containment vessels for nuclear power plants.

CB&I Lummus engineers and constructs LNG facilities, oil refineries, petrochemical complexes, and other energy related processing plants.

Lummus Technology licenses processes; which are supported by patents; that are critical in processing natural gas, manufacturing petrochemicals, and converting crude oil into products such as gasoline and diesel.
Investment Perspective
CB&I is well positioned to benefit from higher levels of capital spending by oil and gas companies. The company is more focused on the oil and gas end market than any of the other large publicly traded engineering and construction (E&C) companies. Furthermore, within the oil and gas industry CB&I specializes in the construction of storage tanks, where demand is expected to be especially strong for the next couple of years. The company also has a significant presence in work related to LNG facilities, where demand is anticipated to be notably strong based on planned projects in Australia. Also, work related to refineries is a core activity at CB&I, and there is significant planned construction of refineries in the Middle East, Asia, and Africa.
Capital spending in the oil and gas industry trended higher from 2000 to a peak in 2008, benefiting E&C companies that serve this end market. This coincided with an uptrend in oil prices over the same period. However, capital spending declined moderately in 2009 based largely on the precipitous drop in product prices brought on primarily by weak demand. From a peak of $145 per barrel in July 2008, the price of oil declined to a low of $30 in December 2008. Now, the demand outlook is improving, oil prices have risen, and companies in the oil and gas industry will likely resume more aggressive capital spending.
As a point of reference, the all-time high stock price for CB&I was $63.50 per share in January 2008, which reflected the expected revenue and earnings that CB&I could generate from the strong pace of capital spending in the oil and gas industry that was anticipated for 2008. While the company did generate record revenue of $5,945 million that year, they experienced large cost overruns on LNG projects in the UK and reported a loss for the year. Excluding the cost overruns I estimate that the company would have reported EPS and EBITDA of $3.00 and $564 million respectively, which would have been record earnings. These record levels of revenue and earnings may be indicative of how well the company can do at some point in the future.
In 2009 CB&I generated revenue, EPS, and EBITDA of $4,557 million, $1.79, and $388 million respectively. Excluding reorganization and closure costs and other related one-time charges, I estimate that EPS would have been $1.87 and EBITDA would have been $401 million.
For 2010, I estimate revenue, EPS, and EBITDA of $4,046 million, $1.78, and $357 million respectively. This forecast is in line with guidance provided by management. For 2011, my estimates for revenue, EPS, and EBITDA are $4,900 million, $2.32, and $435 million respectively.
Based on the average of my estimated earnings for 2010 and 2011, I believe the stock should be trading at about $30.00 per share in the near-term. This would reflect an enterprise value to EBITDA multiple of 7.0 and a P/E ratio of 14.4.
Click on charts below to enlarge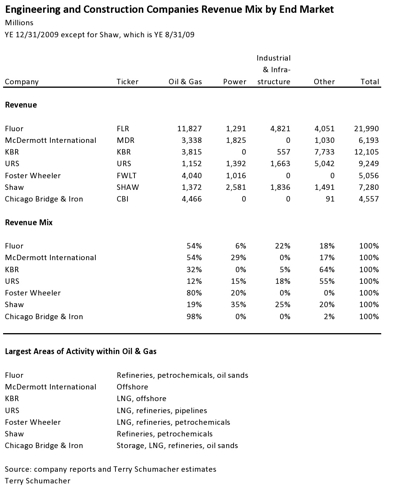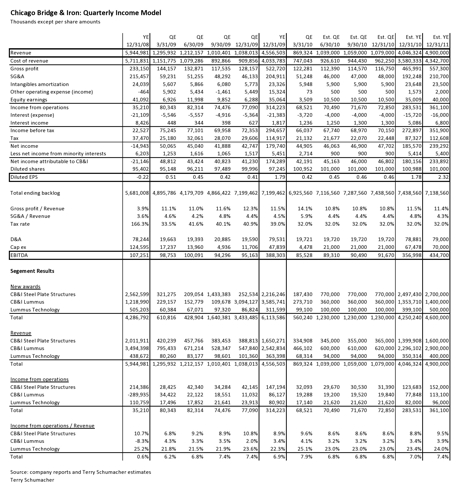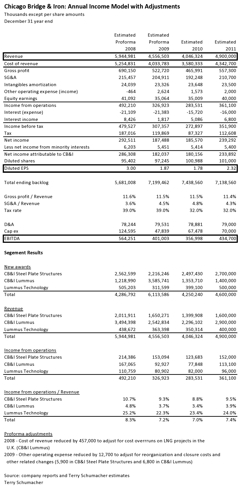 Disclosure: Author long CBI