By Jeff Bailey
Pharmaceutical makers paid out a torrent of cash in the form of dividends and stock buybacks in 2013, and investors need to choose carefully to benefit from the continued largesse expected this year.
Ten Pharma stocks followed by our friends at CreditSights paid out a combined $68.4 billion in dividends and buybacks in 2013, the research firm reports. Some distributed funds in excess of free cash flow, showing unusual generosity.

Going forward, the analysts Erix Axon and Chris Snow expect "increasingly shareholder-friendly capital allocation" from the likes of Abbott Labs (NYSE:ABT), GlaxoSmithKline (NYSE:GSK), Merck (NYSE:MRK) and, "to a lesser degree," Pfizer (NYSE:PFE). These companies' generous natures stem largely from positions of strength. Eli Lilly (NYSE:LLY), by contrast, may provide generous cash distributions as a way of making up for its stock's weak 2013 performance, the analysts surmised. Here's the 2013 performance of that group: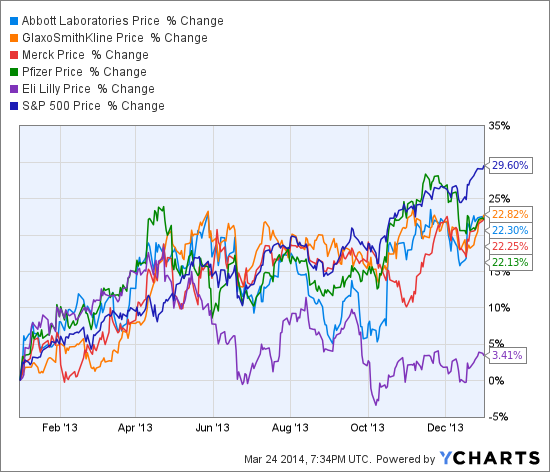 ABT data by YCharts

And the year-to-date 2014 price movement: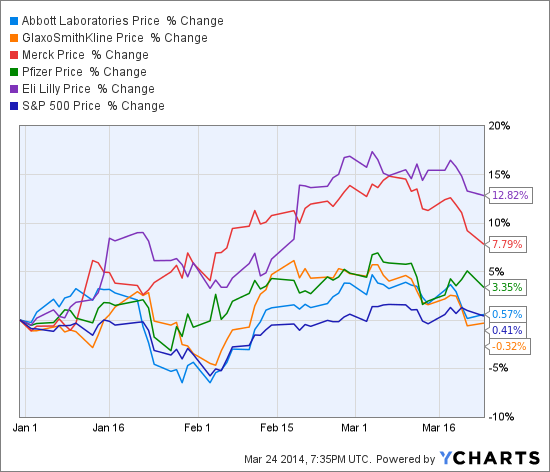 ABT data by YCharts

The CreditSights analysts expect some companies to scale back on combined dividends and buybacks in 2014: Baxter (NYSE:BAX), Mylan (NASDAQ:MYL) and Bristol-Myers Squibb (NYSE:BMY).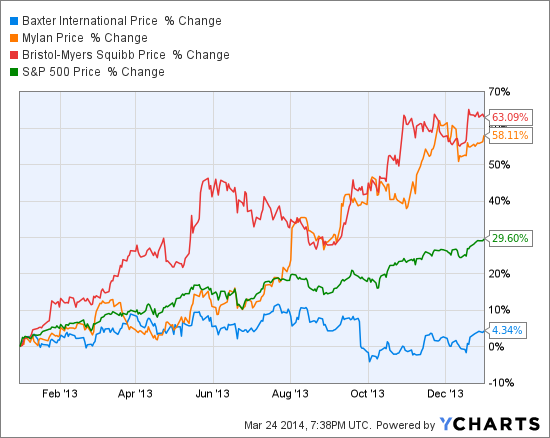 BAX data by YCharts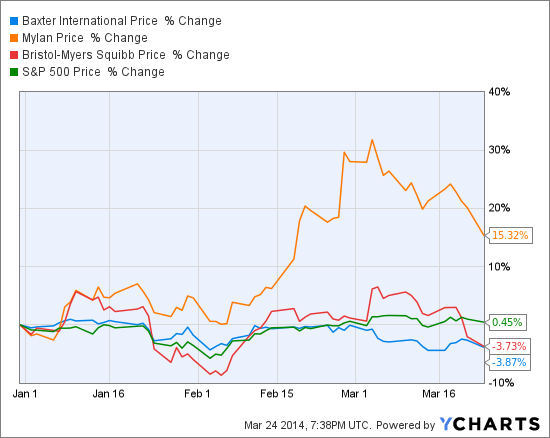 BAX data by YCharts

The CreditSights analysts looked at cash flow, cash and debt levels, debt maturities and growth trends, among other things, to come up with their assessments.

At YCharts, we use a metric known as shareholder yield -- dividend yield + buyback yield + debt reduction yield – to measure company payouts. Pfizer, Merck, Glaxo and Lilly were the standouts last year in the CreditSights universe.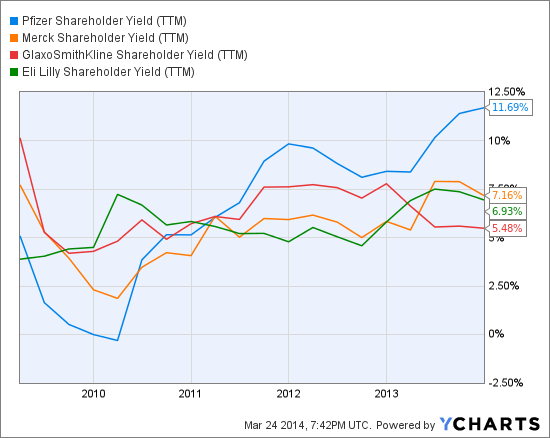 PFE Shareholder Yield (TTM) data by YCharts

One factor in rising combined payouts has been companies selling operations viewed as extraneous and then passing a good part of the proceeds along to shareholders in the form of buybacks. That activity could continue as Pharma CEOs seek to narrow the focus of their companies and become more efficient in R&D and in marketing.

Pfizer, for example, sold businesses for a combined $18 billion over the past 18 months, and in 2013 bought back nearly that amount of its shares.

The companies are in various stages of suffering – and recovering from – patent expirations on blockbuster drugs. And they're also having varied success bringing new drugs to market to replace lost sales and/or create growth.
Disclosure: None