Biotechnology has helped improve the lives of many people. Naturally, many biotech stocks boom or bust based on the success of products in their pipeline. But if you're looking for a more diversified and steady approach to biotech investing, look no further than ETFs.
Matthew D. McCall of Index Universe is bullish on biotech stocks because he believes they have a good shot at treating and curing cancer. But because it is hard to predict who will come out with the next blockbuster treatment, he recommends using ETFs to ride the upside. He goes on to describe five biotech ETFs.

iShares Nasdaq Biotechnology ETF (IBB): This ETF trades about 463,000 shares per day and is composed of 128 stocks. Amgen (AMGN) is the top holding, accounting for 9% of the fund. The top 10 stocks make up 46% of the portfolio and the expense ratio is a tolerable 0.48%.
click to enlarge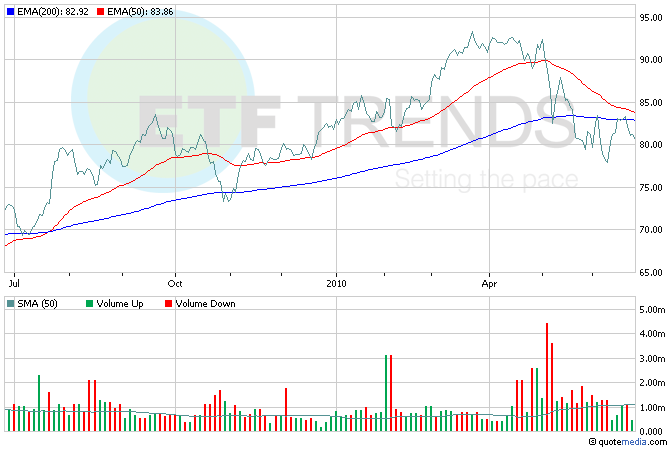 SPDR S&P Biotech ETF (XBI): This ETF trades about 156,000 shares per day and is composed of 28 stocks. The top holdings are Regeneron Pharmaceuticals (REGN) and Seattle Genetics (SGEN), each accounting for 4.61% of the fund. The expense ratio is 0.35%.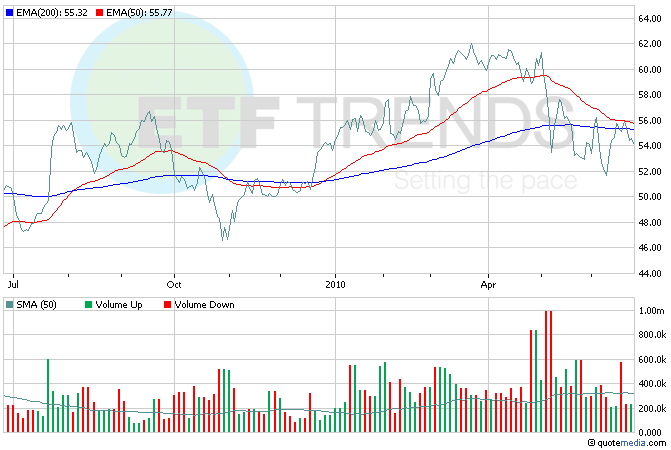 Biotech HOLDRS ETF (BBH): This ETF, a HOLDR, is composed of only 12 stocks, with the top six holdings accounting for 96% of the fund. Amgen has 38% and 26% goes to Gilead Sciences (GILD). This fund is unique in its extreme concentration, which is typical of HOLDRs.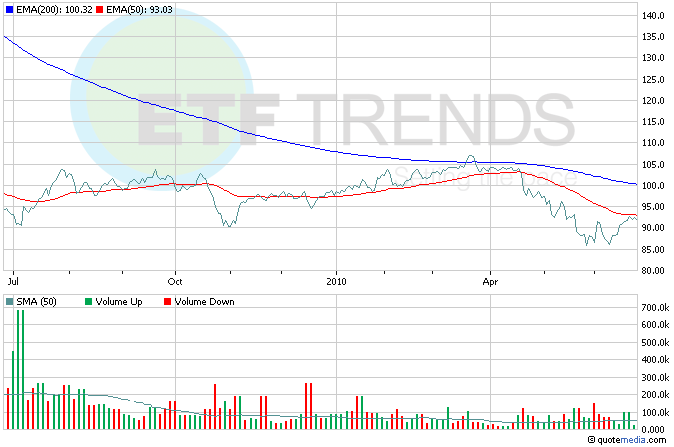 First Trust NYSE Arca Biotech ETF (FBT): This ETF trades less than 20,000 shares per day and is composed of 20 stocks, each having no more than 5.6% allocated to the fund. It has a 0.60% expense ratio.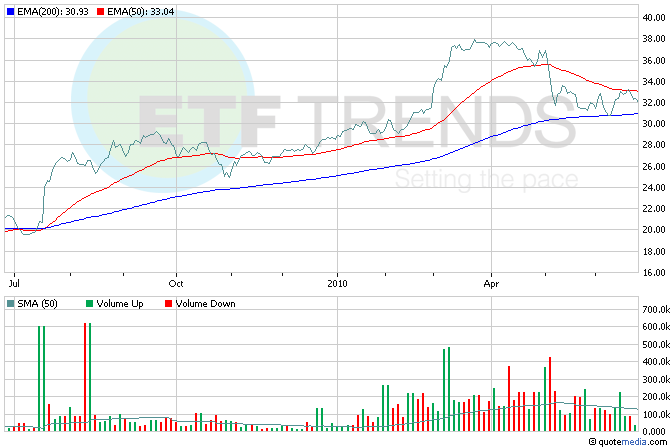 PowerShares Dynamic Biotech ETF (PBE): The ETF also trades less than 20,000 shares per day and is composed of 31 stocks. This ETF is unique in that it invests in companies that are not traditionally considered biotech companies. An example is Sigma-Aldrich (SIAL), which is a diversified chemicals company.
The performance of these ETFs has varied from year to year. In 2007, BBH was the big loser because of its concentration, while XBI was the winner due to its diversification. In 2008, BBH reversed its fortunes by gaining a group high 10%. PBE on the other hand lost 27%, while the S&P 500 lost more than 38%. Finally, in 2009, XBI gained only 1%, while FBT surged 45%.
Sumin Kim contributed to this article.
Disclosure: None