By Summit Roy
A number of factors have helped remove the glut of oil from Cushing.
Crude oil inventories at Cushing, Okla., fell below 29 million barrels last week, according to the latest data from the Energy Information Administration. That leaves supplies more than 20 million barrels below the year-ago level.
The EIA points to three factors as contributing to the big declines at Cushing, which is the delivery point for Nymex-traded West Texas Intermediate (WTI) futures contracts. The first is the startup of TransCanada's Cushing Marketlink pipeline, which has the capacity to ship 700,000 barrels per day from Cushing to the Gulf Coast.
The second factor is high rates of utilization at Midwest refineries, "which are partially supplied from Cushing." And finally, the third is "expanded pipeline infrastructure and railroad shipments that have made it possible for crude oil to bypass Cushing storage and move directly to refining centers in the [East Coast], [Gulf Coast], and [West Coast]."
Together, these three factors have pushed Cushing oil inventories out of the range they've been in over the past five years and to just above the range that they were in during the 2005 to 2008 period.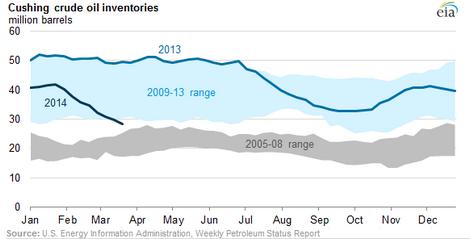 It's not a coincidence that the spread between WTI and other crude oils such as Brent really began to take off in 2010, just when Cushing inventories were soaring. Now that the trend is reversing and inventories are falling, price spreads are naturally narrowing with WTI last trading about $6 below Brent.
Analysts say that WTI prices could eventually surpass those of Brent later this year.
"WTI has been driven by drawdowns in Cushing, which are down 42 percent year-on-year," said Abhishek Deshpande, oil markets analyst at Natixis. "If it continues at the current level of decline we could reach the operational lows come the summer and see WTI cross over Brent as happened last summer."
Phil Flynn, senior energy analyst at The Price Futures Group agrees. In a recent interview with HAI, he said that "over time, [WTI is] going to hit parity."
"Last year, we actually saw WTI go to a premium, but then we backed off because of the geopolitical risk and other issues," he added. "It looks like we're going to get to parity again; it wouldn't surprise me."