Oracle (NASDAQ:ORCL) and Research in Motion (RIMM) stole all the earnings attention last night, but Tibco Software (NASDAQ:TIBX) put out some solid numbers and raised guidance. Right now almost every stock is hostage to the overall market as "student body left" trading has replaced valuing stocks on their own merits, so the news will probably go on deaf ears. Full report here.
Business software maker Tibco Software Inc

. posted better-than-expected quarterly results, helped by growth in its core service-oriented architecture (SOA) business, and forecast third-quarter results above estimates.

"It's (Tibco's results) a combination of improving environment, growing appetite (among customers) and good execution on our part," Tibco Chief Executive Vivek Ranadive told Reuters.

Tibco posted a second-quarter net income of $12.8 million, or 8 cents a share, compared with $10.1 million, or 6 cents a share, last year.

Excluding items, the company earned 15 cents a share. Revenue rose 21%

to $173.3 million.

Analysts on average were expecting earnings of 13 cents a share, excluding special items, on revenue of $161.4 million.

During the quarter, there were 12 deals over $1 million, up from 11 deals over $1 million last year.

"Our core SOA business grew 34% (during the second quarter) over last year," Ranadive said in a statement.

Tibco has long been linked with SOA, a technology that allows for the breaking down of bulky applications into separate business services and trim the cost of delivery.

SOA made up nearly two-thirds of total license revenue during the second quarter.
Guidance:
Tibco, which has trumped consensus earnings estimates for the past eight quarters, forecast third-quarter adjusted earnings of 15 cents a share, on revenue of $172 million to $177 million.

The forecast tops analysts' expectations for earnings of 14 cents a share, excluding special items, on revenue of $165.3 million.

"Our second half (of the year) pipeline continues to strengthen as we see strong demand for our products," Chief Financial Officer Sydney Carey said on a call with analysts.

Deferred revenue, an indicator of future revenue, grew 26% to $195 million

, CEO Ranadive said. The strong growth lends him confidence in Tibco's prospects for the next quarter.

Tibco bought back 3.4 million shares of its stock during the quarter.
Technically the stock has done well when the market is benign but keeps getting hurt with the dramatic swoons.
Again, hostage to the greater market due to no fault of its own. (Click to enlarge)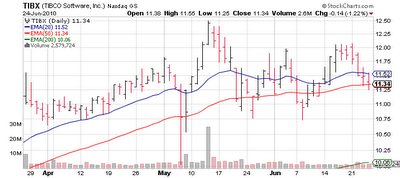 [May 12, 2010: Bookkeeping - Starting Tibco Software]
Disclosure: Long Tibco Software in fund; no personal position