The price action of JinkoSolar (NYSE:JKS) makes a fascinating case study to witness a very cheap stock that Mr. Market is willing to sell for no apparent reason, for almost nothing. You just don't stumble upon a deal like JKS very often. In this article, I'll go through the factors that make JinkoSolar one of the best solar companies in the world, and position it to explode in the very near future. Comparing the fundamentals to the ADR price reveals a very distorted valuation picture.
JinkoSolar's business is thriving. Management has navigated Jinko to be one of the best solar companies in the world, while competing head-to-head with giants like Yingli Green Energy (NYSE:YGE) and Trina Solar (NYSE:TSL). Below, I list what makes Jinko a better solar company than others:
Size
Up until last year, JinkoSolar wasn't a very big company; in comparison with Yingli and Trina, its production capacity was small. Jinko owned 1.5 GW of wafer, cell and module capacity in Q2 2013. On January 10, 2014, the company issued a PR announcing it had agreed to take over the assets of Zhejiang Topoint. Topoint was going through the bankruptcy process when the bankruptcy administrator invited JinkoSolar to lease and operate Topoint's facilities. You need to understand, by this move, Jinko immediately increased its production capacity by 33% with no capital expenses. This takeover of assets in China is something I expect to continue. The Chinese government is drafting M&A plans for the solar industry, and the big players will enjoy very cheap capacity expansions without increasing the overall capacity in the industry. Jinko's management guides to module shipments of 2.3 GW-2.5 GW in 2014 and the building of 400 MW of utility-scale projects. Jinko's module capacity is 2.1 GW, so it means either it is going to outsource the remaining 600-800 MW, or management expects further capacity expansions soon. In the last conference call, Jinko's CSO, Arturo Herrero said:
Arturo Herrero - Chief Strategy Officer

"If without continue to expand our capacity on wafer and cells segments, I think definitely I think it was scale time to looking for some good assets to expansion, but therefore I think it will beat up, increase our module capacity by the end of this year, maybe to 3 gigawatt to 3.5 gigawatts by the end of this year on the module side, but to wafer and cell, we're very I think great cautious."

Source: JinkoSolar Q4-2014 earnings call
If you manage to read between the lines of the transcript, Jinko is seeing an opportunity to reach 3-3.5 GW of capacity by the end of 2014. This will mark more than a doubling of capacity in just 18 months. This is remarkable execution, given the fact that Chinese solar manufacturers are forbidden to build new facilities. A capacity of 3-3.5 GW will put Jinko at approximately the same size as Trina Solar and Yingli.
The Project Business
JinkoSolar is currently the market leader in building utility-scale projects in China, the largest solar market in the world. After installing 213 MW by the end of 2013, Jinko is planning to add 400 MW to its project portfolio. I will walk you through my logic to understanding the electricity sales revenues for 2014. JinkoSolar is building and operating solar power plants, and selling the electricity to the Chinese grid. In Q3 2013, Jinko recorded $6.5M in electricity sales, and in Q4 2013, it recorded $4.9M. The difference in numbers was mainly because in Q3 2013, Jinko received a big subsidy. Excluding that subsidy, sales for Q3 2013 were $3.7M. A quick look at the Jinko project list follows: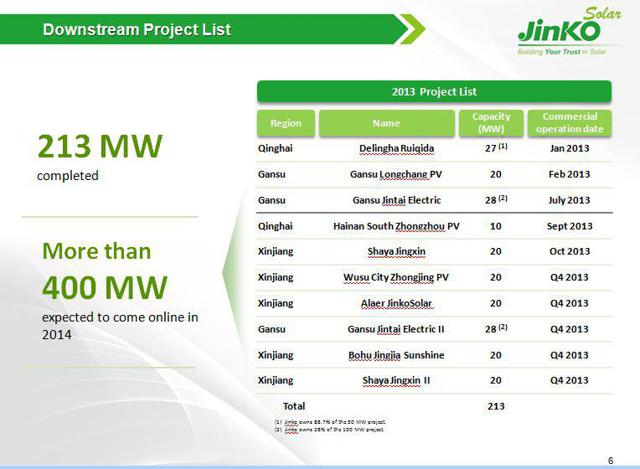 Click to enlarge
Source: JinkoSolar Q4-2013 presentation
So in Q2 2013, production of 47 MW commenced prior to that quarter, 28 MW was connected in July 2013, and 10 MW was connected in September 2013. Assuming that both of the July/September facilities were connected on the 1st of each month, Jinko has a cumulative power production capacity of 78.3 MW. That means that each MW generated $47,254 in Q3. In Q4, 128 additional MW was connected. Assuming a uniform distribution, it's like saying there was 64 additional MW working the entire quarter. There was 85 MW working prior to Q4 2013, so our magic number is 149 MW, each generating $32,885. Why the difference? Q4 had less sun than Q3. A rule of thumb I once heard from a solar company CEO is that Q1/Q4 has 40% of the sunlight, while Q2/Q3 has the other 60%. That fits well with the figures we just got. So how many MW will be built in 2014? Jinko's management already told us that it plans to connect an additional 400 MW in 2014. Credit Suisse's (NYSE:CS) analyst was quoted by Barron's as saying that he is confident in Jinko's project business:
"All of the projects targeted for 2014 have permits and sites near interconnection points. Last year, the company interconnected 213MW of projects, above most peers with ~50MW or less. JinkoSolar has shown more progress in obtaining project funding for projects than most other peers, successfully securing CBD financing."

Source: Barron's
Again, I assume a uniform distribution of installations in each quarter, and sequential growth throughout the year. Seventy MW in Q1, 90 MW in Q2, 110 MW in Q3, 130 MW in Q4. Skipping the math, these are my expectations for 2014 electricity sales:
| | | | | |
| --- | --- | --- | --- | --- |
| Quarter | Q1 | Q2 | Q3 | Q4 |
| Electricity Revenues | $8.1M | $15.5M | $20.2M | $18M |
Of course, this projection could turn out lumpy (it is dependent on grid connection timing), so using the yearly number will be more accurate. This projects $61.9M of electricity revenues in 2014. Given that Jinko is seeing 30% of net income from this business, we are talking about $18.5M of net income, or $0.66/ADR. Looking into 2015, I see the solar projects' net income contribution easily surpassing $1/ADR.
Balance Sheet
The management of JinkoSolar was wise to raise a very substantial amount of cash in recent months. In 2013, Jinko had a positive cash flow of $35M, and estimates its cash flow to be $100M-$200M in 2014. JinkoSolar's shareholders' equity rose 47% from last year to $332M.
Although the balance sheet is not yet in good shape, things are going in the right direction, and they are going there fast. With the support of China Development Bank and other Chinese banks, I expect Jinko not to have any problems operating until it becomes working capital positive, an event I expect to happen very soon.
Cost and ASP Dynamics
JinkoSolar is the lowest-cost solar module producer in the world. As of last quarter, the company managed to manufacture modules at a cost of $0.48/watt. The breakdown is $0.09 of polysilicon costs, plus $0.39 of non-polysilicon costs. Looking at Q4 2012, Jinko had a cost of $0.54/watt. That is an 11.1% cost reduction over 2013.
The ASP as of last quarter was $0.63/watt. In Q4 2012, the ASP was $0.57. That is a 10.5% increase in ASP over the past year for Jinko.
The current ASP/Cost environment lets Jinko squeeze about 23.8% of gross margins from the module-selling business. Looking at the current trend, I see the ASP coming down a bit in Q1, but going back to its uptrend, given demand is quickly approaching supply. Overall, I expect a modest cost reduction in 2014 in the range of 5%-6%. As for ASP, I expect a modest increase in the range of 5%.
My Projections
For 2014, my projections are as follows:
Revenues: Shipments of 2.45 GW resulting in $1.62B, at an ASP of $0.66. Electricity sales are coming up at $62M.
Gross Margin: I expect a gross margin of 29.6% for the entire year. Gross margins include the ~60% GM Jinko is getting for electricity.
OPEX: Going down as a percentage of revenues to 9.5%, which are $159M.
Other and Financial Expenses: Going down from last year to $60.6M.
Net Income: Summing all of the above, we reach $279M in net income.
EPS: Assuming no additional stock offerings, Jinko has 112.1M diluted shares. EPS is $2.49.
Earnings per ADR: Each ADR represents 4 ordinary shares, so earnings per ADR is $9.96.
Valuation
I really believe my model is not optimistic. Looking at the solar market fundamentals, there is no reason to expect a substantial ASP decline in 2014. All of the major solar players expect stable ASPs. Looking at the future of the solar market, it is expected to continue to grow at high growth rates. JinkoSolar is even taking market share and growing its electricity business at very high rates. So why does Mr. Market suggest we purchase JinkoSolar at such low prices?
From time to time, you stumble upon a ridiculous valuation in the markets, so much so, it is almost hard to believe. The skeptics will just say: "Hey, if it is so cheap, something must be wrong with the company." The thing is, old-fashioned fundamental analysis teaches us that there is nothing wrong with JinkoSolar. On the contrary, it is on its way to becoming one of the largest and best solar companies in the world in the coming year.
Even if JinkoSolar will trade at a P/E of 10, it could more than triple by the end of this year. Mr. Market will catch up sooner or later, as we can't anticipate his behavior in the short term. I'm long JKS.
Disclosure: I am long JKS, TSL, YGE. I wrote this article myself, and it expresses my own opinions. I am not receiving compensation for it (other than from Seeking Alpha). I have no business relationship with any company whose stock is mentioned in this article.