While still rating Barrick Gold's (NYSE:ABX) shares as neutral, Credit Suisse analysts Anita Soni and Robert Reynolds have a more positive outlook for Barrick Gold's share price.
The analysts raised their price targets for the company's shares to $21 as they increased their net-asset value multiple to 1.60× from 1.20×. This increment was made to account for the conservativeness in Barrick Gold's $1100/oz gold price assumption for reserves as gold prices are rising. The following graph shows that the market vectors for gold miners ETF (NYSEARCA:GDX) and SPDR gold ETF (NYSEARCA:GLD) are up 15.14% and 8.69% respectively since the beginning of the current year in comparison to the 5.10% rise in Barrick Gold's share price.

Source: Ycharts
I am writing this article to determine whether investors can gain from investing in the company.
Barrick Gold Corporation is a producer and seller of gold and copper. The company's operations also include exploration and mine development, and the company has properties located in Canada.
First, I will continue with discussion on factors highlighted by the Credit Suisse analysts that contribute to building a positive sentiment for the company's prospects and share price.
Credit Suisse: Factors That Will Strengthen the Company
The analysts highlighted the exploration potential within the company's asset base revealed by its 15Moz Goldrush discovery and strong base of low cost assets as support for the company's performance and position.
Therefore, I will proceed with focusing on a discussion of the company's gold reserves, activities for cost reduction, and bottom line.
Gold Reserves, Demand, and Prices
Barrick Gold calculated its reserves at the end of FY 2013 using a conservative gold price assumption of $1,100 per ounce in comparison to $1,500 per ounce in FY 2012. This gold price assumption was well below the company's forecast for the gold price and lower than the current spot prices contributing to a 13% fall in the company's reserves. The forecast of gold prices can be seen in the following chart.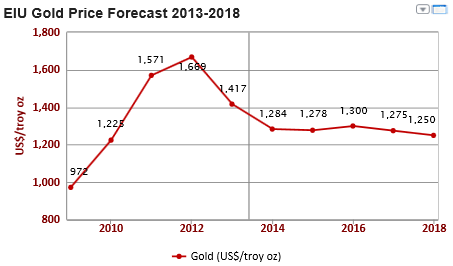 Source: Knoema
Geopolitical issues in Russia and the Ukraine, persistent uncertainty about the United States' economic recovery, and havoc in the emerging market currencies are anticipated to increase the price of gold as a safe haven. These factors have exacerbated the bullish investor sentiment and resulted in forecasts of gold price potential for a move towards $1,400.
The US Securities and Exchange Commission filings also exposed that billionaire George Soros bought a huge number of shares in the world's largest gold miner. Reinforced by robust private investor sentiment, global chaos, economic developments, and the return of professional traders, gold is set to see strong physical demand in 2014.
The WGC reports that the gold demand in India increased by 13% in the previous year and China's demand is growing so quickly that it needs to construct more storage facilities. Hong Kong is set to create a 1,500-tonne depository and build a new physical bullion trading exchange in the mainland later in year 2014.
Now let us consider another reason behind the company's forecasted decline in its reserves.
The company has estimated that new additions counter the total decline in its reserves by just 1% as shown in the following table.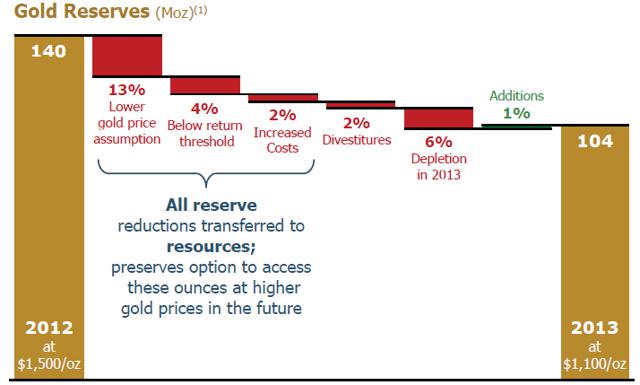 Source: ABX Presentation
Here I will refer back to Credit Suisse analysts' commentary that talked about the company's Goldrush discovery. The company's Goldrush discovery in Nevada has the potential to become one of the world's largest new gold deposits. The measured and indicated resources at Goldrush increased by 1.6 million ounces of gold in 2013 to 10.0 million ounces as of December 31st, 2013. Inferred resources were 5.6 million ounces as of December 31st, 2013. This means that the discovery has added 12% to the company's total measured and indicated gold resources of 83 million ounces in FY 2012 end that then increased to 99.4 million ounces by the end of FY 2013. As the measured and indicated gold resources are resources that can be declared as acceptable at a high degree of confidence, grade, and other relevant characteristics, the rise in the company's measured and indicated gold resources would mean more gold resources would be added as reserves. These valuable resources turn into reserves when they become legally, economically, and technically feasible for extraction.
Next in the article is the company's effort to improve its bottom line.
Bottom Line will be Strengthened
After logging a net loss of $10.4 billion for FY 2013, investors may be reluctant to consider Barrick Gold as a good long-term investment. Here there is a need to clarify the total loss of $10.4 billion the company experienced in FY 2013 that included $11.5 billion in impairment charges related to divesting from projects considered unfeasible. This was a one-time expense and excluding this the company actually made a profit in FY 2013.
Hence, the investors failed to pay much attention to the earnings improvements the company has managed to achieve during the last quarter of FY 2013. The company recorded $2.61 net loss per share including $2.82 billion after tax impairment charges.
Barrick's FY 2014 gold cost guidance is quite low for a senior producer. The company projects its all-in sustaining costs will be in the range of $920-$980. The company seems to be on the right track with its portfolio optimization strategy by divesting from underperforming assets as discussed below.
Divesting from Poorly Performing Assets
Barrick Gold has been rapidly reducing its exposure to underperforming mines in order to improve its bottom line. The cost to decrease a mining operation is high and has contributed to recent losses made by the company. The divestitures made by the company since the beginning of the current fiscal year are part of the company's portfolio optimization strategy.
The company just completed its divestment of 41.0 million ordinary shares in African Barrick Gold plc, raising gross proceeds of around $188 million. This divestiture follows numerous other transactions in FY 2014 that include the disposal of its interest in the Kanowna Belle and Kundana mine operations in Australia for a consideration of $66.4 million and the sale of its 33% interest in the Marigold mine in Nevada to Silver Standard Resources (NASDAQ:SSRI) for $86 million.
Consequently, the aggregate worth of Barrick's divestitures since mid-2013 (that marks the initiation of the company's portfolio optimization strategy with the $400 million sale of Barrick Energy) has reached around $1 billion. A majority of the assets divested represented high-cost and unprofitable non-core ounces.
Debt Overhang and Concluding Remarks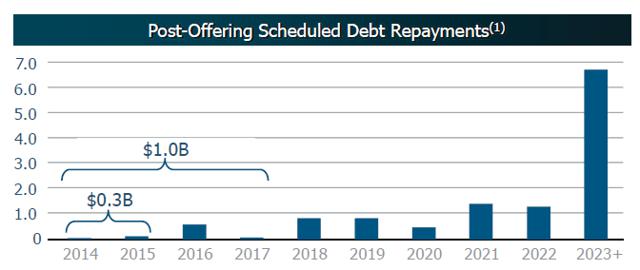 Source: BMO 23rd Global Metals & Mining Conference
Barrick Gold currently has a hefty amount of long-term debt that totals $12.9 billion. In Q4 FY 2013, Barrick raised $3 billion in an equity deal to repay debt that reduced the company's maturities over the next four years to $1 billion as shown in the chart above. This provided the company with some medium-term relief.
The stock's sharp decline last year made the company's stock even cheaper. RBC Capital Markets contemplates gold miners like Barrick Gold will continue their sold performance in 2014. Barrick Gold's divestitures from high-cost and non-performing assets will benefit the company's bottom line. This will be in addition to the support from the company's top line that will improve due to bullish bets on gold prices. Additionally, the company is being conservative about its reserves that are worth more than the value calculated by the company.
Disclosure: I have no positions in any stocks mentioned, and no plans to initiate any positions within the next 72 hours.
Business relationship disclosure: The article has been written by a Gemstone Equity Research research analyst. Gemstone Equity Research is not receiving compensation for it (other than from Seeking Alpha). Gemstone Equity Research has no business relationship with any company whose stock is mentioned in this article.