Corium International Inc. (NASDAQ:CORI), a commercial-stage biopharmaceutical firm, specializing in transdermal and transmucosal drug delivery systems, plans to raise $60.5 million in its upcoming IPO.
The Menlo Park, California-based firm will offer 5.5 million shares at an expected price range of $10-$12 per share. If the IPO can find the midpoint of that range at $11 per share, CORI will command a market value of $201 million.
CORI filed on March 3, 2014.
Lead Underwriters: Jefferies LLC, Leerink Partners LLC
Underwriters: FBR Capital Markets & Co, Needham & Company LLC
Summary
CORI is a biopharmaceutical firm, focused on the development and commercialization of pharmaceutical products, based on its expertise in transdermal and transmucosal delivery systems.
The firm's development platform allows for large molecules or biologics, such as vaccines, peptides and proteins, to be delivered transdermally, along with small molecules that have proven difficult to deliver transdermally. CORI's Corplex technology platform is used to create advanced delivery systems for small molecules that use less of the active ingredient, while achieving better therapeutic effects; the MicroCor platform is used as a painless alternative to the injection of biologics.
Currently marketed products include the Clonidine Transdermal Delivery System (NYSE:TDS), the Fentanyl TDS, and four Crest Advanced Seal Whitestrips products. Three additional products are subjects of pending FDA drug marketing applications. CORI is also developing numerous other products in collaboration with other firms.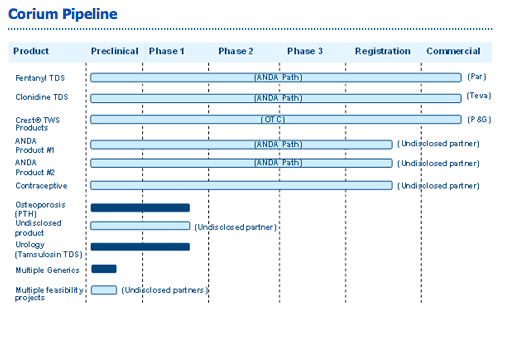 (Source)
Valuation
CORI offers the following figures in its S-1 balance sheet for the three months ended December 31, 2013:
Revenue: $10,468,000.00
Net Loss: ($2,098,000.00)
Total Assets: $39,484,000.00
Total Liabilities: $103,619,000.00
Stockholders' Equity: ($124,620,000.00)
In fiscal 2013, CORI posted net revenues of $50.3 million and a net loss of $13.9 million. For fiscal 2012, the firm posted net revenues of $42.9 million and a net loss of $5.4 million.
Business
CORI faces competition from numerous other pharmaceutical firms in the business of developing transdermal delivery systems. Significant competitors include 3M (NYSE:MMM), Johnson & Johnson (NYSE:JNJ), Lohmann Therapies Systems, Mylan (NASDAQ:MYL), Noven, and Actavis (ACT). Some of these competitors have access to far greater financial and technical resources than CORI.
Management
President and CEO Peter D. Staple has served in his current positions since 2008. He previously served as CEO of BioSeek and in various positions, including Executive Vice President and General Counsel with ALZA Corporation. Before he became active in biotechnology, Mr. Staple practiced corporate and securities law with Heller Ehrman LLP. Mr. Staple holds a B.A. and a J.D. from Stanford University.
Conclusion
We plan to avoid this IPO.
CORI is losing quite a bit of money and is likely to continue to do so for the foreseeable future. Though CORI managed to expand its revenues somewhat from fiscal 2012 to fiscal 2013, its losses outgrew its revenues over the same period.
The firm states in its S-1 filings that it expects to see declining revenues from its Clonidine TDS and Fentanyl TDS products, making it extremely reliant on the success of its collaborations with other firms to create profits.
Given these factors and the potent competition that CORI faces in transdermal delivery systems, we see no compelling reason to roll the dice on this IPO.
Disclosure: I have no positions in any stocks mentioned, and no plans to initiate any positions within the next 72 hours. I wrote this article myself, and it expresses my own opinions. I am not receiving compensation for it (other than from Seeking Alpha). I have no business relationship with any company whose stock is mentioned in this article.