A company I have added on my watchlist recently is The Container Store Group (NYSE:TCS). The company had an explosive IPO and prices have stabilized over the last few weeks. I like the company going forward, and I believe this company is cheap at these levels.
This article will give a summary of the potential the company has, together with some risks that I see when one invests in TCS.
Last week, I wrote an article on Restoration Hardware holdings (NYSE:RH) that can be read here. The stock is up around 15% since the article was published. I believe TCS is the next stock that has the same potential, considering that earnings are around the corner and other factors discussed below.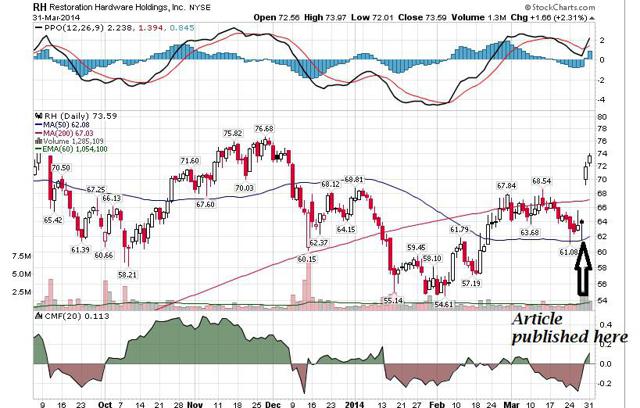 Click to enlarge
The company
TCS was founded in 1978 in Dallas as a retailer providing customers with storage and organization solutions. The company operates 63 stores in the United States and has yet to expand internationally so the potential of further growth is there. TCS also owns a Swedish subsidiary known as Elfa International AB which designs and manufactures component-based shelving and drawer systems that can be custom made for any area of the home. In 2012, Elfa contributed 12% to the company's bottom line.
TCS has shown huge growth over the years. There has been fourteen consecutive quarters of increasing comparable store sales.
Last earnings call
The last earnings call was very strong. Here are some numbers that caught my eye:
Net sales increased 7.3% to $188 million, sales increasing 10.8%.
Comparable store sales increased by 4.7% in new and existing stores.
Net income per diluted common share of $0.11. A nice beat considering analysts estimates.

(Adapted from finance.yahoo.com)
This statement by the CEO caught my eye:
"With 63 stores today, we have a long runway of growth ahead of us as we expand our store base to realize the 300+ store opportunity that we believe exists."
This is impressive as the potential for growth is there, and with just 63 stores in the U.S, I think the company is just getting started here.
Fundamental analysis
The company has around 48 million shares outstanding. The float, however, is only 16.88 million shares. A whopping 35% of the float is short, and numbers have been increasing since December. I would not be short at this time, considering that earnings are around the corner, and considering the stellar earnings that TCS had last quarter.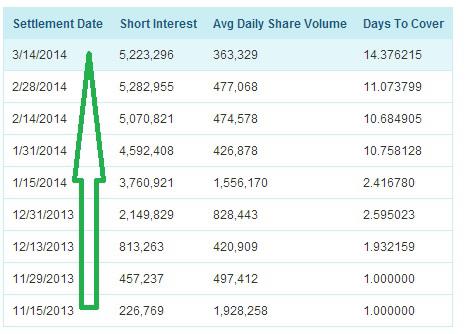 Technical analysis
TCS has a very successful IPO and prices soared on the first day of trading. The company opened its first trading day at around $35 and prices soared to around $45 shortly after. The company is now back to IPO levels around $34 and I believe these oversold levels are a great opportunity to go long.
I like how the daily chart is setting up. The descending trendline is about to be broken and if volume comes in, I expect much higher prices. One has to keep an eye on volume as institutions can push this much higher. One must also remember that the shorts will have to cover as prices go higher which can cause a big squeeze.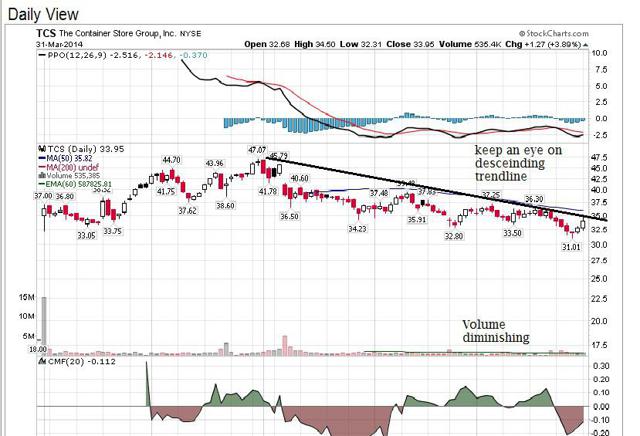 Click to enlarge
I also like the weekly chart. What is impressive is how oversold this chart is. Look how low the stochastics readings are.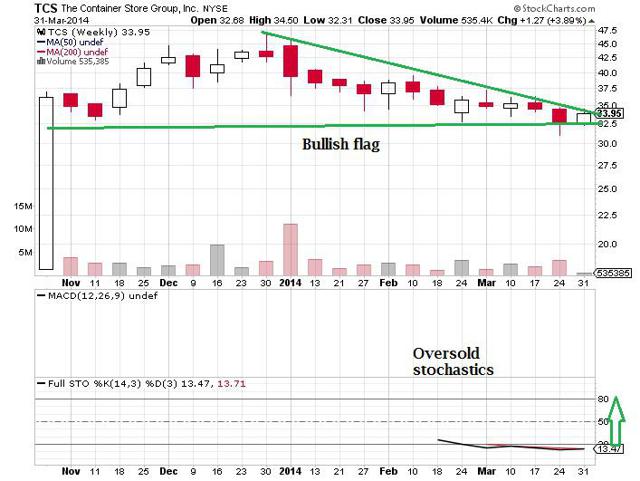 Click to enlarge
Risks investing in TCS
The main risk that I see with investing in TCS is the debt the company has. Total debt is around $368 million with only $10 million in cash. Although this is concerning, this does not worry me because the company's revenues for 2014 should come in strong at around $753 million. The company is only valued at around $1.63 billion.
Bears will also argue that online retailers like Amazon (NASDAQ:AMZN) and Ebay Inc (NASDAQ:EBAY) can eat TCS' market share but I believe TCS is a leader in the container industry and thus, the risk is decreased significantly.
Conclusion
There are a number of factors why I have added TCS to my watchlist. The low float position, the 35% percentage of the float being short, the growth potential and the technical picture leads me to believe we can see higher prices in the near future.
Please remember, I only invest 1% of my portfolio on every stock, so risk is always managed with every position that I take.
Disclosure: I have no positions in any stocks mentioned, but may initiate a long position in TCS over the next 72 hours. I wrote this article myself, and it expresses my own opinions. I am not receiving compensation for it (other than from Seeking Alpha). I have no business relationship with any company whose stock is mentioned in this article.