This is part 13 in a continuing series of articles discussing building a portfolio of dividend income equities. The strategy seeks to use value investing principles and apply them to stable companies offering reliable dividends. Further safety is sought by diversifying through a wide range of industry segments and often using multiple tickers in each of those segments. This lowers our entry cost.
Series parts 1, 2, and 3 lay out the philosophy, strategy, and methods of the Tortoise Strategy and Use of Covered Option Writing to boost performance. I recommend readers review each of these first 3 initial parts. Beginning with part 4, each subsequent installment reviews and analyzes one of the 16 tickers identified in the preliminary screen (listed in part 4). A full index of links to the complete series, including future installments as they occur, is available here.
Southern Company
| | | | |
| --- | --- | --- | --- |
| Southern Company (NYSE:SO) | $ 42.40 | $ 2.03 | 4.81 % |
Southern Company is a Southeast regional Electric Utility (4th largest in the US) headquartered in Atlanta, Georgia. It traces its roots back to 1920s as part of an agglomeration of interconnected systems comprising part of Southeastern Power & Light. It has evolved through various holding companies to its present corporate structure which has been operating since 1948. The company owns and operates a large mix of conventional and renewable generation facilities. As of 2009, coal represented 57% of the company's output, followed by nuclear (23%) and natural gas (16%). Renewable hydroelectric power represented 4% of Southern's generation. Prior to 2009, coal provided an average of 70% of Southern's capacity between 2005 and 2008.
In 1981, the company formed a subsidiary, Southern Energy, as an unregulated global power company serving ten countries on four continents. Southern Energy was spun off as Mirant Corporation in April 2001. Presently, the company is building the first new nuclear plants in the last 30 years within the United States. Since 1996, Southern has also been digital wireless communications business, serving corporate customers.
Company shares have delivered strong returns to investors, gaining 420% in price. After recently reaching a double top near $48.50 in July 2012 and April 2013, trading has retreated almost 20% back to a December 2013 low of $40.20 and advancing since that time in a series of consolidations.
(click to enlarge) (source: yahoo.com)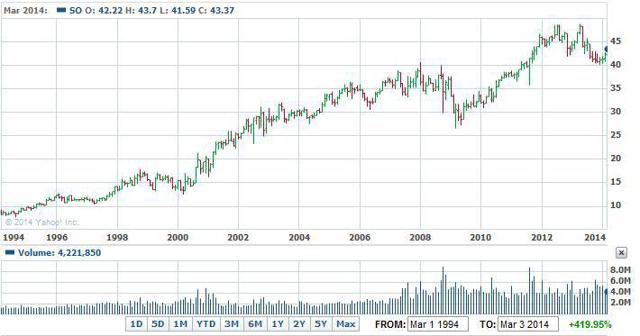 A look at the technical charts shows the stock to be in a narrowing upward trending channel. Upper limits are currently at $43.80 and lower limit about $42.50. The shares, currently at $43.37, are approaching the upper limit and in turn that limit is nearing short-term resistance of $45.50 set back in July 2013 (note: the finviz chart appears to be in error, showing the July highs at $44.00).
(click to enlarge) (source: finviz.com)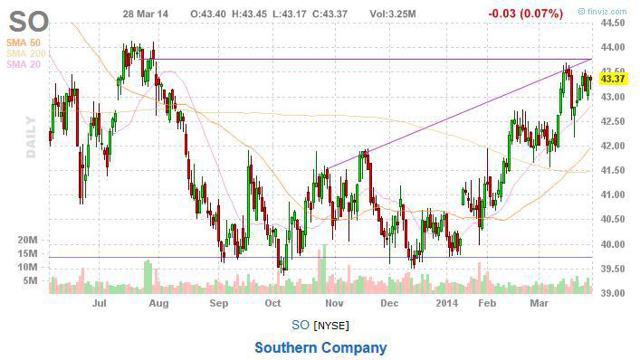 The narrowing upward channel with a rising lower limit, a series of consolidation steps since the lows of October and December, and a good pattern of accumulation buying occurring since early February, I think it is likely the shares will advance through the current resistance level easily within the next several weeks. Long-term support appears around $40.00 as seen in the bottom of the broad bowl shaped pattern forming since last August and reflected in the 2011 support/resistance consolidation levels at $40.00.
Like most utilities, many investors are attracted to Southern Company for its long history of reliable and increasing dividends. The YDP chart for Southern does confirm it to fit a dividend income equity investment pattern of valuation. Investors bid price up and down in reciprocal response to dividend distribution growth so as to yield a result of relatively stable trends of effective yield rate. The correlation of these 3 variables is defined by the mathematical Y = D/P (Y is yield, D is dividend distribution, and P is share price). This is characteristic of dividend income equities and indicative that yield rate can be a measure of value. For those not familiar yet with YDP charts, I refer you to my introductory article on YDP chart analysis and its precursor article with several YDP chart interpretation examples.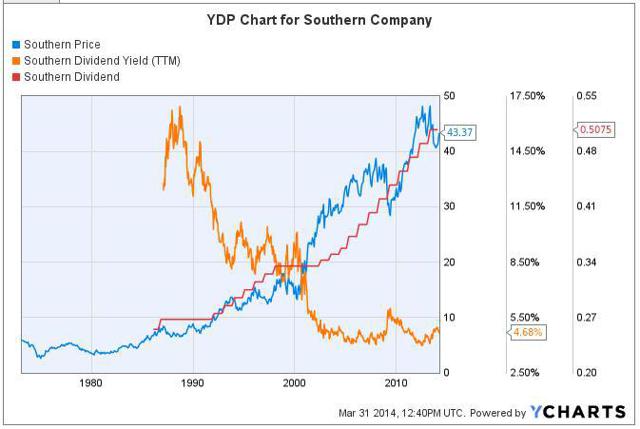 Southern's YDP chart reflects the company history well. Stagnant prices coupled with a flat dividend and the company's moves into diverse areas of unregulated global energy marketing all combined to make investors wary and demand high yields in the 12% to 15% range. Proven success with its new operations along with development of a steady dividend growth policy drove prices up and inversely lowered effective yields into the 9.5% range as investors perceived less risk and a greater value to the growing dividend stream. Share price and the inverse correlated yield rate adjusted to after the Mirant Corporation spinoff in April 2001 to the 4.5% yield rate prevalent since that time. Southern is a clear Dividend Aristocrat with 25+ years of growing dividends and excellent share price returns also.
The dividend payout ratios for SO are disturbing. Cash dividend payout ratio often exceeds 100% and traditional payout ratio based on net income has been running about 75% for several years and rose above 100% for the most recent two quarters.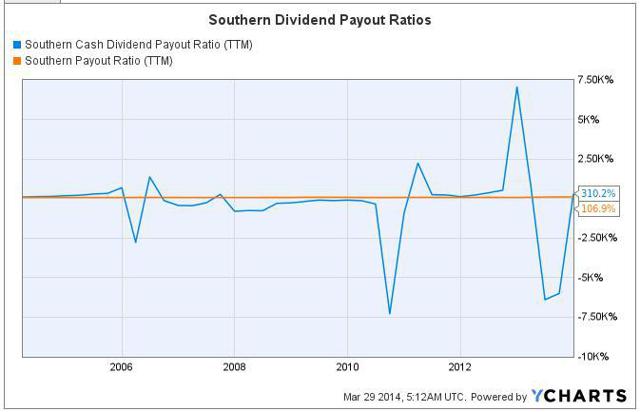 These figures are mitigated by the fact they are long-term trends that the company has proven it can sustain regardless of their superficial look of non-sustainability. Furthermore, the rate regulated nature of utilities makes them capital intensive, constantly increasing capital investment to be able to recover increasing returns from the rate payers. This is the nature of the large regional utility business model and Southern has proven it knows how to navigate these regulatory waters.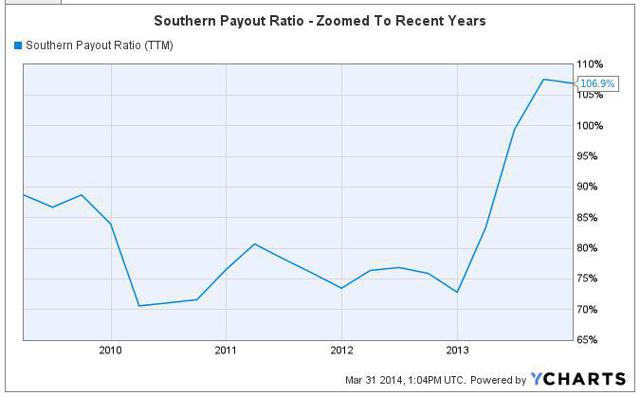 Traditional value metrics show Southern Company positioned well in its industry and matched to its competitors. Its operating margin of 0.19 is almost double industry average 0.10 represented by ETFs iShares US Utilities (NYSEARCA:IDU) and ProShares Ultra Utilities (NYSEARCA:UPW), and beats CenterPoint Energy's (NYSE:CNP) 0.12 and Entergy's (NYSE:ETR) 0.15, second only to near rival NextEra Energy's 0.23. P/E is comfortable in the mid range of these competitors also. Revenue growth, PEG, and size, reflected by market cap, all compare favorably as well.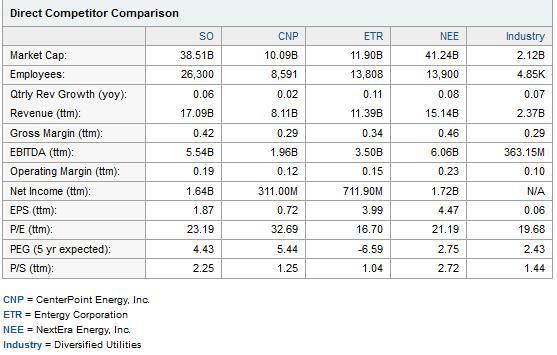 Management effectiveness is reflected in SO's performance trends. Margins, Revenues and EPS growth have been good until the most recent quarters. The temporary dips in EPS and Margins are a reflection of the timing of booking of expenses and should return to good growth in the coming quarters. The rising P/E ratio in the face of these temporary downturn of performance metrics confirms investor confidence and anticipation of even better years to come. However, it does indicate shares are overpriced currently if you are focused primarily on dividend income investing. Growth or blended income/growth investors may find prices remain attractive at the current $43.50 levels.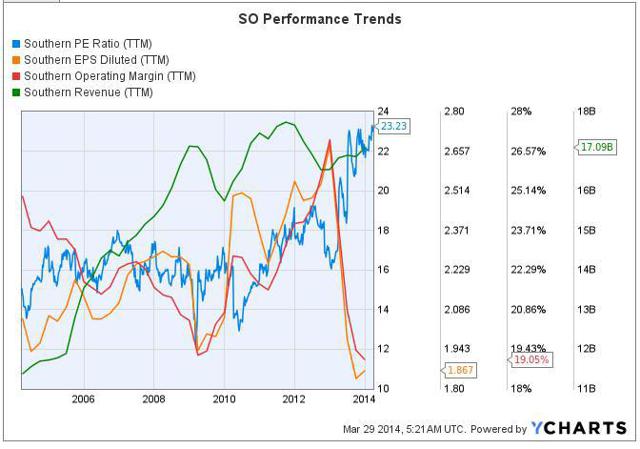 In summary;
Southern Company is valued as a dividend income equity and a growth stock. It is a Dividend Aristocrat.
The present yield of 4.70% is in line with historical rates seen ever since the 2001 spinoff of Mirant Corporation.
The current price is slightly high for pure income investors but reasonable for blended or growth investors.
Technical trends indicate likely further moves to the upside in the coming weeks to prices above $45.50.
Payout ratios are very high but consistent with the company's historical trends and characteristics of the rate regulated Utility Industry.
Premium return rates should be examined and considered along with the balance between the investor's income and growth focus to determine which, if any, covered option strategy is best right now.
Covered Options to boost performance:
Covered Calls (left side of chart)
With current prices at $43.58 and expected to range higher to above $45.50 in the next several weeks, covered call options do not offer any attractive premiums at Strikes above $46 in the near or long term. Therefore, income investors not currently holding the shares should consider a cash covered put position which yields greater income than the dividend while waiting for a pull back to enter the shares at a discount from current market price.
Those who currently own shares also will have a difficult time finding call contracts at Strike prices not likely to be called away. Wait for now, holding your shares and harvesting dividend yield until more suitable premiums develop and the technical trading patterns become well range limited once again.
(click to enlarge) (source: schwab.com)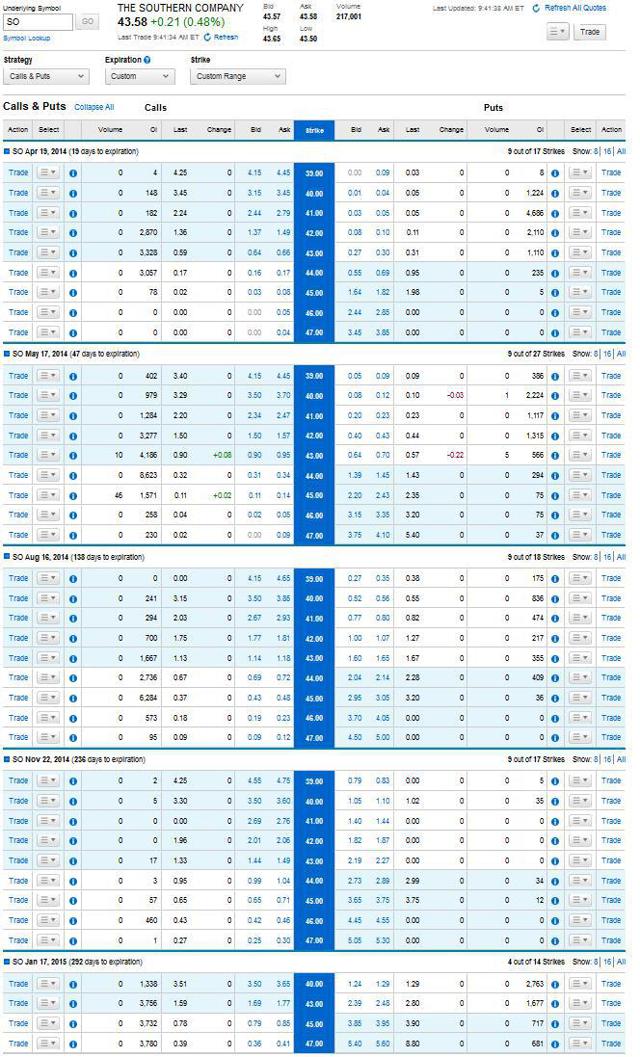 Cash Covered Puts (right side of chart)
The 4/17/2014 $42.00 Put with $0.40 premium bid for 47 days currently offers a effective basis if shares presented of $41.60, a $1.98 (4.54%) discount from current market retail and providing a 5.01% annualized yield rate.
The 8/16/2014 $42.00 Put with $1.00 premium bid for 138 days offers an effective $41.00 basis if presented, a $2.58 (5.92% discount from market retail and providing a 16.64% annualized yield on covering cash.
Premiums continue to improve further out but upper and lower limits to price range also become more uncertain.
Conclusions & Recommendations:
Income-focused investors should wait to establish a new position in Southern Company at current retail market price.
Growth and blended focus investors may want to begin accumulating shares now.
The shares are technically strong at present, expected to move upward through 45.50 resistance after having undergone a long period of consolidation over the past months.
Existing shareholders should continue to hold. Covered Calls are not attractive right now for these investors. Dividend re-investment is a good choice for growth strategies.
Always be aware of ex-dividend dates and the potential for call, dividend capture, and Strike price adjustments by the option clearing house when writing contracts across dividend months.
In part 14, I will discuss PPL Corp. (NYSE:PPL). Each subsequent part of the series will discuss and evaluate one more of the original 16 tickers identified in the preliminary screen for building your Tortoise on Steroids portfolio.
I hope you will join me as I detail the use of covered option writing on quality dividend income equities to develop a model portfolio for the Super Tortoise. Simply click on the bold link labeled FOLLOW above the title at the top of this article to get an email notice of my new articles when they are published. Click here for a link to the index of past and future articles in this series.
Disclaimer: I am not a licensed securities dealer or advisor. The views here are solely my own and should not be considered or used for investment advice. As always, individuals should determine the suitability for their own situation and perform their own due diligence before making any investment.
Disclosure: I have no positions in any stocks mentioned, and no plans to initiate any positions within the next 72 hours. I wrote this article myself, and it expresses my own opinions. I am not receiving compensation for it (other than from Seeking Alpha). I have no business relationship with any company whose stock is mentioned in this article.