Over the last several years, Advantage Oil & Gas (NYSE:AAV), a mid-cap Canadian energy company, has stumped the market. This occurred as a result of the company's repeated assertions that it had a premier asset footprint in the Montney, the productivity of which could make the company a premier North American gas producer. A great overview of the company and its history can be found here. Unfortunately, the company in prior years seemed more intent on a quick sale instead of actually creating shareholder value through the drill bit. Management even ran a full sale process that concluded earlier this year with no sale. I believe this occurred as a result of management's substantial price tag for the assets relative to the amount of derisking activities that they had undertaken and the firm's ownership of a substantial number of Longview Oil shares which have since been liquidated.
Simultaneous with their active sale process, AAV management also launched a development initiative; the success of this initiative has only recently become apparent and is reflected in their recent presentation, end of year report and reserve report. My conclusion from these reports, is that management was right to demand a high price and right for rejecting lower offers. Their decision to go at it alone via a detailed development plan appears to be on the cusp of finally creating a significant amount of value for shareholders through the drill bit. Management is currently running ahead of schedule on production, has been able to make a great cost structure better and is generating tremendous cash flow that is being used to further develop its large contingent reserve base. With the backdrop of surging natural gas prices going into the first North American LNG exports in 2015, AAV is a stock to own. Even assuming lower gas prices relative to current prices, AAV still has the potential to be a multi-bagger. Should gas prices and more importantly the natural gas futures curve rise in value, AAV's upside will become even more pronounced.
Historically AAV has been a "show me" story and since management has finally put its full focus on developing its assets, the company has finally started to show its promise.
The AAV Asset Footprint
AAV's land position is located just off what has historically been the core of the Montney. However, rapidly improving well results are proving AAV's land position to be a top tier part of the play on the dry gas side. For those unfamiliar with the Montney, this play, along with the Duvernay are two highly productive basins that have emerged in Canada over the last several years. With a fairly contiguous asset footprint, AAV is poised to keep costs low as the company continues to implement its development plan. The company's land position is being served primarily by internal midstream assets and a close connection to the Alliance pipeline system.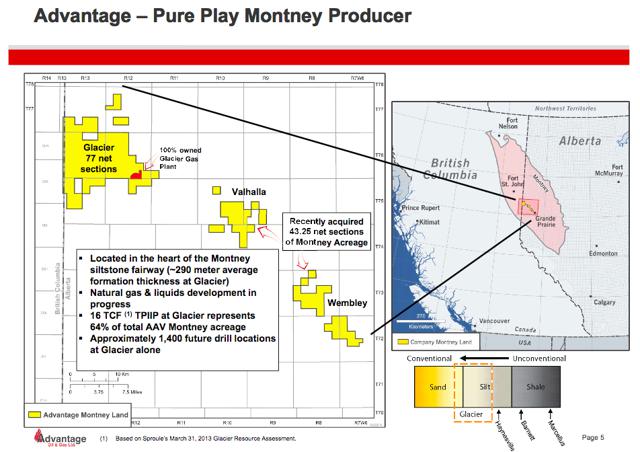 The AAV Footprint Relative to Other Producers
With a land position in close proximity to other major producers, it should be clear that AAV is looking in the right place when it comes to its Montney position. In early 2012, Encana joint ventured its acreage in the area with Mitsubishi in exchange for $2.9B for a 40% interest across 400K acres. This deal, while dated, clearly shows the substantial value of AAV's undeveloped land position.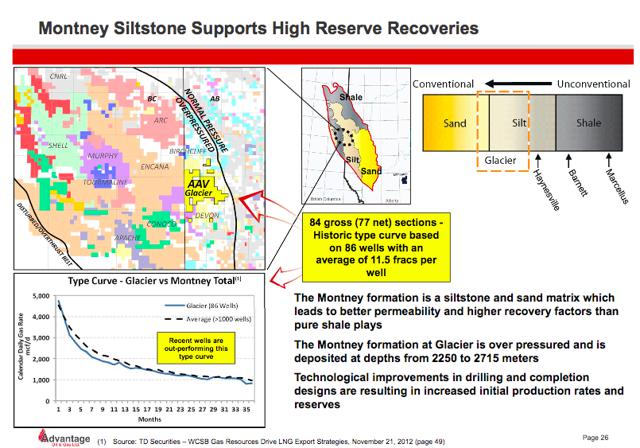 Numerous Drilling Opportunities Across AAV Footprint
The Montney, like the Marcellus, has multiple levels, each with its own unique attributes. Collectively these zones, with the use of pad drilling techniques will help drive lower operational costs for AAV. Despite a robust development plan, AAV will have substantial inventory beyond 2017 - excluding any benefit from further down spacing.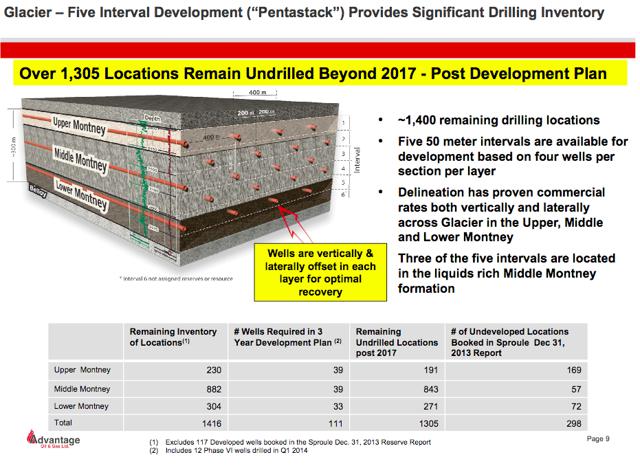 Drilling Opportunities Supported by Low Cost Structure
What is now Longview Oil (LGVWF) was historically part of AAV. With its conventional oil assets, Longview hid the operating efficiency of AAV's montney assets with its higher cost oil assets. Since the separation and subsequent deconsolidation and liquidation of its stake in Longview, AAV's operating costs on a go forward basis are likely to drop further. This can be seen in the graph below which shows how the company's costs on a per Mcf basis have declined over the last several years.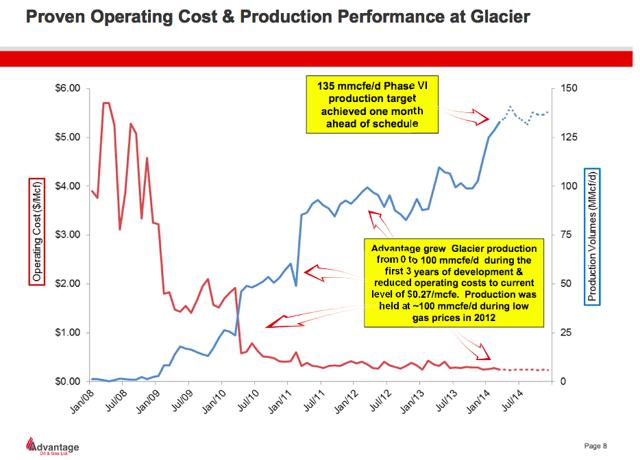 Example 101 on Creating Value Via the Drill Bit
AAV management has for some time lacked a degree of credibility in the market. A failed sale process has certainly not helped this view. Management has however been very clear with the market on the manner in which they want to develop their Montney assets. Laid out in the slide below, this plan keeps debt to cash flow from peaking past 1.4x and provides the market with a report card to track management progress. It's important to note that management is using a natural gas price that is, in my opinion, very conservative. As gas prices outperform their estimates, management will be able to accelerate drilling without taking on additional leverage.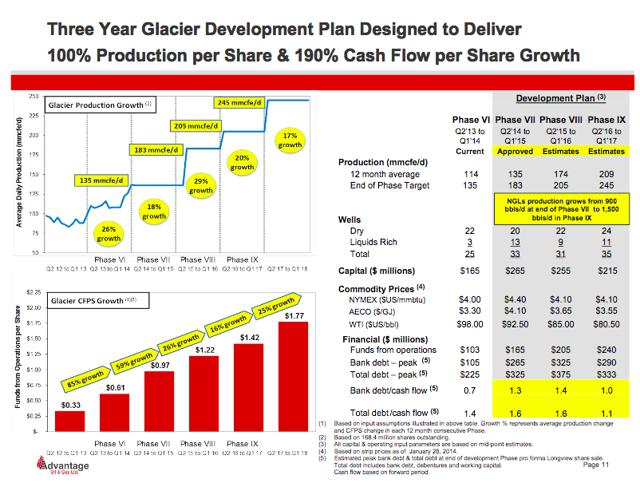 Strong Well Economics Assure Success
The IRRs on AAV's wells are tremendous, despite the fact that they're drilling for dry gas. These IRRs have been boosted by AAV's continued improvements in the company's drilling techniques which have boosted the dry gas type curve from 4-5 bcf to 7 bcf per well.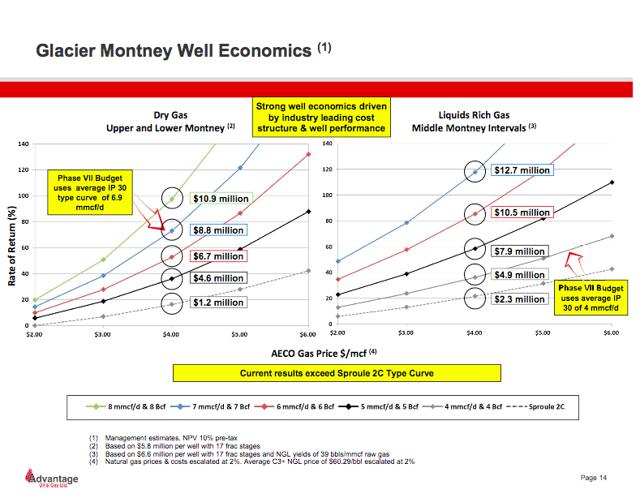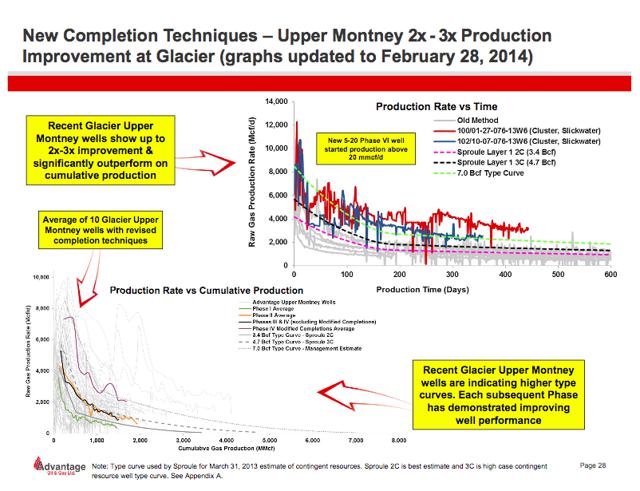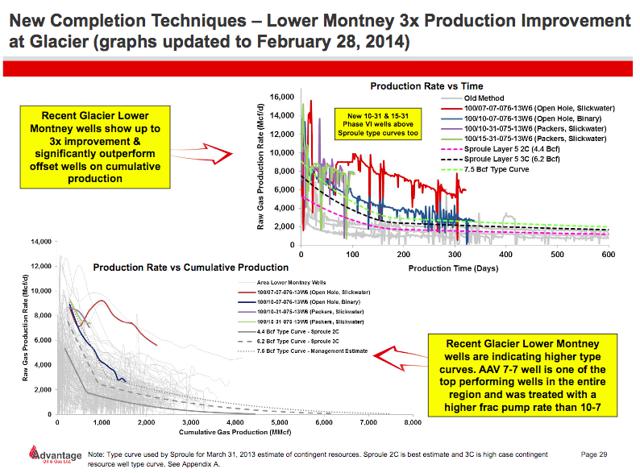 Conclusion
With continued improvement in its wells and low cost structure against a backdrop of improving economics due to substantially improved natural gas price, AAV is finally showing an ability to extract its resources for the benefit of the company's shareholders. Given the company's development plan, shareholders can expect rapidly rising cash flows which management will use to further the development of the company's multilayered Montney play. Given the large size of the company's wells and direct operating costs that are less than those of some of the most prominent shale companies in the lower 48, AAV is levered substantially to higher gas prices and improved well economics. While management's current development plan includes limited incremental leverage relative to the projected incremental cash flow generated, should management choose to accelerate the development of their footprint via further debt, shareholders will benefit substantially.
Risks
AAV produces natural gas, this is a commodity product and AAV has zero pricing power. To the extent that the price of natural gas does not meet expectations or that the company's wells underperform, AAV will underperform. These risks are typical with most E&P companies. Do your own due diligence.
Disclosure: I am long AAV. I wrote this article myself, and it expresses my own opinions. I am not receiving compensation for it (other than from Seeking Alpha). I have no business relationship with any company whose stock is mentioned in this article.