In an article I wrote several months ago, I mentioned that a Google (NASDAQ:GOOG) and Luxottica (NYSE:LUX) partnership was highly likely:
I think the most practical strategy for Google and Luxottica is a partnership. In fact, I'm fairly certain Google is working out a partnership deal with Luxottica as Luxottica earns revenue from prescription lenses, sun glasses and eye care insurance. It's involved in all parts of the eye-care ecosystems and has pretty much saturated every major retail location.
Furthermore, Google's partnership with Luxottica comes at a time when details surrounding the Android Wear have become more available. While Google Glass is primarily meant to be a voice activated device, there's always the possibility of connecting the Google Glass and the Google Watch together for a shared user interface. Google mentioned that Android Wear was meant to be a device that allows you to control other electronic devices, and there's no question in my mind that this added feature will be leveraged.
Google has a lot of work ahead of it
In an interview, Tim Cook dismissed the idea of Google Glass. However dismissing another company's product idea isn't the mark of true professionalism in Silicon Valley. I mean, Steve Ballmer got the smile slapped off his face with the iPod Touch and iPhone in a very short manner of time. Sure, Google Glass has some kinks to work out, but they aren't unsolvable.
Investors really have to re-think Google Glass as it has the distribution capability plus product licensing to make for a consumer friendly product. However there's more work ahead of it. Google needs to convince users that it's easy to talk to Google. This can be done by making both the software and hardware component of voice recognition better. Bose worked a solution into its Bluetooth headset through the use of noise rejecting microphone technologies. Google may be able to find a solution for voice recognition in loud places, which may allow Google to rely more heavily on voice commands as a way of navigating a standard user interface.
Google is investing really aggressively into research and development. Over the past five years, Google's R&D grew from $3 billion to $8 billion. Some of it has to do with the cloud, but a lot of it has to do with other products outside of data center infrastructure. Cloud is a CAPEX hungry business. While, Google does need to innovate in cloud technologies, much of the hardware development is done by Intel (NASDAQ:INTC), and an ecosystem of other manufacturers like OCZ, Western Digital (NYSE:WDC), etc. This leads me to believe that Google is ramping up its R&D spending to give wearable computing a technological edge against other competitors.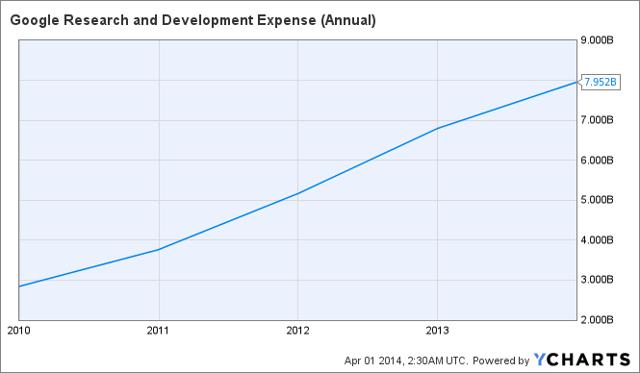 Click to enlarge
Source: Ycharts
Can Luxottica and Google form a happy partnership?
Google needs to develop a cohesive business strategy for moving through product generations. Technology tends to run on a one-year life-cycle, which is a much faster product refresh than what prescription lens owners are accustomed to. This indicates that most of the information stored on Google Glass needs to be stored in the cloud, that way consumers can update the internal components without needing to transfer files from one device to the next. On the hardware side of the equation, Google Glass would need a dedicated part where all the internal components are stored. In this part, Google Glass would be able to switch that part out, so consumers won't have to buy a whole new pair of glasses.
Details on how Luxottica earns revenue through a Google partnership will become more available as we get closer to a 2015 release. However, revenue generation can come in many forms such as revenue sharing, more consumption of glasses frames, and further strengthening of Luxottica's moat against Safilo Group, which trades on the Borsa Italiana. While Luxottica doesn't get to share in the revenues that Google is likely to generate from frequent product refreshes, Luxottica may be able to cross-sell better lenses or an extra pair of compatible frames with Google Glass. I mean, why not make the Google Glass interchangeable with a pair of Oakley's or Ray-Bans.
Luxottica has a lot of work ahead of it. And while the original design of the Google Glass doesn't look too bad when seen in person, people mildly sensitive towards fashion would probably puke at Glass' TV commercial. This is the sort of technology that has to be seen in person, and thankfully Luxottica doesn't need to figure out a way to make Google Glass photogenic as it can be worn by the average passerby that happens to wander into a Luxottica store. Furthermore, I'm sure Luxottica's internal designers will suggest a bunch of alternative sketches that would be presented to a group of Google's most talented engineers. Perhaps design work needs to be left to designers, and product development to engineers.
Conclusion
Best case scenario:
Google develops a LED screen that can go between two prescription lenses, and remain transparent, that way the gawky looking cube at the top right of the Google Glass becomes unnecessary.
Luxottica includes lenses that can alter between sunglasses and normal glasses depending on day or night conditions.
Internal components can be switched without having to buy a new pair of glasses.
Mobile subscriptions for Google Glass can be included at a significantly lower rate than what's paid for data plans on smartphones.
Voice recognition software becomes more robust due to noise cancellation technologies.
Assuming the above conditions are met, Google Glass will become a successful product. Furthermore, Luxottica gets to tag along for the ride, while mobile carriers gain an additional cross-sell opportunity.
Disclosure: I have no positions in any stocks mentioned, and no plans to initiate any positions within the next 72 hours. I wrote this article myself, and it expresses my own opinions. I am not receiving compensation for it (other than from Seeking Alpha). I have no business relationship with any company whose stock is mentioned in this article.