PepsiCo (NYSE:PEP) is an interesting stock whose performance looks volatile in the short term but very profitable in the long term. In the last year or so, the company's stock performance has been less than impressive due to worries that growth might be slowing down as we move forward. Many investors are also waiting for this company to split its beverage business from its snack business in order to create two separate companies in order to maximize the value for the current shareholders, even though the company's management seems to believe that shareholders can get more value when the company is in one piece.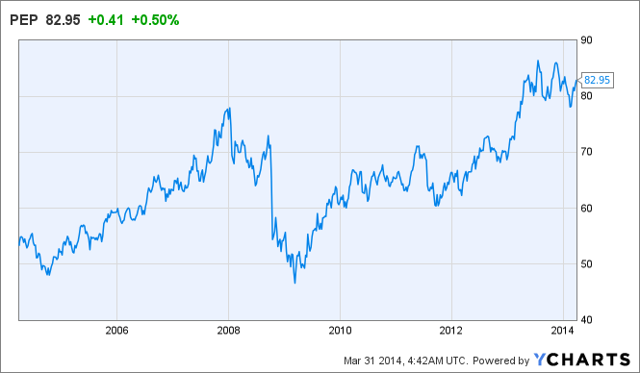 Over the years, Pepsi's revenue growth was mostly consistent but it faced some obstacle points where the growth rate failed to impress. For example, between 1995 and 2000 the company's revenues fell sharply from nearly $30 billion to just north of $20 billion. After a sharp increase from $45 billion to $65 billion between 2010 and 2012, Pepsi's revenue growth became somewhat flat and many investors are thinking this may be a permanent thing rather than a seasonal problem.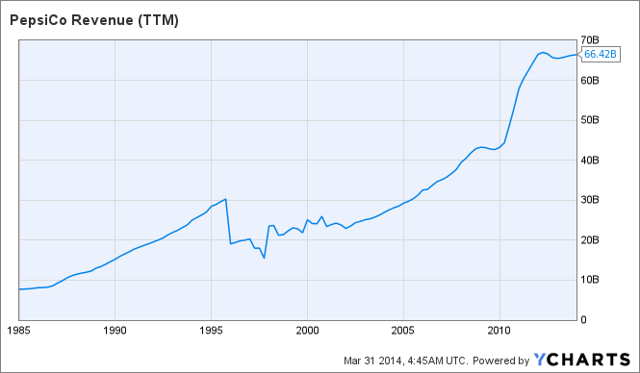 Currently, revenue growth is not the only thing that bother some investors either. Many investors are also concerned about the company's declining margins. In the chart below, you will see Pepsi's gross margins in the last 25 years and the company is currently enjoying the lowest gross margins during this period. While the peak gross margin for the company was 68%, the historical average has been closer to 58% and the current value of 53% falls well below this average.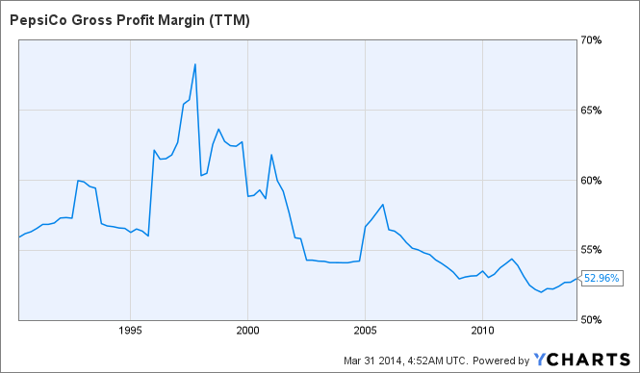 When we look at the company's operating margins and net profit margins, we see a rising long-term trend coupled with falling short-to-medium term trend. Pepsi's current operating and profit margins are below what we saw in the last decade and a little above what we saw in the previous decade. Basically, Pepsi's current profitability is more in line with 1990s than 2000s and this trend will need to change soon if the company wants to grow its profits.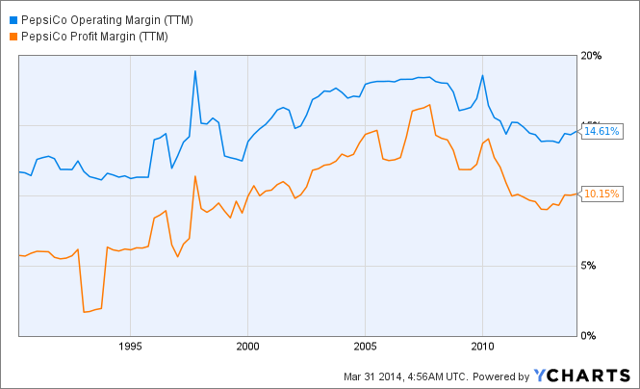 In the last decade, Pepsi's net profits grew by 90.9% and the company's earnings per share grew by 113.2% due to the company's practice of buying its shares back. Between 2008 and 2012, there was a period where the company did not post much of an earnings growth but things might have been getting better for the company in the last year or so.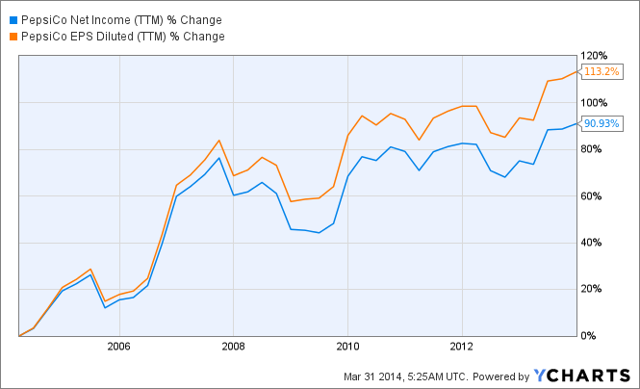 Pepsi's current P/E ratio is well below the company's historical average. Historically speaking, Pepsi has enjoyed a P/E ratio around 25 while the number ranged from 15 to 47. Currently, the company's P/E ratio of 19 is on the lower end of historical standards and this may indicate that most investors see the company's growth coming to a significant slowdown if not a complete halt.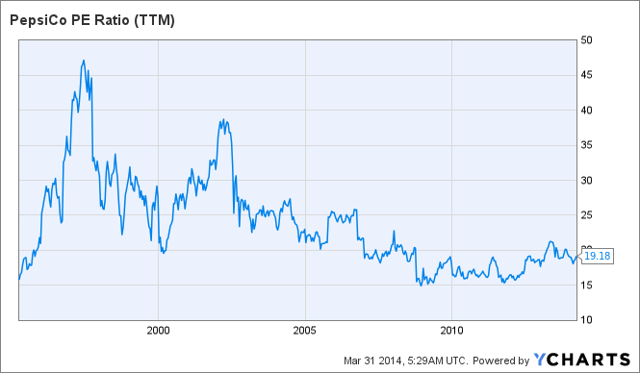 We can also look at Pepsi's price to cash flow from operations. This metric tells us company's valuation based on its cash flow before taxes or any growth-oriented investments (as well as any depreciation, of course). If we don't count a small period in late 1990s or a small period during the bottom of the Great Recession, the company's current price to CFO is the lowest in a very long time.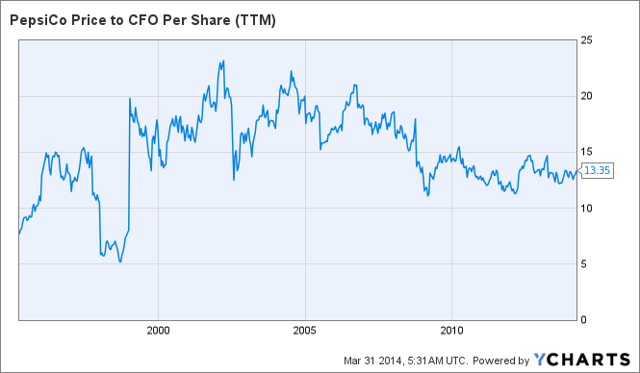 Now, Pepsi has a long history of raising its dividend payments year after year, which makes the company a dividend champion. Pepsi's current dividend payment is all-time high and the yield of 2.74% is much higher than the company's historical average of 1.50%, even though it is lower than the peak of 3.50% we saw a few years ago. The current yield might attract a lot of dividend investors and their buying behavior might support the share price from falling further.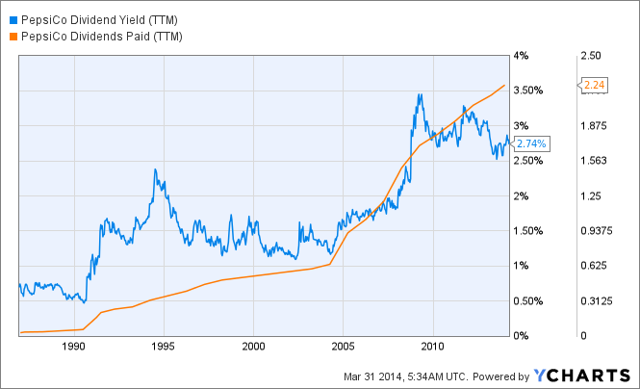 Speaking of dividends, Pepsi's dividend payout ratio is also near all-time high because the company has been raising its dividend payments pretty consistently year-after-year even though its earnings haven't been rising in the same consistent manner. If Pepsi continues to raise its dividends without growing its net earnings for a few more years, the company's dividend rate might be at risk.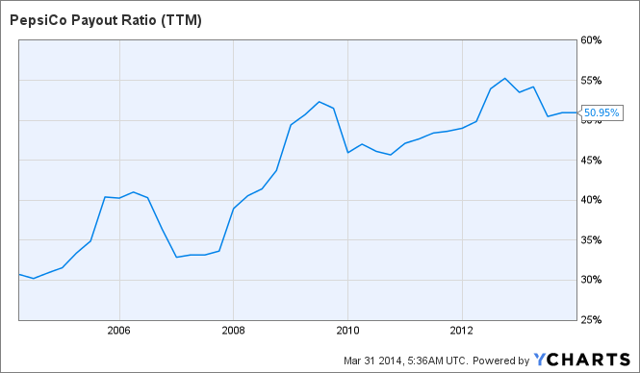 Moving forward, Pepsi is expecting to grow its revenues by expanding its snack business in developing markets through entering new markets, offering new products and possibly buying some local brands that are already popular in their localities. The company is in the middle of a cost-cutting program which should improve the operating margins by a couple percentage points by the end of 2014. Pepsi should also be able to pass on some of the rising costs to customers by raising prices of some of its products in the next year or so since it started doing this last year with some products. As the economic conditions in many developing nations improve and the local currencies start stabilizing, this should impact the company's sales growth positively compared to what we saw in 2013.
If all goes well, Pepsi will be able to meet or pass the analyst targets of $4.52 for this year, $4.91 for 2015 and $5.34 for 2016. Of course these will be difficult to achieve without some kind of revenue growth coupled with large stock buybacks. If the company meets these targets, it will be looking at a forward P/E of 15, which is much below the historical standards. If Pepsi can actually achieve its medium-to-long term goals, this may be a good time to initiate or increase a position in the company.
Disclosure: I have no positions in any stocks mentioned, and no plans to initiate any positions within the next 72 hours. I wrote this article myself, and it expresses my own opinions. I am not receiving compensation for it (other than from Seeking Alpha). I have no business relationship with any company whose stock is mentioned in this article.