As an investor who happens to find mid-to-higher yielding income plays quite attractive, I've decided to shift my focus to the oil and gas sector, and highlight a number of reasons behind my decision to remain bullish on units of Buckeye Partners LP (NYSE:BPL).
Company Overview
Based in Houston, Texas, Buckeye Partners, L.P. is a publicly-traded master limited partnership that provides mid-stream energy logistics services. Buckeye owns and operates one of the nation's largest independent petroleum products common carrier pipeline networks providing refiners, wholesalers, marketers, airlines, railroads, and other commercial end-users with dependable, all-weather transportation of refined petroleum products. Buckeye also operates and maintains pipelines that it does not own, primarily in the Gulf Coast region, under contracts with major oil and petrochemical companies.
Recent Performance & Trend Behavior
On Friday, shares of BPL, which currently possess a market cap of $8.59 billion, a forward P/E ratio of 17.84, and an annual distribution yield of 5.84% ($4.35), settled at a price of $74.52/unit.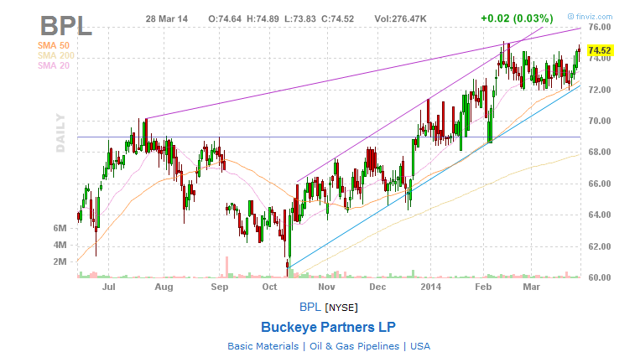 Based on their closing price of $74.52/unit, units of BPL are trading 1.90% above their 20-day simple moving average, 2.78% above their 50-day simple moving average, and 9.81% above their 200-day simple moving average. It should be noted that these numbers indicate both a short-term and mid-to-long term uptrend for the stock, which generally translates into a buying mode for both near-term traders and long-term investors.
Comparative Forward P/E Ratios Set BPL Apart From One Of Its Peers
Although the above referenced numbers indicate a long-term uptrend for the partnership's stock, I actually think its unit price of $74.52/unit offers investors a considerable point of entry. Why? Well, I think that shares are trading at a much better forward P/E ratio than one of its sector-based peers, which could translate into a great buying opportunity for most income-driven investors.
As of Friday's close, BPL's forward P/E ratio of 17.84 was much lower than the forward P/E ratio of Atlas Pipeline Partners, LP (NYSE:APL) (forward P/E ratio of 41.87 as of 3/28), which signals a greater level of affordability for Buckeye, especially when compared to the forward P/E ratio of Atlas Pipeline Partners.
Recent Dividend Growth
Since February 16, 2012, the company has increased its quarterly distribution four times over the last two years (including the company's most recent payout that took place on February 13). From an income perspective, the partnership's forward yield of 5.84% ($4.35), coupled with its 24-month dividend behavior certainly make this particular stock a very viable income option for long-term investors in search of a mid-to-higher yielding MLP play.

If the partnership's distribution behavior over the next 12 months can mimic its distribution growth of 4.76% that was demonstrated over the last 12 months, I strongly believe that investors could see May's payout fall into a range of $1.094/unit on the low side or as much as $1.11/unit on the high side.
Recent Coverage Ratios Signal Distribution Sustainability
According to the partnership's most recent earnings announcement, which took place on February 7, Buckeye demonstrated distributable coverage ratios of 0.94 for the fourth quarter and 0.99 for FY 2013. If the company can continue to maintain coverage ratios that are at or above the 0.9 benchmark, I see no reason why my above mentioned estimates can't be met and/or exceeded moving forward. If BPL's coverage ratios fall below the 0.9 level, I'd start to become a bit concerned and refrain from adding any additional units.
Conclusion
For those of you who may be considering a position in Buckeye Partners LP, I strongly recommend keeping a close eye on the firm's recent trend performance, the continued improvement of the partnership's quarterly distribution, and its ability to enhance shareholder value over the next 12-24 months, as each of these factors could play a role in the partnership's long-term growth.
Disclosure: I have no positions in any stocks mentioned, and no plans to initiate any positions within the next 72 hours. I wrote this article myself, and it expresses my own opinions. I am not receiving compensation for it (other than from Seeking Alpha). I have no business relationship with any company whose stock is mentioned in this article.