Business credit has been difficult. It may well become more expensive and more difficult to obtain. Given that, what companies clearly have no need of credit?

We conducted this test:

1. cash > total liabilities
2. EPS > 0 last quarter
3. EPS > 0 last 4 quarters
4. EPS > 0 each of last 3 fiscal years

That should eliminate venture or IPO funded companies with lots of cash, but that are burning their way through it.

To eliminate totally illiquid stragglers, we also required a minimum 3-month average daily dollar trading of $1 million or more, and a price (as of last Friday) of at least $5.

There are 9,812 companies in the database we used. Of those, 1,133 have more cash than total liabilities, but when the additional profitability, liquidity and price criteria were applied, the number of surviving companies was reduced to 184.

We then subjected those 184 companies to a price behavior test to search for clear demonstration of an upward trend:

1. price > 200 day average
2. price > 20 day average
3. 20 day average > 50 day average
4. 50 day average > 100 day average
5. 100 day average > 200 day average

There were 25 companies of the 184 that passed the price trend test, as follows: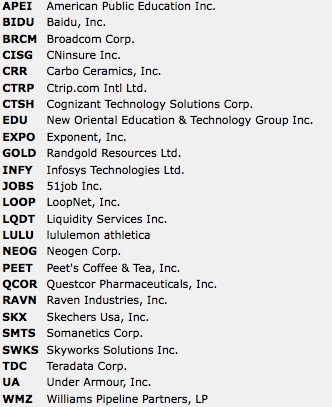 We are not expressing an opinion about any of those companies, merely providing do-it-yourself investors with some potentially interesting prospects to research further.
Disclosure: As of June 24, 2010, we do not own any named securities in any managed accounts.

Disclaimer: Opinions expressed in this material and our disclosed positions are as of June 24, 2010. Our opinions and positions may change as subsequent conditions vary. We are a fee-only investment advisor, and are compensated only by our clients. We do not sell securities, and do not receive any form of revenue or incentive from any source other than directly from clients. We are not affiliated with any securities dealer, any fund, any fund sponsor or any company issuer of any security. All of our published material is for informational purposes only, and is not personal investment advice to any specific person for any particular purpose. We utilize information sources that we believe to be reliable, but do not warrant the accuracy of those sources or our analysis. Past performance is no guarantee of future performance, and there is no guarantee that any forecast will come to pass. Do not rely solely on this material when making an investment decision. Other factors may be important too. Investment involves risks of loss of capital. Consider seeking professional advice before implementing your portfolio ideas.