Energy

Despite a down week in broad financial markets, crude oil advanced 2.2% in the period. Early on Monday, prices got a boost from news that China would allow more flexibility in the Yuan/Dollar exchange rate. Traders bid up risk assets, hoping that the move would be a step in the direction of correcting imbalances in the world economy. Moreover, the potential increased purchasing power of the Chinese currency was seen as a positive for commodity demand. As early as late Monday, however, the optimism over the China news gave way to renewed selling, as global economic concerns came back in focus. As the week progressed, weak economic releases out of the U.S—data on housing was downright ugly—kept the pressure on financial markets. The S&P 500 finished the week down 3.6%; the stock index logged only a single up session in the entire period.
The dismal performance of stocks highlights just how impressive crude oil's own performance was during the week. After the washout in May that sent oil prices as low as $64.24/barrel, the commodity has been on a steady upswing. Over the last three sessions, prices have successfully tested the trendline that defines that very upswing. The $75.50 level that corresponds to the trendline, is also former-resistance-turned-support, hence this 'double support' is looking like a tough nut to crack. Caution is warranted, however, for further steep losses in equities would surely spill over into crude oil eventually. On the upside, the psychological $80 level is the first level of resistance.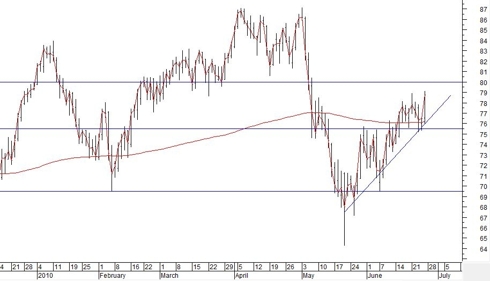 Taking a look at U.S. storage
, the EIA reported that in the week ending June 18, crude oil inventories rose 2 million barrels, gasoline inventories fell 0.8 million barrels, distillate inventories rose 0.3 million barrels, and total petroleum inventories rose 2.7 million barrels.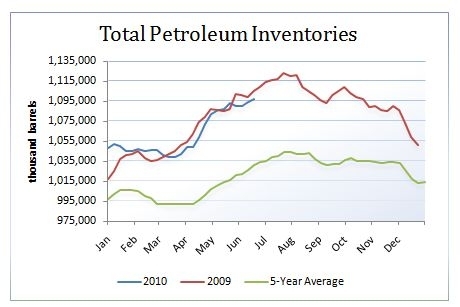 U.S. petroleum inventories are now 6.4% above the 5-year average, down from 6.6% last week. U.S. crude oil production was flat week-over-week. Year-to-date, production is up 3.5% year-over-year.
Output levels will be closely watched to see whether the situation in the Gulf of Mexico is having any impact.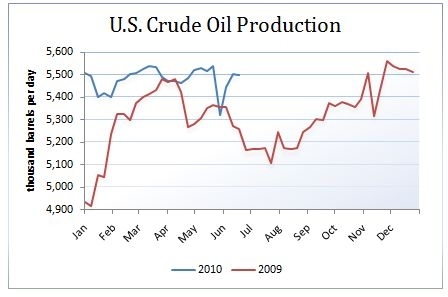 After breaking above the level last week,
natural gas
fell back below $5/mmbtu this week, as prices sank 2.8%. The primary culprit for the latest move was once again weather, as forecasts are calling for a cool down in parts of the East and South going forward. Additionally, a tropical depression heading over the Yucatan peninsula currently, is expected to make its way up toward the Gulf Coast next week, which will have a dampening effect on cooling demand.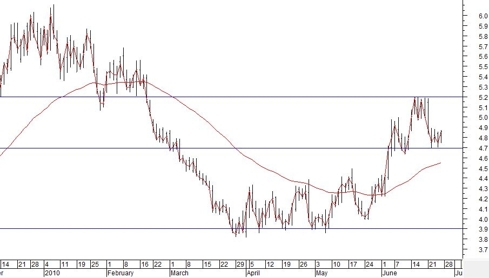 Taking a step back, over the last month, natural gas has rallied on the back of hotter-than-normal temperatures, which has enabled the year-over-year inventory differential to turn from a surplus to a deficit. After the EIA reported an 81bcf build on Thursday, that deficit increased to 27bcf from 14bcf in the prior week.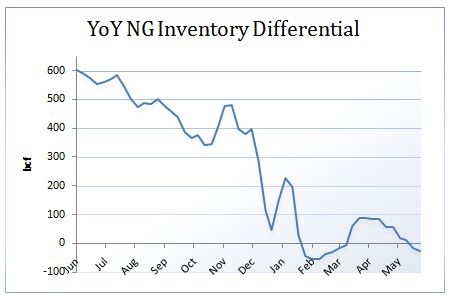 YOY comparisons become much more difficult as we head into July, however, and so there is a likelihood that within the next few months, inventories will be back to a surplus over the year ago level. Notably, inventories are still 264bcf above the 5-year average.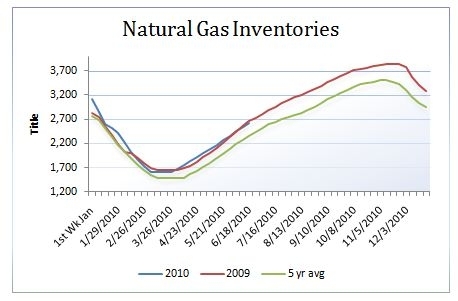 Production growth is still too high relative to demand growth; the horizontal rig count increased by 6 this week to 833, which is the highest level ever. My base case assessment is that natural gas inventories will reach new record highs in November, and prices will break the March lows near $3.82 within the next few months. Risks to the outlook include sustained much-above-normal heat across the nation and production disruptions from any potential hurricanes.
Central Appalachian
coal
prices dropped over 4% this week, as inventories increased 11.3 million short tons in April. Storage is tracking closely with last year's elevated levels, despite a 4.2% increase in coal demand for electric generation year-to-date. While coal is regaining some of its lost market share in the EG sector from natural gas this year, the secular trend favors gas. Over the last five years, coal's share has fallen from 50% to 45%, while that of natural gas has risen from 18% to 23%.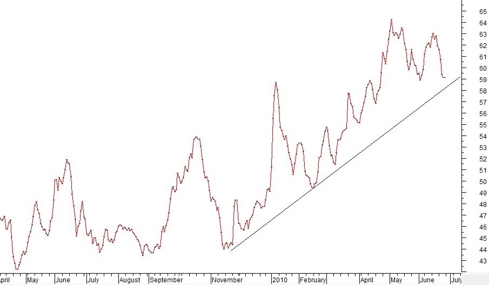 Metals


Gold
has had a whipsaw week. After shedding nearly 2% on Monday in what some were calling a key reversal, prices rebounded, regaining much of those losses. Looking forward, the band between $1250 and the $1265 will need to be watched closely, for signs of stalling could be a signal for momentum traders to exit. On the other hand, these parabolic moves often end in spectacular spikes, which we have yet to see. The long side is still favored until shown otherwise.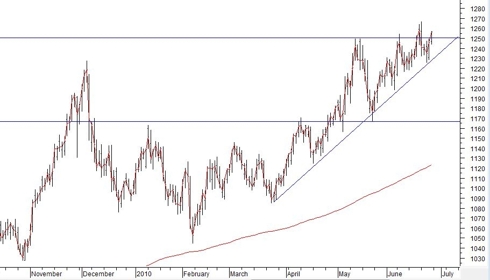 Taking a look at gold ETF flows for the week, holdings increased 448,540 troy ounces (12.7 metric tons). There was a slight dip in holdings (15,000 ounces) on Monday— which explains the corresponding price drop on that day—but it has been up and away since then. Critically, this reinforces my view that investment demand, particularly demand for gold ETFs, is currently
the single most important driver of prices
.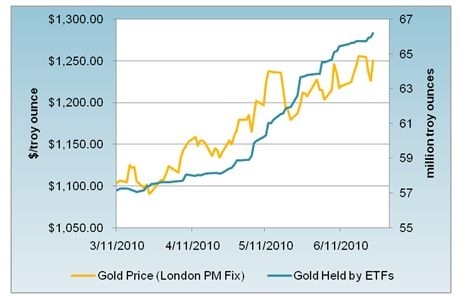 Silver continues to act like gold's hyperactive twin. The metal is mirroring gold's moves, only with more volatility. There is no reason to believe that this relationship breaks down anytime soon.
The gold/silver ratio increased to 65.76 from 65.54 last week. The ratio is less than the year ago level of 66.97.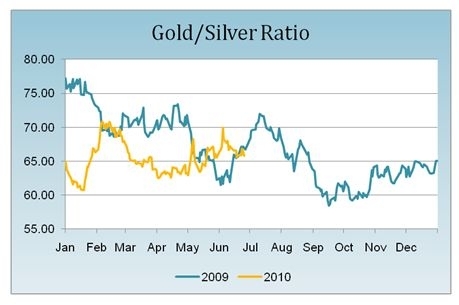 After underperforming last week, copper strongly outperformed this week, rising 7.2%. In addition to finding favor after the Yuan flexibility announcement (China is the largest consumer of copper in the world), prices benefitted from large declines in copper warehouse inventories, which sent storage to its lowest levels since December 2009. Nevertheless, copper stocks remain at comfortable levels for now.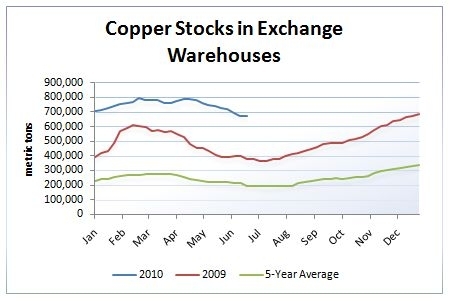 Now that prices have broken above the downtrend and 200-day EMA, look for resistance at $3.15, followed by $3.20 on COMEX copper. Initial support lies near $3.05.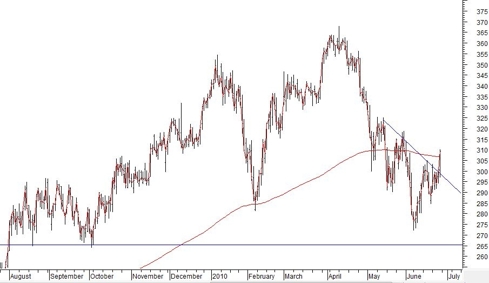 Disclosure: Short UNG from $8.70