Another week of completely bipolar market action better left to the day traders. As opposed to last week where we went only up, this week there were no bids in sight. Staying disciplined to your strategy at this time is so incredibly important. Not only do us swing traders have to fight the urge to chase price action up, but lay off the keyboard trying to catch falling knives in the relative strength stocks which are holding up. If you tried to buy support in your favorite names this week, you got your hands cut up.
I'll continue to rely on the understanding of my own emotions as they have served me well. When we opened higher on Monday morning I knew I was in the right place, cash, as the market was just way overbought. If you bought most relative strength names last week, by the end of this week you were well underwater.
So where do we go from here? I've got no clue, the market is a mess, the charts are a mess, and the long bond is about to break out. If that happens all bets are off, we could see an "event". If the smart money is lining up at the exits and moving into bonds, there's a good chance they see something coming down the pipe.
I still see good long setups out there, but the list is thin and obvious. I'll put out a video tomorrow night covering a few of those names. But for now, the key is to keep your positions extremely light, not get chopped up, and enjoy your summer.
For the week the momentum book picked up 335 basis points of alpha but lost 20 basis points of absolute return. All in all an excellent week. With three trading days to go in the quarter, the momentum book sees an absolute return of 182 basis points and alpha of 963 basis points. I'll take those numbers in an ugly market any day of the week.
I sold out of Bio-Reference Laboratories (NASDAQ:BRLI) this week for a small loss, along with a very tiny loss in Lululemon (NASDAQ:LULU), and quite a bad and undisciplined trade in Whirlpool (NYSE:WHR).
I got in and out of Barnes & Noble (NYSE:BKS) and A123 Systems (AONE) for decent little gains. I also sold my TLT late in the week. I'll look to pick that position back up early next week. I also took a small stake in Peet's Coffee (NASDAQ:PEET) on Friday.
Nothing that I say or show on this blog should ever be considered investment advice or a recommendation to buy or sell any security. The performance numbers that I post in the momentum book should never be regarded as representative of any specific client account managed by Surfview Capital, it is there solely for educational purposes and should be treated as such.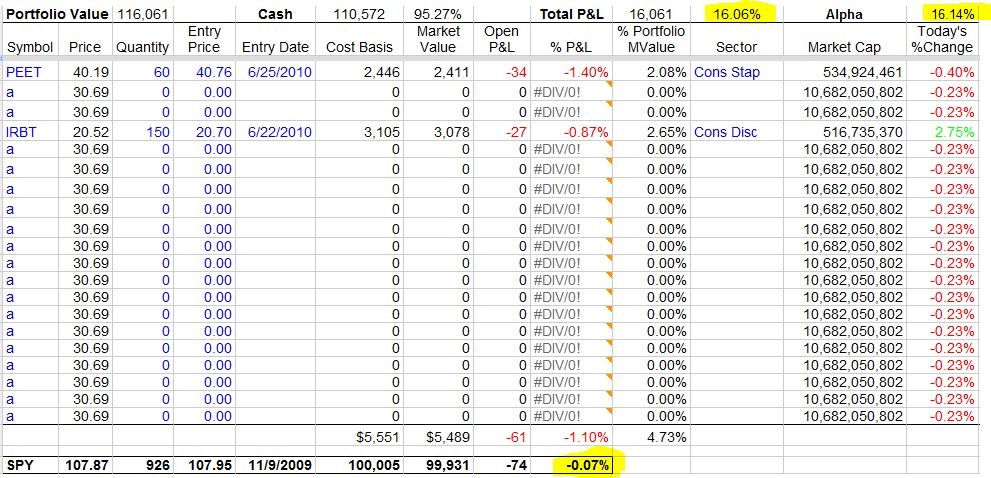 click on charts to enlarge