While Berkshire Hathaway (NYSE:BRK.A), (NYSE:BRK.B) is a large conglomerate, its core business is still stated to be insurance. Property/casualty insurers have often been operating at an underwriting loss in recent years. In the recent annual report, Warren Buffett illustrates the example of State Farm, which had operated with an underwriting loss in 9 of the last 12 years.
One reason is intense competition in the industry; another is the exponential increase the world has seen in weather-related disasters, due to climate change. Of the $100 billion in global natural disaster related losses that occurred in 2011, 50% were from events such as severe storms, floods and wildfires. Evidence even points to North America being more prone to these events than other continents. During the last 3 decades, weather-related loss events have doubled in Europe, quadrupled in Asia and quintupled in North America. The lack of an east-west mountain range, such as the Alps in Europe, is unique geography which helps to create the severe weather events. 99 weather-related disaster declarations were made in the United States in 2011, a record. The previous record was in 2010, in which 81 were made.
This has led to some unique challenges in risk management, which can no longer use long-term risk models as a valid predictor in certain instances. In addition, payments related to climatic events have increased 1,500% over the last 30 years. Add this on top of an environment creating lower than normal investment returns, and it should come as no surprise that P/C insurers trade at such low multiples.
Despite this, Berkshire Hathaway has in fact seen 11 consecutive years of an underwriting profit. Over that time, a massive pre-tax gain of $22 billion was totaled, with $3 billion realized in 2013. Insurance float during these 11 years has increased from $41 billion to $77 billion. The last 3 years have been full of catastrophe loss events; the earthquakes in Asia and Oceania and Hurricane Sandy in the U.S. being two of the most notable ones. Floods and hailstorms in Europe are examples of some other events which had a significant impact.
Berkshire operates four insurance and reinsurance businesses. General Re underwrites excess-of-loss, quota-share and reinsurance for insurers and reinsurers. Berkshire Hathaway Reinsurance Group underwrites excess-of-loss and quota share reinsurance for insurers and reinsurers. These are the two businesses which are particularly vulnerable to catastrophe losses from weather-related events. GEICO's catastrophe losses typically tend to occur regularly and individually, and are not normally of a very significant amount. Still, they faced substantial losses from Sandy.
Combined, Berkshire's insurance businesses suffered pre-tax losses from catastrophe events of $436 million in 2013, $1.1 billion in 2012 and $2.6 billion in 2011. After-tax losses totaled slightly more than $2.7 billion for the three years. The pre-tax underwriting gain still came in at $5.0 billion. The net underwriting gain was $3.2 billion.

Buffett claims that if the insurance industry recorded a loss of $250 billion in year from a mega catastrophe, which would be about 3 times more than it has ever experienced, Berkshire would still be able to record a strong profit for the year because of its diversified source of earnings. Almost assuredly this is a true. In fact it's a pretty conservative statement. Berkshire's unit managers at the insurance business are masters of their craft, such as Ajit Jain, who heads BHRG. Jain is so successful that he is actually one of the top picks investors have speculated on to eventually succeed Buffett.
In total, earned premiums for Berkshire's insurance businesses grew to $30 billion in 2013, a 5.7% increase over 2012. $18.6 billion of those earned premiums were from GEICO, which saw a 10.9% increase over 2012.
While underwriting is the responsibility of the unit managers of each of Berkshire's insurance businesses, investing decisions are for the most part done by Warren Buffett, who relishes the recent years' offerings of negative-cost float. Net investment income totaled $3.7 billion in 2013, up 9.2% from 2012.


Increased dividends on equity investments were responsible for most of the increase. The 4th quarter of 2013 saw Berkshire have its 11.45% subordinated notes ($4.4 billion par) repurchased by Mars. 10% preferred stock from Goldman Sachs (NYSE:GS) and General Electric (NYSE:GE) were also redeemed in 2011. More high yielding fixed-maturity investments are set to be redeemed or mature in 2014. The investment opportunities currently available will almost assuredly be with lower investment yields, leading to lower investment income.
Still, many of Berkshire's largest investment are dividend payers, and should be increasing payouts nicely this year, helping to offset lower fixed-income yields.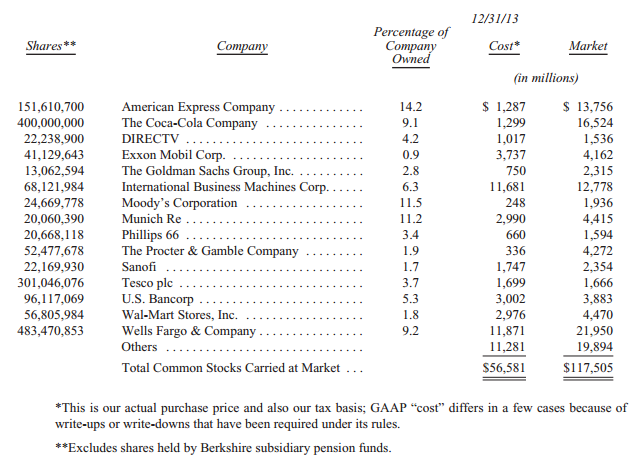 Note that Berkshire has the right to buy 700 million Bank Of America (NYSE:BAC) shares any time prior to September of 2021 for $5 billion. Berkshire plans to purchase just before the expiration date. Currently, those shares are worth enough to make them in essence Berkshire's 5th largest equity investment.
This is, of course, all aside from Berkshire's wonderful other businesses, including the Burlington Northern Santa Fe railroad. Net earnings attributable to Berkshire shareholders increased 31.4% to $19.48 billion in 2013. Earnings benefited from solid performance from the railroad, bolt-on acquisitions in manufacturing, service and retailing, and $4.3 billion in investment and derivative gains.
Berkshire is very conservative, and remains awash with cash. Buffett desires to keep at least $20 billion in cash. The nature of the insurance contracts Berkshire holds ensures that there will never be immediate demands for sums that are large compared to cash resources. Instead, in the event of some major catastrophe, it will allow Berkshire to make big investments at a discount, while many other major insurers and reinsurers would be in the red deeply, with some facing insolvency.
Disclosure: I am long BRK.B. I wrote this article myself, and it expresses my own opinions. I am not receiving compensation for it (other than from Seeking Alpha). I have no business relationship with any company whose stock is mentioned in this article.