It's been so hard over the winter to not concentrate on two simple things with regards to Ford (NYSE:F): the cold weather's effect on sales, and Ford's excellent growth internationally. With poor domestic sales as a result of the deep freeze the U.S. was under this winter, much of my bull case has hung on the tangible progress that the automaker has been making overseas.
In addition to that, the company continues to innovate its products domestically - even if they're not flying off the dealer lots to start the year. Ford has revamped their F-150 - modernizing it by making it lighter and more fuel efficient. Additionally, the company's new designs behind its staple models - like the Fusion and F-150 - are giving Ford a look like they belong in 2014.
Also, Ford has implemented a recent initiative to secure jobs at one of its plants in Ohio, where it's producing a smaller version of the company's EcoBoost engine - designed to provide more fuel efficiency without costing engine power.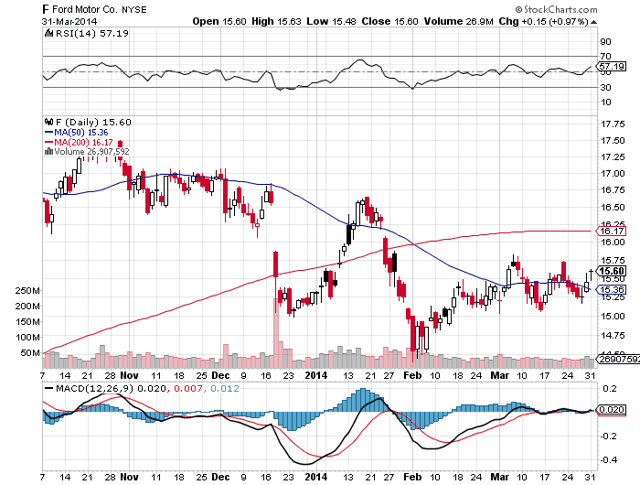 Even though Ford has been stagnant of late, it has still returned 20.9% over the last twelve months. Recently, I've been arguing - and will continue to argue - that Ford's stock is fundamentally undervalued and as U.S. sales thaw out, the stock should catch up to the impressive company's growth overseas.
Aside from International sales, the revamping of the F-150, and the new plant in Ohio for making the more compact EcoBoost engines, it was reported yesterday that Ford had a great month of March in terms of sales of its Fusion:
Ford (F +1%) sold more than 30K Fusion sedans in March for only the second time in its history, according to a company sales analyst.
The automaker raised incentives on the model to $3.16K per car which falls below the average discount seen in the mid-size car category.
Automakers report full March sales tallies tomorrow with Ford forecast to show a 1.6% Y/Y gain.
The Fusion! Now I remember my long-lost bullish Ford thesis - I forgot all about the Fusion! Remember this gem that I penned in early October of last year?

I was continually focused on the Fusion's chance of dethroning the Camry as the best selling sedan in the U.S., and forgot about it during the craziness of this past winter. Well, it looks like the Fusion still has the momentum to make Ford a winner.
As I had stated in a previous article, the crux of my argument back in the day and according to my past article on the Fusion was as follows:
Should the economy not deteriorate, we're likely to see a barn burner of a U.S. sedan competition in 2014. If you're betting on Ford here, you're looking for the company to achieve the "next level" of success in their comeback. Giving Camry a serious run for its money would constitute a major catalyst for both the company and its stock.

Should they find success and go number one with the Fusion in 2014, there's no doubt in my mind that Ford is going to be pressing to all-time highs for shareholders. I'm reaffirming bullish on Ford.
So, naturally, I had somewhat tied the success of the company to its short-term momentum with the Fusion; arguing the vehicle was likely to be...well...the "vehicle" that would catalyze Ford's continued growth and success.
But, just like everyone else, there's no way we could have predicted the weather that we were going to get this winter. As the winter passes, however, I believe it's time to stay bullish on Ford. As the U.S. continues to thaw out, I'm adding the Fusion to my list of reasons to be bullish on Ford, which now stands at:
Impressive traction overseas in Asia and Europe
Expected bounce back in U.S. auto sales as the weather begins to warm up
The Fusion being a competitor for best selling U.S. sedan
Ford's stock is fundamentally undervalued, trading a low multiple and offering the safety of a dividend
Best of luck to all investors.
Disclosure: I am long F. I wrote this article myself, and it expresses my own opinions. I am not receiving compensation for it (other than from Seeking Alpha). I have no business relationship with any company whose stock is mentioned in this article.