New Source Energy Partners (NSLP) looks like a compelling acquirer and developer of oil and gas properties in Oklahoma. This master limited partnership (MLP) has a strategic growth strategy with an eye on the long term. New Source achieved a 45% increase in proved reserves to 20.6 million barrels of oil equivalent (MMBoe) in 2013. Investors are likely to be rewarded as the partnership's primary goal is to deliver profitable growth for unitholders. New Source accomplishes this by making strategic acquisitions for optimal increases in revenue and cash flow over the long term.
Dedication to Unitholders
The partnership has its unitholders as its primary focus. The latest payout for unitholders for Q4 2013 was $0.575 per unit or $2.30 on an annualized basis. This gives the partnership a 10% yield, or 9.9% or be exact. New Source Energy Partners has made four distributions since its IPO in the beginning of 2013. The distributions were: $0.274, $0.55, with the last two at $0.575. Although NSLP is a new publicly traded entity, we can see that New Source is dedicated to increasing its distributions to unitholders. As investors, it is comforting to know that New Source is focused on providing stable growth for unitholders as part of its mission. The partnership plans to deliver increased distributions over time for unitholders.
The partnership achieves its dedication to unitholders with its strategic and aggressive acquisition strategy. The acquisitions are carefully planned with an eye on long-term growth. New Source identifies acquisitions that are attractively valued and that make sense for the growth of the partnership and its unitholders. The most recent acquisition was 54.3% working interests of 23 producing wells and the related undeveloped leasehold rights from CEU Paradigm, an affiliate of Exelon Corp. (NYSE:EXC). The properties are located in the Southern Dome field in Oklahoma. New Source paid $18.8 million for an acquisition that is expected to produce approximately 490 Boe/d. The production breakdown for the acquisition is 34% oil, 15% NGL, and 51% natural gas. This acquisition represents an approximate 13.4% increase in New Source's average 2013 net daily production of 3,658 Boe/d. CEU also increases New Source's total reserves by 9% to $22.5 MMBoe. This will create more revenue, cash flow, and thus likely increases in distributions for unitholders.
The acquisition prior to CEU occurred late in Q4 2013. MCE was acquired for $43.6 million. The MCE acquisition begins New Source's journey to operate as a fully integrated partnership instead of just a pure play E&P MLP. New Source Energy's drive to become fully integrated shows the company's seriousness for strategic growth. Such a drive, if implemented successfully, is likely to lead to increased distributions and price appreciation for unitholders.
New Source Energy is committed to the continuation of its growth strategy to ultimately benefit unitholders. The partnership has its eye on entities that provide value and increased cash flow. It is looking to expand beyond the East Central Oklahoma area. CEO, Kristian Kos, stated in the recent conference call that New Source will be aggressively going after acquisitions in 2014. Kos is confident in giving guidance and delivering on that guidance. With this strategy, I think the partnership will continue to reward unitholders.
Valuation
New Source has increased its book value per share significantly in the past year. The book value per share increased from below 9 to over 13. This shows that the partnership improved its balance sheet. The cash position increased from under $4 million to over $7 million in the past year. Over the same time period, total liabilities increased by about only 22%. As a result of this improvement, the price to book ratio decreased from over 9 a year ago to its current level of 1.8. This is now under the industry average price to book ratio of 1.9 and below the S&P 500's figure of about 2.6.
Price to last year's cash flow is only 1.49 as compared to the industry average of 5.3. With the partnership's growth strategy, I think that the price to cash flow will remain below the industry average. The strong cash flow is what drives the distributions to unitholders. New Source's price looks attractive relative to its cash flow.
Another compelling valuation metric for New Source is that its enterprise value of $354 million is significantly higher than its market cap of $277 million. This suggests that the partnership is worth more than the current price is reflecting. This disconnect combined with New Source's expected revenue, earnings, and cash flow growth should allow the underlying price to appreciate in value over the long term.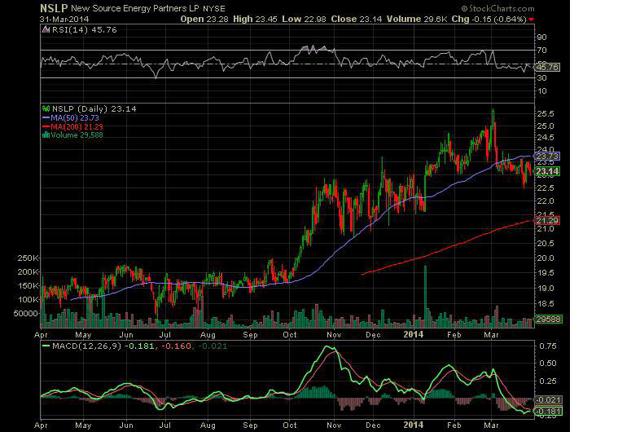 The Risks
The greatest risk to New Source Energy partners is due to having the current operations tied to the Hunton Formation in east-central Oklahoma. However, this risk will be lessened in the future as the partnership expressed the desire to expand beyond this region. New Source's acquisition strategy should turn this risk into a strength as the partnership expands its operations.
Another risk is the partnership's tie to commodity prices. I think that this risk will probably not be much of a factor for a few reasons. First, the supply and demand for oil seems to remain in balance and stable. The global economy is improving which drives demand and production has ramped up to meet this demand. There might be slightly more supply in the market to meet demand, but overall, prices should remain relatively stable, with a slight decline over the next two years. Eia.gov is forecasting an average price of $95 for WTI crude in 2014 and an average price of $90 for 2015. NSLP is currently hedged at $90.20 per barrel, so the partnership is not likely to be negatively affected by oil prices over the next two years.
Conclusion
New Source Energy Partners has an acquisition strategy that is low-risk and sustainable for the long term. Future acquisitions are scrutinized for value and efficient growth potential. Management appears to be confident and competent in meeting/exceeding its goals. The partnership's dedication to unitholders as a part of its strategy should increase the chances for raises in distributions on top of price appreciation over the long term.
Disclosure: I have no positions in any stocks mentioned, and no plans to initiate any positions within the next 72 hours. I wrote this article myself, and it expresses my own opinions. I am not receiving compensation for it (other than from Seeking Alpha). I have no business relationship with any company whose stock is mentioned in this article.