Business Overview:Chegg is the leading student first connected learning platform, empowering students to take control of their education to save time, save money and get smarter. Revenue streams include: Print textbooks, etextbooks,
Situation Analysis: Chegg is a deeply misunderstood business given its transition away from physical textbooks to online digital education and career offerings. Our full 22 page ppt analysis is available here, but a brief overview of the key points can be found in this article.
Chegg is transitioning away from the textbook rental and sale business to be a young professional educational and career network
Growth and margin profile are significantly higher in non-print segments
Valuation of a 100% non-print business justifies current stock price with investors receiving a high revenue print business they are not paying for
Chegg has a history of making relevant acquisitions and has indicated interest in continuing to do so. Acquisitions will expedite the transition to an entirely digital business
The U.S. Education market is a huge and expanding $1 trillion dollar market
Linkedin offers relevant data as to what Chegg could eventually become in its target market and returns investors could realize
Sum of the parts valuation yields a $11 per share value consistent with where bankers priced initial public offering
As a conservative investor we are looking for share price to return to $9 per share
Chegg is well positioned within the market:
Chegg has nearly 30% of all college students somewhere within their platform

• Provides access to over 70,000 internship opportunities through their co-branded Internship service

• During 2013, students completed 3.8 million transactions on Chegg platform, and Chegg rented or sold over 5.5 million print textbooks and eTextbooks

• In 2013, approximately 464,000 students subscribed to Chegg's proprietary Chegg Study service.

• Received 7.6 million inquiries from students using our College Admissions and Scholarship Services

• During 2013, nearly 7.0 million students used Chegg's platform and approximately 1.3 million students used their mobile applications

CEO has expressed interest in moving into the career sector.

"So you can imagine over time the opportunity for Chegg to continue to provide services and now into the career area. So long term, we think it's a very big money maker for us"

Dan Rosenweig on FY 2013 Earnings Call
Entering into Linkedin's market for young professionals offers upside. If Chegg sourced employers and charged a premium membership at $9.99, it would add $27 per share of value in our estimates.
Illustrative Per Share Value Of A Premium Job Membership Revenue Offering

Sum of The Parts: In order to value Chegg wall street analysts have utilized EV/EBITDA multiples on projected EBITDA. We believe this is not the best valuation to use given the disparate nature of the Chegg's two businesses. From our valuation the value of the non-print and digital business was found to equal $7 and the value of the print was computed as $4, yielding an $11 value for the business. The digital business alone justifies the current stock price with investors not paying for the print revenue stream.
Non-Print and Digital:
The non-print business grew its revenue 86% over the past year. If Chegg was entirely a non-print and digital offering(impossible currently because the textbooks are instrumental in driving growth of digital offerings) what would the business be worth per share?
Assumptions in our digital and non-print model include:
1-Digital Cost of Revenue Derived from Chegg's historical financials
2-Technology and development estimated from Salesforce.com(NYSE:CRM) a subscription company's financials, given Chegg's current digital revenue is subscription based.
3-Sales and Marketing estimated from Linkedin (NYSE:LNKD) financials given consumer focus of Chegg and its transition to careers
4-General and administrative estimated utilizing Chegg's historical rates
5- Utilize a 12% WACC, consistent with discount rates utilized for other high growth internet businesses
6- 7% profit margin in 2018 is in line with where Linkedin's margins are anticipated to settle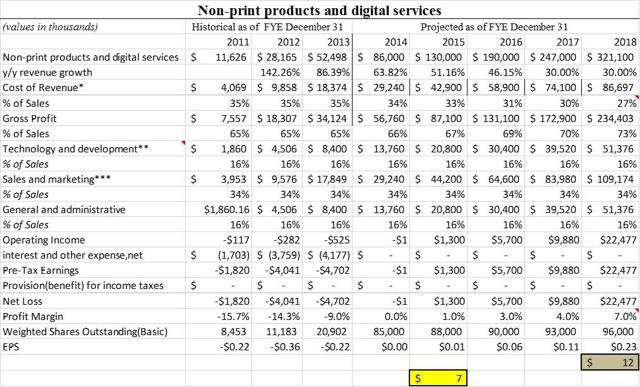 Print Business:
Utilizing a 1X revenue multiple (the low end of Amazon's range) on 2014 revenue yields a per share value of $4 for the lower growth print business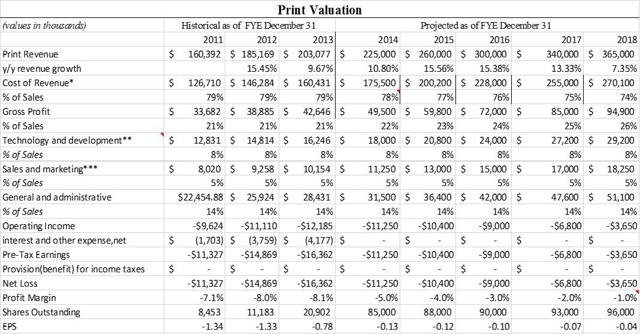 Advertising Is Major Revenue Opportunity, which Chegg is aggressively pursuing
Chegg has ability to offer more pragmatic and education related advertisements than other advertising based businesses like Facebook

Short Thesis:
-print growth is lower than expected. Zinch and CheggStudy are relatively new offerings and there is uncertainty about what new services Chegg can offer.
Textbook sale and rental is highly competitive and Amazon has started a pricing war. Currently Print textbooks are a majority of Chegg's revenue.
We feel that given the multi-billion dollar market size, strong management team, and strong balance sheet Chegg has amassed that Chegg will be able to grow its non-print offerings through internal development and acquisitions, making within the longer time horizon the physical textbook aspect of the business irrelevant
Risk Factors:
•Limited operating history makes it difficult to evaluate current business and future prospects
•History of losses and may not achieve or sustain profitability into the future
•Business model is uncertain in both print and non-print segments
•Linkedin is a strong competitor and has executed very well within career sector

Disclosure: I am long CHGG. I wrote this article myself, and it expresses my own opinions. I am not receiving compensation for it (other than from Seeking Alpha). I have no business relationship with any company whose stock is mentioned in this article.