This is an event-laden week with the highlight being Friday's NFP report. Until then the market will have to endure some noted surprises, forcing a few investors do anything to keep the "powder dry" for the main event. In the overnight session, global bourses have been able to get a leg up, buoyed by signs of some stabilization in Chinese manufacturing and "another" reassurance from the US Fed Chair Janet Yellen that "low interest rates are still required to support their economy." Ms. Yellen was keeping out of harm's way, making sure that no other "rookie mistakes materialize" just yet. The 18-member single currency continues to inch higher across the board, supported by the lack of any EUR negative reactions. This would suggest that investors remain skeptical over the ECB's desire to loosen monetary policy further to combat low inflation. The market is leaning towards a "no change" to euro monetary policy on Thursday, which again should be capable of supporting the EUR to look at loftier prices, especially the psychologically capped €1.40 region.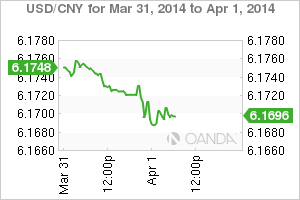 Earlier this morning, China's twin manufacturing PMIs again reported a divergence - the official figure suggesting a modest rebound (50.3), while the HSBC final print sank to a new eight-month low (48), presumably reflecting softer performance by the smaller firms? The prudent move is to side with the most cautious print - "which is actually boosting local equity markets on rising expectation of a more proactive fiscal response by the State Council." The latest figure implies that Q1 Chinese GDP growth is likely to have fallen below the annual growth target of +7.5% - the market can expect Chinese policy officials to fine-tune policy sooner rather than later to stabilize the second largest economy's growth prospects. Somewhat disconcerting is how Chinese financial are performing. Assumptions have always been that the state would take care of matters, however, the reporting of defaults on interest rate payments coupled with the extent of increased bad loans on the books of China's top five-banks would suggest that forecasted growth numbers could be aggressively rich. This new reported phenomena would only get worse before getting any better and affecting regional growth directly.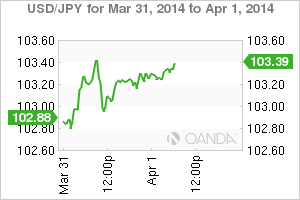 Does Japan need stimulus to offset any negative effects? It's not an April Fool's joke - the controversial new Japanese consumption sales tax begins today (an increase of 8% from 5%). After the investor rush to stock up in the month of March, economists are concerned that consumers' consumption will hunker down in April -- and maybe for longer. Any such pullback would be a big risk to the country's already shaky recovery and Abenomics. Only time will tell whether Abe's government or the Bank of Japan will be required to be aggressively proactive again to provide further stimulus. Earlier this morning, the BoJ released its quarterly Tankan survey results for Q1. While the current quarter conditions improved from Q4, the outlook for the next quarter suggests a notable slowdown. This has prompted Finance Minister Aso to state that the Tankan data shows the Japanese economy benefiting from Abenomics, but that it still requires a steady implementation of short-term support measures. When Japan last raised its sales tax, in 1997, it cast "despair over consumption" that helped plunge the country into a recession. Abe's government has to remain in front of the situation and a weaker yen certainly makes it more tolerable.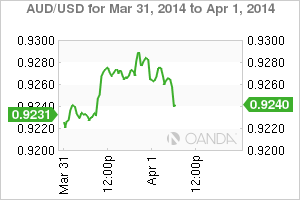 There were no surprises during the down-under session - the Reserve Bank of Australia held policy rates at +2.50% as expected, and also offered a mixed to neutral accompanying statement. Governor Stevens acknowledged the pickup in housing - adding, "recent information foreshadows a solid expansion in housing construction", but also noted firms wait for more evidence of improved conditions before committing to expansion plans. When it came to the currency his hands remain tied, as recent inflation numbers would suggest backing of "jawboning." The RBA reiterated that FX rate remains high by historical standards and added early signs point to a China slowdown thus far in 2014. For the AUD in the medium term follow China, its largest trading partner will have the most influence. The market has been short the AUD on the back of a vocal dovish governor who preferred to wrestle the currency lower by rhetoric. Now investors will have to take a cue from Friday's North American employment numbers.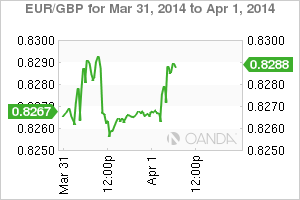 Earlier this morning, Europe's piecemeal reporting revealed that German unemployment happened to fall for the fourth-straight month to its lowest level since unification in 1989 (-12k to +6.7%). In addition to the usual seasonal recovery, good economic conditions have also managed to filter through. In stark contrast along the southern periphery, Italy, Europe's third largest economy, whose unemployment rate happened to be at its highest level in forty-years actually rose further in February as the Preliminary Unemployment Rate printed a fresh record high of 13.0%.
Despite the importance of the data released ahead of opening stateside the European session once again witnessed a single currency confined to a 25-30 point session. Eurozone PMI data is supporting the EUR with better growth reporting outside of Germany. In Japan do not underestimate the impact of a new fiscal year. Japanese EUR/JPY buying has become more prominent this week, triggering a wave of new JPY selling. The prudent investors will wait for the US - especially for the ISM data before wholeheartedly committing themselves.