Overview
Merck & Co., Inc. (NYSE:MRK) is one of the world's largest pharmaceutical companies in the world that develops prescription medicines, vaccines, and consumer care products. The company was founded in 1891 and is headquartered in Whitehouse Station, New Jersey.
As of March 31st, Merck has been the best performing Dow component, up 13.43% YTD. Merck has seen the following price returns:
| | |
| --- | --- |
| 1-Year Price Return | 28.48% |
| 3-Year Price Return | 75.01% |
Looking at Merck's current financials, trading activity, dividends, earnings, and future outlook, I feel that Merck remains a solid long-term buy.
Financials
| | |
| --- | --- |
| Gross Profit Margin (Quarterly) | 59.30% |
| Profit Margin (Quarterly) | 6.90% |
| Return on Assets ((NYSE:TTM)) | 4.14% |
| | |
| | |
| (YOY) | -3.55% |
Looking at the chart below, you can see that Merck's revenue has leveled off over the past few years and has seen recent declines.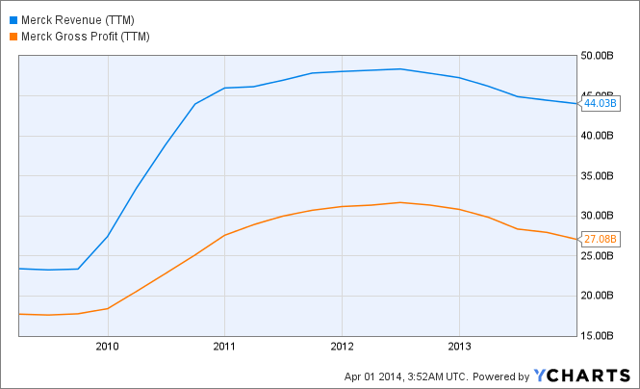 Click to enlarge
MRK Revenue (TTM) data by YCharts
Current Trading Activity and Valuation
Merck closed Monday at $56.77, compared to its 52-week high of $57.65 and its 52-week low of $44.42. The stock is trading higher than both its 50-day moving average of $56.01 and its 200-day moving average of $50.67.
Merck currently has a PE ratio of 38.80x and a price to book value of 3.36x. Looking at the chart below, you can see that with the exception of a short-term spike in 2011, Merck's current PE ratio is significantly higher than its historical average.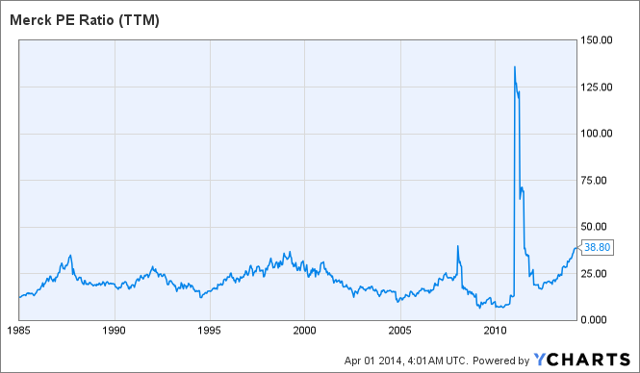 Click to enlarge
MRK PE Ratio (TTM) data by YCharts
Earnings and Dividends
For its latest quarter, Merck reported earnings per share of $0.88. This was 1 cent less than estimates, but 5 cents higher than the same period last year. Looking at the chart below, you can see that Merck has struggled with earnings growth over the past ten years.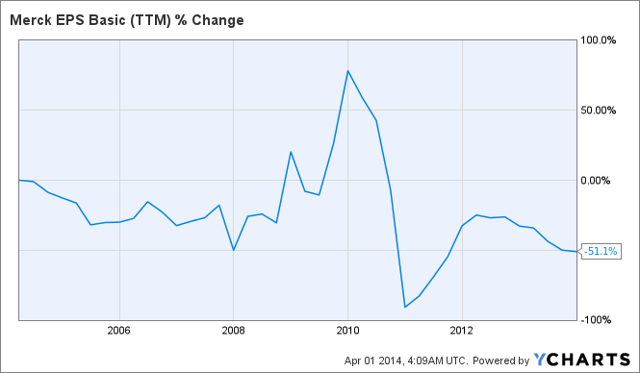 Click to enlarge
MRK EPS Basic (TTM) data by YCharts
Merck currently pays a quarterly dividend of $0.44 per share that yields just over 3%. The company's dividend has been consistent and slow-growing over the past several years with a yield usually between 3% and 6% during that time.
Company Outlook
Facing several challenges such as lower revenues and delayed drug approvals, Merck has made a series of changes. These changes include cutting jobs and operating costs as the company focuses more on its pharmaceutical products that have the best chances of obtaining approval. It was reported last month that Merck was in talks to sell its consumer healthcare business, which would aid in this transformation.
With several promising drugs in various stages of development along with Merck's recent and continuing business changes, I believe that Merck's issues with flat/declining revenues and earnings will be temporary and that Merck remains a strong buy for long-term investors. However, I also feel that with Merck's recent price appreciation, it is currently slightly overvalued and will have a difficult time seeing significant returns over the next several months.
I think patient investors will be able to find a more opportune time to purchase Merck shares at a lower cost over the next several months. As always, I suggest individual investors perform their own research before making any investment decisions.
Disclosure: I have no positions in any stocks mentioned, and no plans to initiate any positions within the next 72 hours. I wrote this article myself, and it expresses my own opinions. I am not receiving compensation for it (other than from Seeking Alpha). I have no business relationship with any company whose stock is mentioned in this article.