The Dividend Champions spreadsheet and PDF have been updated through 3/31/14 and are available here. Note that all references to Champions mean companies that have paid higher dividends for at least 25 straight years; Contenders have streaks of 10-24 years; Challengers have streaks of 5-9 years. "CCC" refers to the universe of Champions, Contenders, and Challengers.
CCC Listings Continue to Grow
The pace of dividend-increase announcements slowed somewhat in March, with "only" 10 new Challengers being added, but there were no deletions, so the number of Dividend Champions, Contenders, and Challengers grew to 519 companies by the end of the month. After slipping to a low of 467 companies at the end of November, the CCC roster finished 2013 at 476 companies, which grew to 486 at the end of January and 509a month later. We now appear headed for a "light" month of April, with May and June resembling March and July mirroring April. New Challenger activity should pick up in August, followed by a flurry of "graduations" in the fourth quarter and a 2014 finish at more than 600 companies.
Once again this month, the Near Challengers weren't even diminished by the latest "graduations," thanks to the new wave of firms headed toward declaring a fifth year of increases in early 2015. In Appendix B (on the Notes tab), you'll see 29 "NEW" notations, bringing the number of Near-Challengers to a new high of 232 companies, giving a strong indication that the CCC universe should expand over 700 companies by early 2015.
March featured a continuation of the rebound that took many stocks to new all-time highs. The average price of CCC stocks, which rose almost $2 in February, actually declined by 9¢ in March, due to the new Challengers' lower prices overcoming higher Champions and Contenders price increases. But the average yield dipped again slightly, from 2.81% to 2.78%. The average of the Most Recent Increases edged down, from 9.40% to 9.36%. No doubt the influx of new companies in the months ahead will continue to have an effect on these averages.
As always, please use the CCC only as a starting point for more in-depth research. Feel free to leave any suggestions in the Comment area below.
Quick Summary
The Summary tab includes a table comparing the composite numbers from the latest update to those from the previous month and the end of the previous year. Below that is a summary of the latest month's activity, in terms of companies added, deleted, or promoted. That is reflected below:
Quick Summary:

3/31/14

Champions

Contenders

Challengers

Total

No. of Companies

105

222

192

519

Ave. No. of Years

39.9

14.6

6.7

16.8

Average Price

64.12

64.42

58.87

62.31

Average % Yield

2.51

2.65

3.09

2.78

Ave. MR % Increase

8.47

8.12

11.50

9.36

2/28/14

Champions

Contenders

Challengers

Total

No. of Companies

105

220

184

509

Ave. No. of Years

40.0

14.6

6.8

17.0

Average Price

63.60

64.14

59.65

62.40

Average % Yield

2.55

2.69

3.11

2.81

Ave. MR % Increase

8.44

8.28

11.42

9.40

12/31/13

Champions

Contenders

Challengers

Total

No. of Companies

105

210

161

476

Ave. No. of Years

39.8

14.5

7.1

17.6

Average Price

64.42

65.14

57.74

62.48

Average % Yield

2.49

2.60

3.06

2.73

Ave. MR % Increase

8.68

8.78

11.10

9.49

MR = Most Recent

Additions:

Cohen & Steers Inc. (NYSE:CNS) to Challengers

Douglas Dynamics Inc. (NYSE:PLOW) to Challengers

First American Financial Corp. (NYSE:FAF) to Challengers

Horace Mann Educators Corp. (NYSE:HMN) to Challengers

International Bancshares (NASDAQ:IBOC) to Challengers

JMP Group Inc. (NYSE:JMP) to Challengers

Magna International Inc. (NYSE:MGA) to Challengers

Miller Industries Inc. (NYSE:MLR) to Challengers

Patterson Companies Inc. (NASDAQ:PDCO) to Challengers

Symetra Financial Corp. (NYSE:SYA) to Challengers

Deletions:

(None)

Promotions:

Equity Lifestyle Properties (NYSE:ELS) from Challenger to Contender

Raytheon Company (NYSE:RTN) from Challenger to Contender
(Table from author; may include underlying data from FinViz.com)
Every Picture Tells a Story
As a bonus, I'm inserting one of Chuck Carnevale's F.A.S.T. Graphs below, highlighting one of the companies listed above. When the price line is in the green area, it suggests possible undervaluation.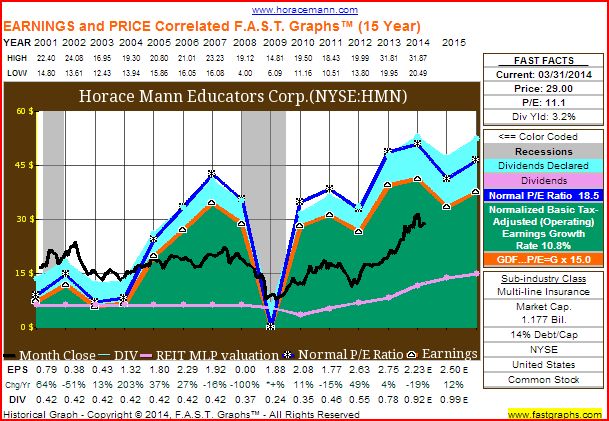 Disclosure: I have no positions in any stocks mentioned, and no plans to initiate any positions within the next 72 hours. I wrote this article myself, and it expresses my own opinions. I am not receiving compensation for it (other than from Seeking Alpha). I have no business relationship with any company whose stock is mentioned in this article.