Berkshire Hathaway (NYSE:BRK.B) (NYSE:BRK.A) will not repeat the 19.8% returns it enjoyed from 1964-2011 due to its size and because it has already bought up many of the most desirable investment opportunities in the marketplace. However, Berkshire should continue to generate solid growth and performance due to its mix of high quality businesses that it owns as well as its well-regarded portfolio of marketable securities. Berkshire's share price is now trading at a 37% premium to its Q4 2013 book value and 35% if investors assume that it will earn $2,500 in EPS for Q1 2014, (which is 15% below what it earned in Q1 2013). As Berkshire's share price is well over the 1.2X book value that Buffett has targeted for share repurchases, I do not see Berkshire buying back shares unless its P/B drops by ~10%.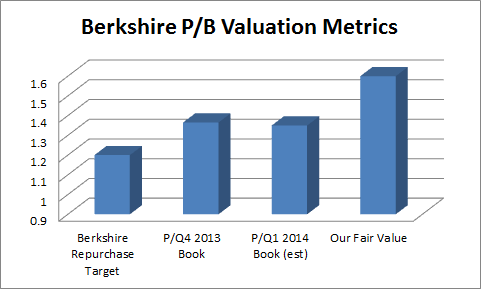 Sources: Morningstar Direct and My Estimates
I agree with hedge fund manager Whitney Tilson that there is still upside in Berkshire Hathaway's shares. I believe that there is 15% upside in Berkshire, and he believes that there is 30% upside in Berkshire (as of March 1 and 22% as of March 31). Here is the updated valuation model Tilson used to value Berkshire's shares:
Tilson valued Berkshire's pre-tax earnings stream (excluding investment income) at a P/E multiple of 10X, up from 8X last year (I still use 8X myself).
Tilson excluded 50% of the earnings from Berkshire's insurance businesses for purposes of conservatism.
Tilson added up all of Berkshire Hathaway's gross cash and investments per share (excluding the impact of manufactured housing and other real estate loans originated or purchased).
Tilson then divided that sum by Berkshire's weighted average outstanding Class A share equivalents.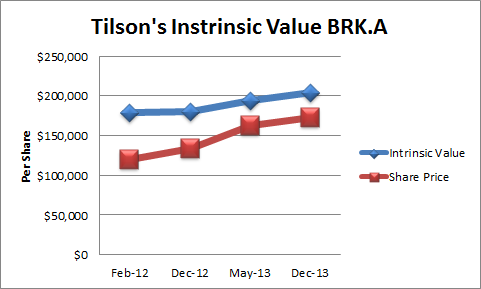 Sources: Whitney Tilson and My Estimates
Berkshire has also put some of its low-yielding cash to work based on the following deals that it struck in 2013:
Berkshire teamed up with 3G in its 2013 acquisition of Heinz. Berkshire put up $4.4B in common equity and $8B in preferred stock that will yield 9% in dividends and should give Berkshire's net investment income a boost by cashing in low-yield cash and fixed income securities to buy the Heinz 9% preferred stock.
Berkshire's MidAmerican Energy Holdings division is also spending $5.6B in cash to acquire Nevada's largest utility company NV Energy. This deal closed in December 2013, and I will discuss Berkshire's utility operations in a separate report.
Berkshire's Marmon division announced it would acquire the beverage dispensing and merchandising operations of British engineering company, IMI plc for $1.1B, and this deal closed in January 2014.
Berkshire acquired the remaining 20% non-controlling interests in IMC Metalworking Companies (Iscar Metalworks) for $2.05B in April 2013
Berkshire acquired the remaining minority interest in Marmon that it did not own in FY 2013.
Burlington Northern Santa Fe
BNSF continues to generate solid performance. BNSF's revenues in FY 2013 increased by 5.66% in comparison to FY 2012's revenues and reflected incremental growth in revenues per car/unit and a 4.5% increase in cars/units handled ("volume"). FY 2013 revenue growth was due to increased volume for consumer products (6% volume growth) and industrial products (14% growth), and coal volume (2.6% growth) which were partially offset by declines in agricultural products (4% decline).
Industrial products volume increased primarily because of significantly increased shipments of petroleum products.
Agricultural product volumes declined due to decreases in grain exports as a result of the drought conditions in the U.S. in 2012 and strong global competition
Coal volume growth was a result of higher natural gas prices and reduced utility stockpiles, partially offset by the impacts of weather, including flooding on the network.
Opposition to the Keystone Pipeline by Buffett's cronies Dickie Holland and Former Senator Ben Nelson (D-Nebraska) helped ensure that BNSF would be able to benefit from the fracking activity in the Bakken formation. According to a recent article in The Wall Street Journal, a major snarl in railroad traffic is ricocheting through the supply chains of businesses across the U.S., causing delays and losses for shippers of goods ranging from coal to sugar. Many of the problems stem from pileups at BNSF Railway Co. in a critical northern stretch of the country where it is shipping crude oil from North Dakota's booming Bakken Shale region. The railroad, one of the biggest in North America, was already taxed by the heavy demand for oil transport. However, its difficulties multiplied when it ran out of locomotives and crew, as a bitter winter forced it to use smaller trains. Although BNSF is not the only railroad with capacity problems, it had to lease and buy new locomotives by the hundreds as well as hire new crews. BNSF expects traffic to normalize by April, but it will continue to face capacity challenges in 2014.
BNSF increased its railroad car volume by 4.5% year-over-year in 2013, and its revenue per car grew incrementally even when taking into account a 3% increase in fuel surcharges. BNSF endured incrementally positive operating leverage, as its operating costs increased by 3.5% in FY 2013. The division's net earnings increased by 12.5% year-over-year in FY 2013 versus FY 2012 as BNSF's lower effective tax rate ended up offsetting its higher interest expenses.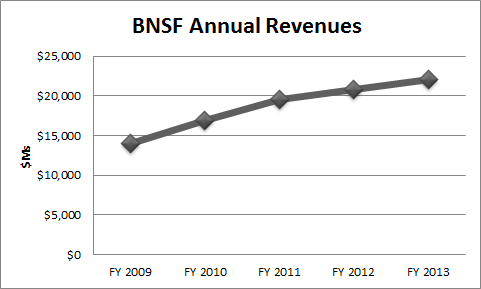 Source: BNSF's SEC Filings
Berkshire Manufacturing, Service and Retailing
Berkshire's Manufacturing, Service and Retailing businesses' revenue grew by $12B in FY 2013 versus FY 2012 and reached a total of $95.3B. This was driven by the August 2012 acquisition of Meadowbrook Meat Company by McLean Company. Berkshire's collection of manufacturing businesses grew by 8.75%, and its operating income increased by 8.7%. Forest River RVs generated strong revenue growth on the strength of higher prices and sales volumes. Berkshire's apparel businesses generated 3.5% pre-tax earnings growth while Iscar and Lubrizol's pre-tax profits were roughly unchanged from the prior year.
Berkshire Finance and Financial Products
Manufactured Housing and Finance earnings were $416M for FY 2013, an increase of $161 million (63%) compared to FY 2012. Q3 2013 earnings benefited from lower loan loss provisions and an increase in net interest income. The reduction in interest income on Clayton Homes' loan portfolio was more than offset by lower interest expense due to a decline in average borrowings and lower interest rates. Clayton Homes' results in FY 2013 benefited from a 9% increase in units sold.
Furniture/transportation equipment leasing's pre-tax earnings increased $17M (11.5%) in FY 2013 versus FY 2012. The increases primarily reflected increased lease revenues and earnings of XTRA, which benefited from increases in working units and average rental rates, relatively stable operating expenses and foreign currency related income realized in Q2 2013.
Investment and Derivative Pre-Tax Gains/Losses were $6.67B in gains for FY 2013 versus $3.43B of gains in FY 2012. The sharp year-over-year increase in investment gains primarily relates to its investment in GE (NYSE:GE) and Goldman Sachs common stock warrants and Wrigley subordinated notes, as well as changes in fair values of its equity index put option contracts because of overall higher equity index values, favorable currency movements and modestly higher interest rate assumptions.
Berkshire's Insurance Operations
GEICO had mixed performance during the year. GEICO generated solid high single-digit revenue growth during 2012 and enjoyed 10.95% revenue growth in FY 2013. GEICO's underwriting expenses decreased at an adjusted rate of 40bp, and its losses and loss adjustment expenses increased by 12.24% ($1.56B) due to increased claim frequencies for property damage and collision coverage(s). This resulted in GEICO's pre-tax underwriting gain increasing by $128M year-over-year.
General Re's revenues grew by 2%, but its underwriting profit declined by 20% as improved underwriting from its life and health insurance operations was not enough to offset $400M in catastrophe losses from European hailstorms and floods.
Berkshire Hathaway Reinsurance Group's FY 2013 revenue declined by 9.2% year-over-year as all of its units saw revenue declines during the year except for its life and annuity unit (up 46%). However, its FY 2013 underwriting profit of $1.3B greatly exceeds its FY 2012 underwriting profit of $304M.
Berkshire Hathaway Primary Group is the smallest division of Berkshire Hathaway's insurance operations. Premiums earned in the first quarter by BH Primary aggregated $3.3B in FY 2013 and $2.26B in FY 2012. The increase was primarily due to the inclusion of GUARD and increased workers' compensation insurance volume from the Berkshire Hathaway Homestate Companies and increased premium volume from several other primary group business units. BHPG's primary insurers produced underwriting gains of $385M in FY 2013 versus $286M in FY 2012.
Berkshire Hathaway Insurance's Net Investment Income increased by 9.15% during FY 2013 as higher dividends earned and received were amplified by lower income tax rates. Partially offsetting these tailwinds were lower interest rates on cash balances and fixed income holdings. Unfortunately for Berkshire, FY 2014 investment income will decline because it will not include interest from the Wrigley 11.45% subordinated notes ($4.4 billion par), because of the repurchase of those notes and because future investment opportunities will generate considerably lower yields.
Conclusion
In conclusion, Berkshire Hathaway's share price is undervalued by 15% relative to its fair intrinsic value, and its business units continue to generate steady profit growth. Investors should view Berkshire Hathaway as diversification away from traditional stocks and bonds as well as being able to utilize a high-quality asset manager to gain access to private equity businesses that are not leveraged to the hilt in order to pay dividends and debt service to the private equity owners and lenders. Berkshire Hathaway's continued ability to increase its book value on a recurring basis is impressive, and as it continues to do so, the investment community will recognize the value of Berkshire's shares. Berkshire has set an implicit floor price for its shares through its December 2012 buyback, and it is adept at sheltering its income from the taxman. Although Berkshire will not be able to enjoy the 19.8% compounded annual growth it enjoyed from 1964-2011, Berkshire's future total return should be able to exceed that of the S&P due to its strong portfolio of diversified businesses.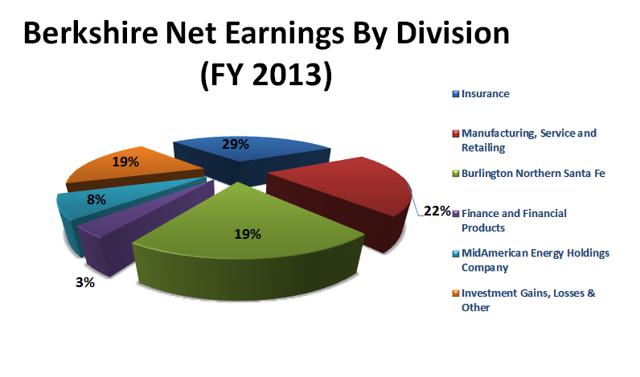 Source: Berkshire FY 2013 10-K
Disclosure: I have no positions in any stocks mentioned, and no plans to initiate any positions within the next 72 hours. I wrote this article myself, and it expresses my own opinions. I am not receiving compensation for it (other than from Seeking Alpha). I have no business relationship with any company whose stock is mentioned in this article.