Profile
Acasti Pharma Inc. (NASDAQ:ACST) is a biopharmaceutical company focused on developing and commercializing innovative pharmaceutical ingredients for applications in cardiometabolic disorders. The company has two main products. Onemia is their only product in the commercialization stage and is a medical food intended to be used in illnesses associated with omega-3 phospholipids deficiency related to cardiometabolic disorders. The product has been on the market since 2011 and has yet to gain significant traction.
CaPre is their prescription drug product and is in the clinical trial stage. ACST obtained CaPre from Neptune Technologies & Bioresources, Inc. (NASDAQ:NEPT) through a licensing agreement and has already prepaid all the future royalties under the agreement through the issuance of Class A shares to NEPT. NEPT currently owns 49.95 percent of ACST. Best in class results from its Phase II, open label study (COLT) were released on August 13, 2013. The study was designed to assess the safety and efficacy of CaPre in the treatment of mild to severe hypertriglyceridemia, a condition in which triglyceride levels are elevated. Elevated triglyceride levels can lead to serious health issues, such as heart attack and stroke. An overview of the condition can be found here. Over 230 patients in the study received CaPre for 4 to 8 weeks. Daily doses of 2g and 4g were used and both were shown to be safe and effective. An increased benefit was found for an increase in dosage and duration. Patients treated with 4g for 4 weeks showed a mean triglyceride decrease of 15.5 percent from baseline while patients treated with 4g for 8 weeks showed a mean triglyceride decrease of 21.6 percent. Each group showed an absolute mean improvement of 18.1 percent and 14.3 percent respectively as compared to Standard of Care. Drilling down on the 4g for 8 weeks group shows a mean LDL (bad cholesterol) decrease of 8.3 percent and non-HDL decrease of 14.3 percent. The 4g for 4 weeks group showed an HDL (good cholesterol) increase of 11.1 percent over the Standard of Care. Another critical piece of the study is that 88 percent of the population had baseline triglycerides between 200 and 500 mg/dL (borderline to high). People with triglycerides ≥500 mg/dL fall into the very high group.
Market Size and Competition
Currently, there are no FDA approved omega-3 prescription drugs for the direct treatment of people with triglycerides between 200 mg/dL and 500 mg/dL. This is significant because this group makes up about 36 million people in the U.S. alone. Global sales of prescription omega 3 drugs exceeded $2 billion in 2012. Forecasts of prescriptions written for omega 3 drugs in 2013 are around 5 million and are expected to grow to 10.7 million by 2019.
The big players in the prescription grade omega-3 market with drugs in the commercialization stage are Lovaza, Vascepa, and Epanova. These drugs are produced by GlaxoSmithKline plc (NYSE:GSK), Amarin Corporation plc (NASDAQ:AMRN), and AstraZeneca plc (NYSE:AZN), respectively. See the table below comparing each drug to CaPre. Green is good and red is bad. Midpoints were used when only a range was reported in the results. Keep in mind that the results below for the commercialized drugs are from Phase III while CaPre's is from an open label Phase II study. Regardless, I believe this provides a reasonable comparison for the drugs. Most of CaPre's results are from the 200 mg/dL to 500 mg/dL group while the other trials focused on the ≥500 mg/dL group. The length of the trials are fairly similar, ranging from 6 weeks to 24 weeks. From the comparison below, it is apparent that CaPre is on par with the current drugs on the market at the very least. No serious health complications were noted during the COLT trial.
Product Differentiation
CaPre contains about 66 percent phospholipids and 30 percent EPA/DHA. Lovaza and Epanova contain both EPA and DHA while Vascepa is only contains EPA. Results of the ECLIPSE study showed that Epanova has a superior bioavailability compared to Lovaza. What differentiates CaPre from the other three drugs is that it has the potential to treat triglycerides, LDL, and HDL. CaPre may be superior to Lovaza due to its ability to lower LDL's while Lovaza increases LDL's. In addition, the results of the COLT study were mostly related to the 200 mg/dL to 500 mg/dL group while the commercialized drug results were mostly based on the ≥500 mg/dL group. It has been shown that triglycerides are reduced at a greater percentage using omega-3 drugs when at elevated levels as found in the very severe group. This means that CaPre's triglyceride reduction may have been even greater had their COLT trial included more patients in the very severe group. It's worth noting that Lovaza and the others can be prescribed for off label uses. Vascepa is in a Phase III study (REDUCE-IT) for use in the 200 mg/dL to 500 mg/dL group while on a statin and has an estimated completion date of November 2016. The primary endpoint is to determine the effect of 4g per day for preventing the occurrence of a first major cardiovascular event. Vascepa only has a 3 year market exclusivity but is suing the FDA to get the 5 year status that comes with NCE. A discussion of the issues at hand can be found here. This creates a risk for CaPre should the FDA reject NCE exclusivity. However, I do not feel this will happen since CaPre contains about 66 percent phospholipids and lower levels of EPA. ACST has filed a composition and use patent application with the USPTO and is still awaiting the allowance. If granted, the patent would be good through 2029.
CaPre is currently in another Phase II study (TRIFECTA). This one is a randomized, double-blind, placebo-controlled study. The purpose of this 12 week study is to determine whether daily doses of 1g or 2g of CaPre has an effect on fasting plasma triglycerides in patients with mild to high hypertriglyceridemia as compared to a placebo. Estimated enrollment for this study is 429 and the estimated completion date is June 2014.
On January 9, 2014, ACST announced that the FDA has granted it approval to initiate a pharmacokinetic trial of CaPre. The PK trial is expected to start in Q2 2014 and results are expected in Q3 2014. ACST is using Quintiles for its PK trial and this will ensure that a high-quality trial is conducted. ACST plans to seek FDA approval to initiate a pivotal Phase III study of CaPre in the U.S. I was unable to find an exact timeline for the initiation of Phase III. Assuming the TRIFECTA and PK trial results are positive, Phase III could be initiated by early 2015 based on my estimates.
Financials
For the nine-months ended November 30, 2013, ACST reported revenues of $301,000 versus $675,000 for the corresponding period ended November 30, 2012. Revenues for both years were generated from Onemia. As of November 30, 2013, ACST had about $3.6 million in cash and short-term investments and a current ratio of about 1.1. It has no long-term debt and most of its current liabilities are payable to NEPT. Its cash burn rate is about $865,021 per quarter but this will most likely increase due to its TRIFECTA and PK trials and other operating activities. On December 3, 2013, ACST issued 18.4 million Class A shares at $1.25 per share and 18.4 million warrants with an exercise price of $1.50. Total proceeds of about $23 million were received. Each warrant entitles the holder to purchase one Common Share. The company also has another .75 million warrants outstanding with an exercise price of $1.50. On February 7, 2014, ACST sold more shares and warrants with an issuance price of $1.19 and exercise price of $1.43. Total proceeds from this offering was about $2 million. As of November 30, 2013, ACST had about 84 million shares outstanding.
Valuation
Precedent Transaction Analysis
ACST has a market capitalization of about $120 million at the time of writing this article. In May 2013, AstraZeneca acquired Omthera Pharmaceuticals for $323 million and gained access to Epanova. Omthera shareholders also received Contingent Value Rights valued at about $120 million. This brings the total potential acquisition price to $443 million. Epanova had completed two Phase III studies with positive results prior to the acquisition. This comparison will become more important if positive results are reported from TRIFECTA and CaPre enters a pivotal Phase III.
Discounted Cash Flow Analysis
For 2013, Lovaza recognized sales of about $966 million while Vascepa recognized sales of about $26 million. Analyst estimates of Vascepa sales were based on the massive growth rate of Lovaza during its commercial launch back in 2005. A good discussion of this can be found here. Lovaza had first-mover advantage which was one of the keys to its explosive growth. Although CaPre has the potential to be a blockbuster drug if its trial results continue to show superior efficacy and safety, this does not guarantee its commercial success. CaPre still needs to make it through Phase III and obtain FDA approval. This has its risks which need to be factored into the discount rate. The company will most likely need to raise additional capital in the future for its clinical development and operations and this will cause further dilution to shareholders. Assuming CaPre does obtain FDA approval, commercialization will be a challenge due to the competition in the marketplace and the potential for the expected market growth to not occur. The growth could stall if doctors begin writing less omega-3 drug prescriptions due to doubts about its positive effect on the heart. A recent article on this can be found here. The REDUCE-IT study results will hopefully shed some light on this debate. Lastly, there are many over-the-counter omega-3 brands on the market and this could eat into CaPre's future market share. A partnership with a larger pharmaceutical company with sufficient financial resources and marketing expertise would be ideal for ACST but it's too early in the game to tell if this will happen.
Assuming a commercial launch of CaPre in early 2019 with annual sales of $100 million, a year-over-year sales growth rate of 45 percent, a discount rate of 30 percent, and total free cash flow of about $4.5 billion for the period of 2015 to 2029, this puts ACST at $2.00 based on 84 million shares outstanding. It's worth noting that Euro Pacific Capital has a $4 price target on the stock and this could be due to a lower discount rate and/or a different free cash flow estimate.
Technical Analysis
The stock seems to have been forming a rectangle bottom since November 2013. This could be indicative of accumulation before the markup phase. The stock seems to be stuck between a range of about $1.08 to $1.56. The warrants with an exercise price of $1.50 may act as resistance until the TRIFECTA readout. However, a run-up prior to the results is not out of the question. The height of the potential rectangle bottom is about $0.50 and the measured move objective is $2.00, assuming the breakout level is $1.50.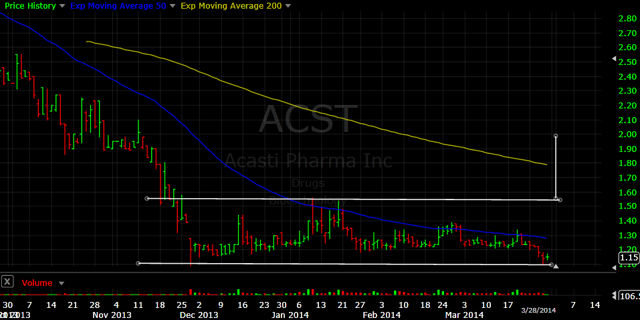 Conclusion
The recent selloff in the biotechnology industry has created some great buying opportunities. I believe ACST has great potential due to its drug CaPre. The stock price could rise significantly if its TRIFECTA results are positive. If the results do not meet the primary endpoint, the stock price could drop significantly. Based on the COLT results, I think this scenario is not as likely. The omega-3 prescription drug market is very promising but has some risk. This is an important year for CaPre and other drugs in this market and it will be exciting to watch.
Disclaimer: I am not an investment advisor and do not provide specific investment advice. This article is for informational purposes only and is not a buy or sell recommendation. I do not attest to the accuracy or completeness of the information in this article. Please consult your investment advisor before making an investment decision.
Disclosure: I have no positions in any stocks mentioned, but may initiate a long position in ACST over the next 72 hours. I wrote this article myself, and it expresses my own opinions. I am not receiving compensation for it. I have no business relationship with any company whose stock is mentioned in this article.