The chart below from WPX Energy's (NYSE:WPX) presentation provides a performance summary for wells drilled in the Middle Bakken formation in North Dakota that were put on first sales after January 1, 2011. The slide shows average cumulative production per well for 1-year and 2-year periods by operator. The well samples include only "long" wells (laterals of 5,000 feet or greater). Production data is through year-end 2013.
Two aggregate performance metrics are worth noting:
According to WPX's slide presentation, average cumulative 1-year oil production for the entire well sample was approximately 90 thousand barrels of oil (please note that the "Peer 1-Yr Avg" line on the graph below appears inadvertently misplaced).
Average cumulative 2-year oil production for the entire well sample was approximately 145 thousand barrels of oil.
I must note that the 1-year well sample is different from the 2-year sample. The 1-year sample includes wells that were put on production from January 1, 2011 through December 31, 2012. The 2-year sample includes wells that were put on production from January 1, 2011 through December 31, 2011. Most recent wells - those that were put on production after January 1, 2013 - are not included in the analysis, since they have not accumulated sufficient production history.
The study appears to "normalize" production data by excluding periods during which wells were unproductive.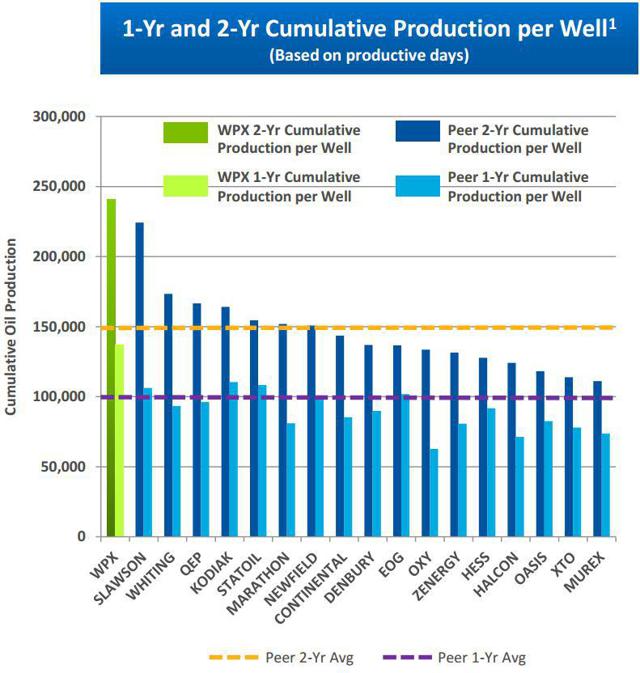 (Source: WPX Energy's February 2014 Operating Update)
The analysis has natural limitations. Because of the exclusion of the most recent wells, the chart cannot capture cutting-edge well productivity improvements in the play. Those improvements will not be apparent in the 365-day cumulative production data for another year.
The relative ranking by operator also reflects mostly the 2012 picture. For example, a large number of QEP Resources' (NYSE:QEP) highly productive wells at South Antelope - that were drilled during 2013 - are not reflected in the ranking. These wells are likely to propel QEP close to the top of the peer group if a similar study is performed one year from now.
I should also note that the 1-year cumulative production metrics provide a more reliable picture than the 2-year metrics, as they reflect a much larger and more recent sample of performance results.
So which operators have the most productive wells in the play, based on the 1-year cumulative production per well?
The #1 rank should be given to EOG Resources (NYSE:EOG), given that the company's ostensibly peer-average productivity was achieved from shorter laterals. If normalized for lateral length, EOG's well results would be in a class of their own.
As one can see from the slide below, EOG's 2012 wells drilled in the company's most productive operating areas, in Parshall and Antelope Extension areas, if normalized to a ~9,500 lateral, would have posted 1-year cumulative production in the ~180 Mbo range, significantly above the average. EOG's slide also shows a dramatic year-over-year performance improvement in 2013 (which has also been the trend for many other operators in the play).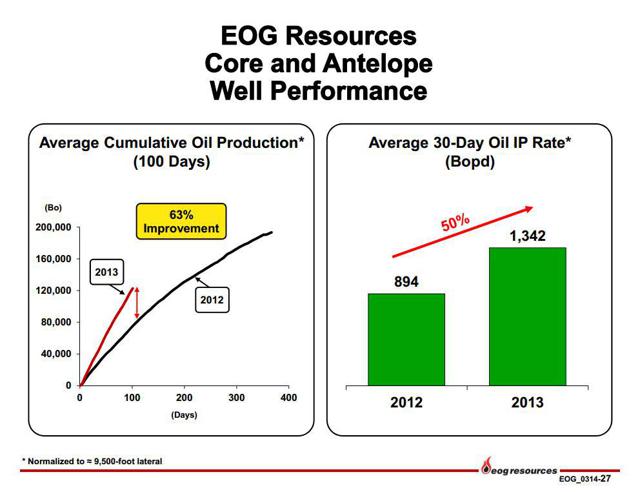 (Source: EOG Resources' March 2014 Investor Presentation)
Among publicly traded operators, WPX, Kodiak (NYSE:KOG) and Statoil (NYSE:STO) had peer leading well performance.
Notably, oil majors and superindependents - including Occidental Petroleum (NYSE:OXY), Marathon Oil (NYSE:MRO) and ExxonMobil (NYSE:XOM) - are trailing in the ranking with some of the weakest results in the peer group.
It is interesting to compare data points from WPX's chart to type curves provided by operators in their presentation. In some cases, the gaps are quite significant. While the tendency to present results in the best possible way possibly plays a role, it is important to take into consideration the continued improvement in the well performance and the fact that type curves are often "forward-looking."
Disclaimer: Opinions expressed herein by the author are not an investment recommendation and are not meant to be relied upon in investment decisions. The author is not acting in an investment advisor capacity. This is not an investment research report. The author's opinions expressed herein address only select aspects of potential investment in securities of the companies mentioned and cannot be a substitute for comprehensive investment analysis. Any analysis presented herein is illustrative in nature, limited in scope, based on an incomplete set of information, and has limitations to its accuracy. The author recommends that potential and existing investors conduct thorough investment research of their own, including detailed review of the companies' SEC filings, and consult a qualified investment advisor. The information upon which this material is based was obtained from sources believed to be reliable, but has not been independently verified. Therefore, the author cannot guarantee its accuracy. Any opinions or estimates constitute the author's best judgment as of the date of publication, and are subject to change without notice.
Disclosure: I have no positions in any stocks mentioned, and no plans to initiate any positions within the next 72 hours. I wrote this article myself, and it expresses my own opinions. I am not receiving compensation for it (other than from Seeking Alpha). I have no business relationship with any company whose stock is mentioned in this article.