BlackBerry (NASDAQ:BBRY) shares reversed Friday from a strong gap-up open, and trended even lower Monday, after the company reported a mixed quarter in which earnings came well ahead of estimates (8 cents loss vs. 54 cents loss estimate), but it severely disappointed on revenue ($976 mill. vs. $1.13 bill. estimate). Its shares are now off ~17% from the intra-day highs Friday, and they are down ~45% in the past year and ~96% below its all-time high of $148.13 in mid-2008 (see chart).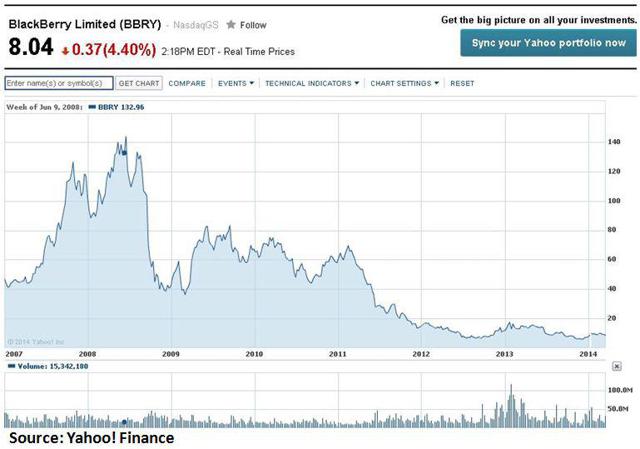 Turnarounds, especially in the consumer space, are notoriously difficult. However, investors enthusiastically bid shares up after CEO John Chen took over the helm last November, with shares doubling from early-December's $5.44 low to its recent $10.90 high in late-February. With shares giving back about 50% of those gains, closing at $8.08 on Tuesday, investors seem to be divided into two camps.
On the one hand, you have the bargain hunters and even some deep value investors, who may look at Friday's earnings report, and see a company that is at the beginning stages of a turnaround in its operations, headed by a CEO that has an excellent track record in doing just that. Gross margins for the just reported Q4/2014 came in at 43%, the highest since Q1/2012, and well above analyst estimates in the 35% range. Even more importantly, the company has blown away expectations in controlling costs, with operating expenses of $577 mill. vs. analyst estimates of $800 mill., and it is projecting to turn cash flow positive by FY ending Feb. 2015, about a year earlier than was projected just a month ago. And finally, it has a war chest of $2.7 bill. in cash, equal to $5.13 in cash per share that accounts for 61% of its current market-cap, which should prove more than adequate in fueling the turnaround. Also, to such investors, there is enough break-up value in the company, in terms of its patents, cash, and service business revenue to support higher valuations even for the most pessimistic scenario.
On the other end, more skeptical investors may take a wait-and-see approach. They may look at Friday's earnings report, and see a company that delivered on the easiest part of the turnaround plan, namely controlling costs via aggressive cost-cutting. The real story to such investors is the steep drop in revenue that missed analyst estimates by a wide margin ($976 mill. vs. $1.13 bill. estimate), and is now down 64% year-over-year in the most recent Q4/2014, and an acceleration of the pace from 56% and 45% year-over-year drops in the prior November and August 2013 quarters respectively. The struggles in the hardware business continue with unit sales down 83% year-over-year in the most recent Q4/2014, again an acceleration in pace from 71% and 53% year-over-year drops in the prior two quarters (unit sales are still down significantly even after adjusting for inventory). Service revenue is also down 13.5% sequentially, and is almost sure to trend down even more with the projected decline in hardware revenue. Furthermore, the company did not make any material statements that give us more visibility or confidence that future numbers will be more promising, and in that situation, it simply is not possible to just go off of CEO Chen's track record.
We can see strong merits in both arguments, and are inclined to believe that shares are likely to remain range-bound in the $6 to $11 price band until the company can provide more clarity on the details of its operations, especially with regard to the performance of new product initiatives and how it affects its revenue and earnings outlook going forward.
It is in these situations where there is tremendous uncertainty that we have found strong merit in analyzing the collective or consensus buying and selling by leading fund managers, especially legendary or guru fund managers, including icons such as Buffett, Icahn, Klarman, Paulson and 74 others, that have a long-term track record of consistently beating the markets. On our site, GuruFundPicks.com, we track the collective or consensus buying and selling of over 330 of our hand-picked leading Wall Street fund managers, based on their latest 13-F and SC 13D/G 5% ownership filings. Their ownership change over multiple quarters, and net buying and selling, both in shares and in number of funds, and the percent outstanding shares held by these leading funds, especially when compared to similar sized peers in the same industry, is like reading tea leaves. It gives us the extra edge, increasing the probability of making the right decision, and in many cases saving us from making a wrong decision on a stock.
The collective or consensus buying and selling activity of these leading fund managers in BlackBerry in the last seven quarters, up to 2Q/2012 is shown in the Table below.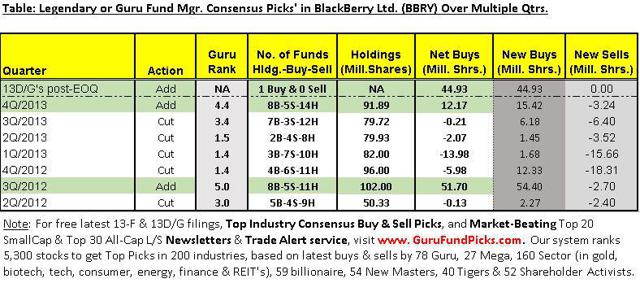 As illustrated in the table, and in the chart below, guru fund managers added aggressively to their positions in the latest 4Q'13, buying a net 12.17 mill. shares during the quarter, and adding another 44.93 mill. shares via a SC 13D/G filing following the end-of-quarter, effectively ending at 136.82 mill. shares, an increase of 72% in just one quarter from the 79.72 mill. shares they collectively held at the end of the prior 3Q/2013. The largest guru fund holders of BlackBerry shares at the end of Q4'13 were:
Canadian Property & Casualty, Insurance & Reinsurance, and Investment Management company Fairfax Financial Holdings, headed by guru Prem Watsa, that bought a new 51.85 mill. share position in 4Q'13, and then added another 44.87 mill. shares via two SC 13D/G filings following the end-of-quarter;
Guru Daniel Loeb's NY-based value investing and shareholder activist hedge fund Third Point LLC, with $5.80 billion in 13-F assets, that added a new 10.0 mill. share position in 4Q'13; and
Boston-based asset management firm Grantham May Van Otterloo, founded by famous value investor Jeremy Grantham, and with $41.2 bill. in 13-F assets, that added 0.16 mill. shares in 4Q'13 to its 8.47 mill. share prior quarter position.
In our experience, the large 72% increase in guru fund ownership in such a short period of time in Q4'13 and the following two months, is uncommon and significant, conveying in no uncertain terms the bullishness of guru fund managers on BlackBerry shares. Furthermore, looking at the Table, this accumulation by guru fund managers in 4Q'13 followed four quarters of selling during which the collective ownership fell 22%, and this was preceded by heavy buying by guru funds in 3Q/2012, during which they more than doubled their collective ownership of BlackBerry to 102.00 mill. shares.
The following chart illustrates the summarized change in ownership data graphically.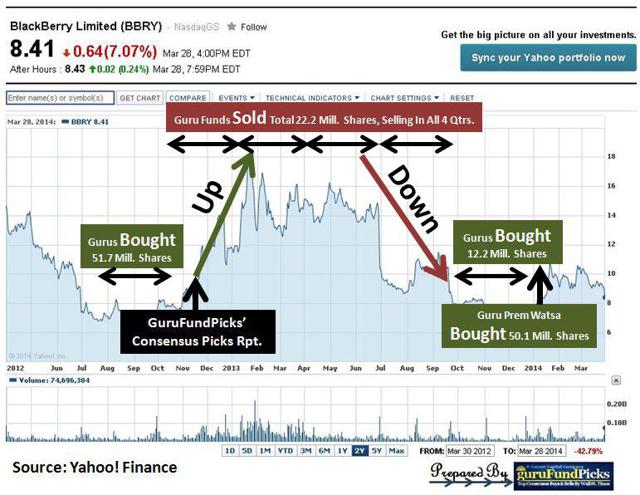 As is obvious from the chart, there is a correlation between guru fund ownership and the following price action in BlackBerry shares, as seen from data for the latest seven quarters. After the heavy accumulation in 3Q/2012, during which ownership shot up over 100%, BlackBerry shares shot up over 70% in the following 3-to-4 months; then, followed four quarters of distribution during which the collective ownership fell 22%, and this coincided and was followed by more than a 50% drop in shares; and finally, we saw heavy accumulation once again in the latest 4Q'13 and following the end-of-quarter.
The question then is whether we will see a rise in BlackBerry shares in the months following the Consensus Picks' report that came out in the third week of February. In our view, based on a review of a large number of cases where we have this correlation between guru fund ownership and subsequent price action, there is a high likelihood that we will. We documented two such cases of correlation just this past week in Seeking Alpha articles on Gilead and Facebook. Many more cases can be found on our website and in our archive of articles on Seeking Alpha.
We believe there is enough uncertainty given the lack of visibility that shares will most likely move back lower, retracing up to 70% of the recent rise, down to the $7 range, and as an outside case, even going below $6 momentarily. It is unlikely however that prices stay that low given that the break-up value of the company based on cash of $5.13/share, the value of its patents and the value of the services business is in the $8 to $10 range.
We believe that shares can be safely accumulated here, buying more in one-third increments as it falls below $7 and then $6. However, investors will need to have patience. The turnaround may take place over multiple quarters, maybe stretching even more than a year before we can see conclusive evidence of it. The downside using such a scaling-in strategy of averaging down if the price gets lower is limited, whereas the upside can be very high. Even if one of BlackBerry's many initiatives succeed, its shares could take off as none of this is currently baked into the share price.
Disclosure: I have no positions in any stocks mentioned, but may initiate a long position in BBRY over the next 72 hours. Use of GuruFundPicks' research is at your own risk. You should do your own research and due diligence before making any investment decision with respect to securities covered herein. You should assume that as of the publication date of any report or letter, GuruFundPicks, LLC, has a position in all stocks (and/or options of the stock) covered herein that is consistent with the position set forth in our research report. Following publication of any report or letter, GuruFundPicks intends to continue transacting in the securities covered herein, and we may be long, short, or neutral at any time hereafter regardless of our initial recommendation. To the best of our knowledge and belief, all information contained herein is accurate and reliable, and has been obtained from public sources we believe to be accurate and reliable, and not from company or persons who have a relationship with company insiders. Also, in our preparation of this article, we referred investor resources such as Zacks.com, Marketsmith and Sentieo.
Business relationship disclosure: Business Relationship Disclosure: The article has been written by the Hedge and Mutual Fund Analyst at GuruFundPicks.com. GuruFundPicks.com is not receiving compensation for it (other than from Seeking Alpha). GuruFundPicks.com has no business relationship with any company whose stock is mentioned in this article.