eBay and PayPal
PayPal is one of the services that are transforming the payment industry, and its acceptance is increasing globally. Value created by PayPal translated into great success, and PayPal's payment volume tripled between 2008 and 2013 at a CAGR of 25%. One in every six dollars spent on e-commerce is done through PayPal. This success attracts investors and analysts to eBay (NASDAQ:EBAY). Presently, EBAY is under intense scrutiny from analysts and investors, thanks to Carl Icahn.
Pressure from activist investor Carl Icahn, who owns a 0.82% stake in EBAY, built up to spin off its PayPal business. Icahn is of the view that spinning off the PayPal business and operating it under a separate management team would unlock the true potential of PayPal. EBAY's board and CEO John Donahoe were under fire, and the corporate governance of EBAY was being questioned. EBAY's CEO, John Donahoe, was ranked the number one CEO in 2013 by sell-side analysts in Institutional Investor Magazine. EBAY's management maintains that its PayPal business creates the greatest value for shareholders if kept together with EBAY.
Icahn seems to have retreated from this demand, and now he demands that EBAY sell only 20% of the PayPal in IPO. The proposed partial separation of PayPal will be a similar case to that of EMC's (EMC) partial spin off of VMware (NYSE:VMW), in which 15% of the VMware was separated from EMC through an IPO. This really unlocked the value of VMware, and VMware's value increased by more than 100 times the price EMC paid to acquire it. It is argued that such subsidiaries that have great future growth potential are often overshadowed by the conglomerate effect that hides their true value. If EBAY agrees to make an IPO of PayPal, then it is expected that PayPal will enjoy the same success as enjoyed by VMware. I believe that Icahn's only motive is to drive up the stock price of EBAY's shares, and he is not really concerned about the fulfillment of his demand.
PayPal has no doubt it will experience tremendous future growth potential. It makes up around one third of EBAY's value. The PayPal business along with EBAY's other businesses are all set for future growth. Investors should consider investing in EBAY, since all the heated discussion is going to increase EBAY's price as the debate is based on the argument that EBAY and PayPal have greater potential that still needs to be unlocked.
EBAY's e-commerce Strengths
EBAY has expanded its business rapidly and is connecting more buyers and sellers every day. Leveraging its strong stable cash flow, EBAY completed 37 acquisitions since 2008 and grew its portfolio of investments. EBAY started off as an auction-based marketplace site, but its dynamic management allowed it to continuously evolve so as to create better value for buyers and sellers. In 2013, 73% of the items offered were at fixed prices rather than at bargain prices.
EBAY captured the growth in mobile commerce and attained its leadership in m-commerce. In 2013, EBAY handled $35 billion worth of m-commerce volume, and this volume was 88% more than the volume in the previous year. EBAY is well-positioned to ride the upward trend in m-commerce that would translate into growth in its top and bottom lines.
Comparative Return and Valuation of EBAY
EBAY's successful strategies are translating into great returns for its shareholders. The following chart compares the return produced by EBAY, the S&P 500 Index and the two tech giants, Amazon (NASDAQ:AMZN) and Google (NASDAQ:GOOG), over the past five years. EBAY produced an approximately 346% return over the last five years and outperformed GOOG and the S&P 500 Index. EBAY has a beta of 0.92 that shows that the company has lower systematic risk compared to the systematic risk of the overall market, thus presenting superior risk-adjusted returns.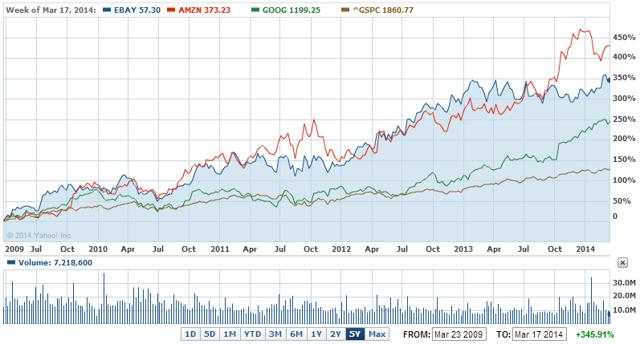 Click to enlarge
EBAY's business model has created a tremendous amount of value in commerce, and it is continuously leading the transformation of global commerce. This is the reason why EBAY has seen a strong growth in revenues. Its revenues grew at a CAGR of over 19% in the last nine years. Its revenue growth has slowed down in the recent years, but it is still in the double digits. Its revenue grew at a CAGR of 13.44% in the last five years. Online US retail is expected to increase by over 10% in the coming years, and EBAY is in the right position to take advantage of this growth. With its strong competitive position in the e-commerce industry, EBAY is expected to produce high returns in the foreseeable future.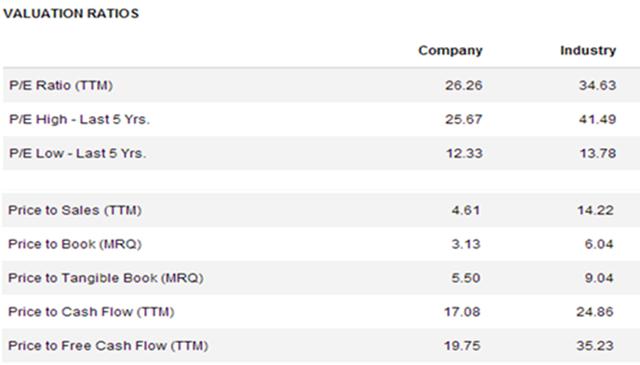 Click to enlarge
We can estimate whether or not the company is undervalued, overvalued or properly valued by comparing the price multiples of EBAY with the price multiples of the industry. First we compare the 26.26 times P/E multiple [TTM] of EBAY with the industry's P/E multiple of 34.63 times. This indicates that EBAY is relatively undervalued. EBAY's price/sales, price/book and price/cash flow multiples are also lower than the industry, and that also suggests that EBAY is undervalued.
EBAY is relatively undervalued compared to the industry in which it operates, and its competitive strength and innovative capabilities make it a company that one should seriously consider investing in at its current price levels.
Conclusion
EBAY is consistently awarded Fortune's Top 50 Most Admired Companies, and it's also honored as one of the World's Most Ethical Companies by Ethisphere. EBAY's investments are helping it to grow rapidly. It outperformed the industry's indices and GOOG. It is expected to produce attractive returns for its stockholders in the future. Relative price multiples suggest that EBAY is undervalued compared to the industry. Therefore, EBAY is an attractive company to invest in.
Disclosure: I have no positions in any stocks mentioned, and no plans to initiate any positions within the next 72 hours. I wrote this article myself, and it expresses my own opinions. I am not receiving compensation for it (other than from Seeking Alpha). I have no business relationship with any company whose stock is mentioned in this article.