Gilead Sciences (NASDAQ:GILD) has been a tremendous performer over the last few years as part of the multi-year biotech bull market. However, it has taken a significant dip in the past few weeks, falling to below $70. This presents an exceptional buying opportunity in a stock with multi-year growth potential that is partially unreflected in the valuation.
Corporate Overview
Gilead was founded in 1987 and is located in Foster City, California. The current CEO and Chairman is John C. Martin. The stock is a member of the S&P 500 and the NASDAQ Biotechnology Index. Gilead has completed many mergers in its history, the most notable of which was the $10.4 billion acquisition of Pharmasset in 2011.
Portfolio
Gilead has a strong portfolio of drugs that is primarily focused on treatments for HIV/AIDS and Hepatitis C, along with a few other miscellaneous drugs.
For HIV/AIDS, the company's current main drug is Atripla, which was approved by the FDA in 2006 and is also the company's top-selling drug as of 2013 at $3.57 billion. Truvada is the company's second-biggest product with $3.2 billion of sales on 2013; it was approved in 2004. These are Gilead's established drugs in HIV/AIDS, but newer, safer, and more potent drugs will soon overtake them. Stribild is a 4-in-1 pill that was approved by the FDA in late 2012. It did $540 million in revenue for 2013 and is expected to reach peak revenue of $3.54 billion in 2018 and become the main drug for Gilead in this category. The company also has Complera for the same disease, which was approved in 2011 and did $809 million in 2013, but "the Quad," as Stribild is known, is going to be the primary HIV/AIDS medication going forward.
Hepatitis C is where most of Gilead's top line growth will be coming from, almost solely due to Sovaldi. Solvaldi is the drug that Gilead bought with its aforementioned acquisition of Pharmasset. It was approved at the end of 2013 and is expected to do revenue well into the multi-billions in its first year (2014). The company itself predicts peak revenue for the drug at $8 billion per year, an astounding number considering total revenue for the company was around $11 billion in 2013. However, many analysts say Gilead is being conservative in estimates, going on to say that it will achieve more than $13 billion in peak revenue within a few years, breaking the all-time record for a single drug that is currently held by Pfizer's Lipitor at $12.9 billion. I also predict that Sovaldi will blow away most estimates judging by the sheer size of the potential Hepatitis C market (there are 150 million infected people currently, the economic value estimated at $20 billion by 2020, and Gilead is likely to dominate), the impressive results coming from clinical trials, and the weaker competition from AbbVie (NYSE:ABBV), Bristol-Myers (NYSE:BMY), and Merck (NYSE:MRK). Regardless, it will be a blockbuster and fuel Gilead's top line growth.
The company has other drugs such as Tamiflu for influenza, Letairis for pulmonary arterial hypertension, and Cayston for cystic fibrosis; however, these will be relatively insignificant going forward due to Gilead's dominance in both Hepatitis C and HIV/AIDS.
There are only 2 notable patent expirations on Gilead's products within the next few years: Tamiflu in 2016 and Viread in 2017. Tamiflu is not a key item on Gilead's balance sheet, so this is not too significant. Viread is notable mainly as a component in both Atripla and Truvada. However, these are set to be replaced by Stribild going forward, and none of the other important patents are expiring. Thus, this is also not a major concern.
Gilead's impressive portfolio causes me to believe that it can grow both its top and bottom lines significantly over the next 5 years or more just based on its existing drugs; considering its current pipeline in trials and future innovation from the company, the number is likely well above that.
Pipeline
While the primary driver for growth in Gilead over the next few years will undoubtedly be Sovaldi, the company does have some quality drugs in the pipeline.
In the cancer space, idelalisib is in phase III trials for indolent non-Hodgkin's lymphoma and chronic lymphocytic leukemia. Ranolazine is in trial for coronary artery disease and diabetes. If approved these drugs could kick in after some years and provide long-term growth extending after the revenue skyrocket from Sovaldi.
Stock
Gilead's stock has been an outstanding performer over the last few years, doubling in 2013 and nearly quadrupling in the five-year period ending at the conclusion of 2013. Subsequently, the stock continued to rise into 2014, peaking at $84 and then declining to its current 18-week low of $68.55.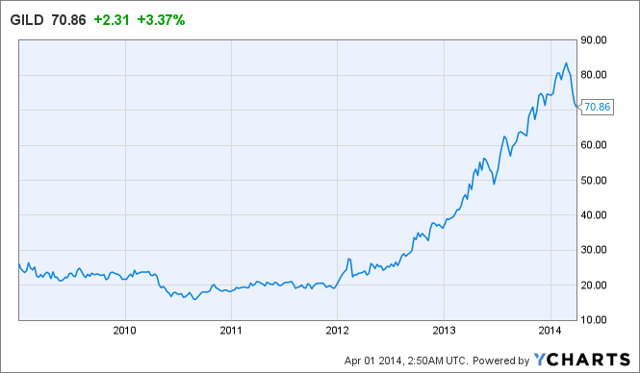 Financials
Gilead made $3.07 billion in GAAP net income in 2013 ($3.45 billion in Non-GAAP) on revenue of $11.2 billion, yielding a net margin of 27.4%. This translates to a diluted GAAP EPS of $1.81 ($2.04 in Non-GAAP). Product sales increased by 15% YOY in 2013 to $10.8 billion; the additional $400 million came from royalties, contracts, and other revenue. Gilead generated $3.11 billion in operating cash flow in 2013. Expenses increased significantly in both R&D and SG&A. The increase in R&D was mostly due to a pipeline expansion and progression of drugs through clinical trials. The SG&A increase was mostly due to the launch of Sovaldi. Gilead currently has a cash position of $2.57 billion as of the latest earnings release, which is largely unchanged from the previous year due to capex. The balance sheet totals $22.5 billion, of which $11.7 billion is stockholder's equity.
Gilead provided guidance for 2014 at $11.3-11.5 billion in product sales. However, this number is largely insignificant since it excludes the potentially massive impact of Sovaldi, the main driver of the company's growth over the next few years.
Gilead's financials are strong, giving the company the ability to service debt easily and fund R&D for both future product innovation and current clinical trials.
Valuation
The stock trades at a P/E of 37.7, but with an expected EPS of $5.69 next year, the stock is trading at a forward P/E of only 12. This indicates the stock is significantly undervalued, especially considering Gilead's projected 5-year CAGR of 36.09%. Thus, the P/E for years 2016 and beyond could easily be in the single digits, especially if Sovaldi does very well.
The forward P/E at 12 also means that the company is trading at a forward PEG of only 0.56. Not only is that significantly below a "fair" valuation of 1, it is also below its peers. Take Celgene (NASDAQ:CELG), for example. While Celgene is, no doubt, a great company, its forward PEG is 0.88. If Gilead were valued at the same rate as Celgene, its stock would be at $107.72, an upside of 57%. While that magnitude of increase is a long shot, it does serve to demonstrate the undervaluation present in Gilead. I think it is very reasonable for the stock to have around 35% upside (PEG of 0.75) in the intermediate term of within the next few years and still be valued conservatively based on growth rates, though this depends heavily on the performance on Sovaldi. Over the long term, this stock is also a strong buy, as both the performance of Sovaldi and future products will fuel Gilead.
Cons
There are three main concerns with Gilead that could pose risks to the fundamentals. The first is the recent news related to Congressional questioning of the price of Sovaldi at $84,000 for a 12-week course. The company has stated that they can justify this cost and are well-prepared for the meeting with members of Congress. The second and more significant concern is the company's rather high debt. Gilead has a debt/equity ratio of 0.48. As long as the company's cash flows grow as quickly as they are expected to, this will not be an issue. Finally, there is a very high level of dependence on 1 product, namely Sovaldi. While it is true that Sovaldi will account for 40-60% of Gilead's revenue, this risk is strongly counterbalanced. The first is the reasons previously mentioned as to why I believe Sovaldi will indeed do very well: large total addressable market (TAM), strong results, and weak competition. Most valuation on Gilead has been done based on the guidance from the company at $8 billion. However, as the preceding statement expresses, I expect it to beat this number handily. The possibility of it not reaching my loftier goals could still place it at or well above the $8 billion guidance, so there is not much risk for the stock.
Conclusion
Gilead Sciences gives a strong product portfolio and rapid revenue growth for a discount, especially as of late. It has the potential to become one of the top companies in big pharma and is still only at the beginning of the drug life-cycle for several key products. I see significant upside in the stock and have bought this dip extensively.
Disclosure: I am long GILD, CELG. I wrote this article myself, and it expresses my own opinions. I am not receiving compensation for it (other than from Seeking Alpha). I have no business relationship with any company whose stock is mentioned in this article.