Oil companies have gotten some attention lately due to the ever-increasing cost of operations. As a consequence, the entire oil & gas space trades at low multiples. This presents opportunities for value and dividend-growth focused investors.
Today, I will take a closer look at one of these companies, namely ConocoPhillips (NYSE:COP) in order to see if their valuation understates its fundamentals and future growth potential.
The Fundamentals
ConocoPhillips is the world's largest independent exploration and production company, based on proved reserves and production of liquids and natural gas. It operates in 30 countries around the world.
On May 1, 2012 the company split into ConocoPhillips and Phillips 66 (NYSE:PSX) to focus more closely on exploration and production as opposed to the refining operations which are now operated by Phillips 66. The "new" ConocoPhillips has so far been a success story with the stock price appreciating from $56.51 at the time of the split to $70.35 by the end of trading on Friday March 28.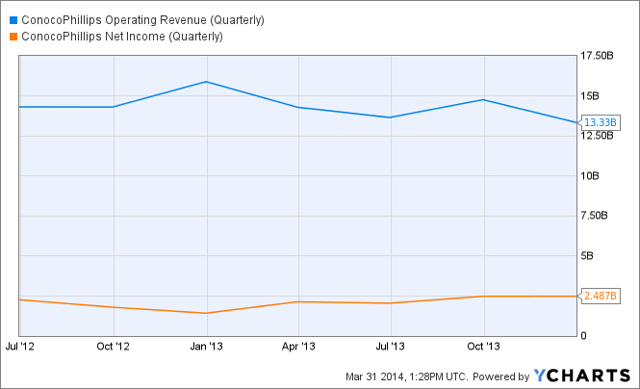 Click to enlarge
COP Operating Revenue (Quarterly) data by YCharts
I usually like to look at the company's revenue and net income development over many years. However, because of the split, in this case the numbers further back are not representative so I chose to look at quarterly numbers since the split instead. Nonetheless, the revenue numbers are somewhat disappointing while the net income numbers are fairly good.
ConocoPhillips' balance sheet is also sound as its total assets and liabilities of $118.057 are backed by equity of $52.090 billion for an equity ratio of 44%.
This means the company has the capacity to invest in new and profitable projects around the world. For those worried about geopolitical risk, they can be somewhat comforted by the fact that the vast majority of the company's projects are in politically stable regions such as North America and Northern Europe.
The company will in future use approximately 10% of its capital expenditure budget on its current base to mitigate the decline in production from these assets. The vast majority, 75%, will be used on development programs and major projects, as shown in the graph below.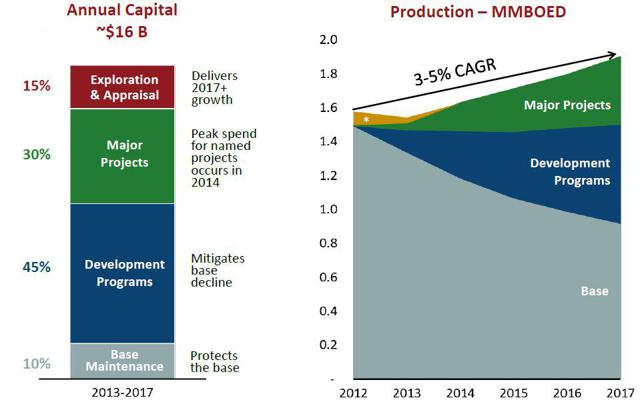 Click to enlargeSource: Company Presentation made on March 25, 2014
In aggregate, the company expects its investments to yield an annual increase in production of 3-5% a year to the year 2017.
Given stable oil prices, this production growth should support a healthy long-term revenue growth which naturally will translate into bottom-line growth as well, as long as the company can maintain its margins. A robust bottom-line growth will in turn support a rising dividend over time, thereby putting an increasing amount of money in investors' pockets.
Risk Factors
A main risk or challenge for oil companies lately has been rising costs for rigs and other services as projects become more and more complex. The industry has tried to address this by emphasizing return on investments rather than production growth. Hopefully, this will discipline suppliers, relieving the oil companies of some of the cost pressure. Nonetheless, this remains a significant risk. Another risk is geopolitical turmoil. ConocoPhillips should be less exposed than many of its competitors as the vast majority of its production and production growth is in North America and Northern Europe. A third and obvious risk is the oil price. The oil price is notoriously difficult to forecast and will always be a key risk for anyone who invests in oil companies.
Valuation
As mentioned in the beginning of the article, oil companies have experienced a downward pressure on valuations because of higher costs. The question is if valuations have come down enough to justify an investment. In order to evaluate that, I like to take a look at some key multiples of the company in question and its main competitors.
| | | | |
| --- | --- | --- | --- |
|   | ConocoPhillips | Exxon Mobil | Chevron |
| Price/Sales | 1.5x | 1.0x | 1.0x |
| Price/Earnings | 10.9x | 13.2x | 10.7x |
| Yield | 3.9% | 2.6% | 3.4% |
Source: Morningstar.
Exxon Mobil (NYSE:XOM) and Chevron (NYSE:CVX) share first place on the Price/Sales ratio while Chevron wins the Price/Earnings competition right in front of ConocoPhillips with 10.7x versus 10.9x. Exxon Mobil is the most expensive on that measure with 13.2x. When it comes to the dividend yield, ConocoPhillips is the clear winner with a yield of 3.9%.
All of them compare favorably to the S&P 500, which has a Price/Earnings ratio of 17.9x and a dividend yield of 2.3%.
The Dividend
As the company has not been a stand-alone company for that long, it doesn't have a long and impressive track-record of dividend growth. We therefore need to look at other indicators in order to gauge whether it is a suitable stock for a dividend growth investor.
The company's quarterly dividend after the split was $0.66 per share. This was bumped up to $0.69 for an increase of 4.5% in July 2013. The annualized payout at that rate is $2.76. In fiscal year 2013 the EPS came in at $7.38 which translates into a payout-ratio of 37%.
According to Yahoo! Finance the analyst community expects EPS to grow at an annual rate of 5.1% over the next five years. In my view this is conservative given the projected production increase of 3-5% per year. Anyway, an EPS-growth of 5.1% with a low payout-ratio of 37% means that there is plenty of room to increase dividends going forward.
If we combine the EPS-growth of 5.1% with the yield of 3.9% and assume no change in the valuation multiple we get a total expected shareholder return over the next five years of 9%. This is roughly what one can expect from the S&P 500 over time. But it has to be kept in mind that the valuation and thus downside risk is lower than for the S&P 500. In addition, we have a potential upside surprise if the company boosts its payout-ratio.
Conclusion
ConocoPhillips is a solid exploration and production company that is putting plenty of money in its investors' pockets. This is likely not only to continue but continue at an increasing rate over time as the company grows. The dividend might even increase more than the EPS growth if the Board decides to boost the payout-ratio. As such, any dividend growth investor should take a serious look at ConocoPhillips the next time they are contemplating putting some dollars to work in the market.
Disclosure: I have no positions in any stocks mentioned, and no plans to initiate any positions within the next 72 hours. I wrote this article myself, and it expresses my own opinions. I am not receiving compensation for it (other than from Seeking Alpha). I have no business relationship with any company whose stock is mentioned in this article.