What a difference a year can make. Last year's high yielding equity based Closed-End funds (CEFs) losers - such as utility based funds and funds which included fixed income securities - have become this year's winners while the big winners over the last couple years - such as biotechnology funds and the pure leveraged equity funds - have begun to struggle.
This can be seen in the following 1st quarter, 2014 table below sorting all of the equity CEFs I follow by the best Total Return NAV performances through March 29, 2014. Funds which are shown in green in the Total Return NAV column have outperformed the S&P 500, as reflected by the SPDR S&P 500 Trust (NYSEARCA:SPY), which is up 0.88% YTD including dividends. Total return means all distributions are added back though not on a reinvested basis.
Note: Only about 30 out of about 100 funds I follow can be shown in a screen shot (click to enlarge).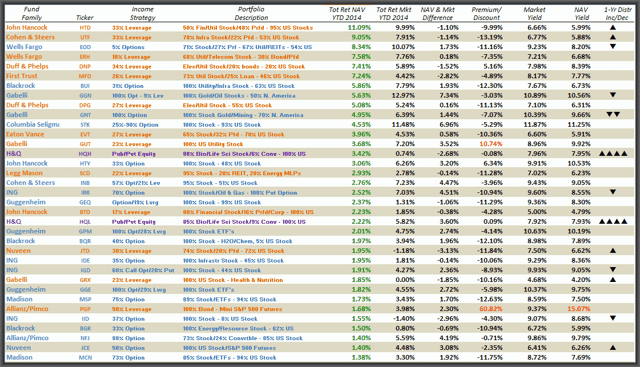 Here we can see that of the top 10 funds showing the best YTD NAV total return, seven are utility based funds, many of which also include fixed-income securities in their portfolios such as preferreds or corporate bonds. Rounding out the top 10 funds for the 1st quarter, 2014 are two gold and commodity sector funds, the Gabelli Global Gold, Natural Resources & Income Trust (NYSEMKT:GGN) and the Gabelli Natural Resources, Gold & Income Trust (NYSE:GNT).
However, this table only tells part of the story as GGN and GNT have been in a downtrend for the better part of the last few years and other funds, like the H&Q Healthcare Investors fund (NYSE:HQH) and the H&Q Life Sciences Investors fund (NYSE:HQL), which have been atop the leader board for the best NAV performance of any CEFs for some time, have recently dropped precipitously both in their market price and NAV along with the biotech sector. This could be an excellent entry point for HQH and HQL or it could be the start of something much bigger for these funds since both funds had seen over 100% total return gains in their market prices just over the last couple years.
Let's now flip the 100 or so funds upside down and sort by the bottom Total Return NAV performances so far in 2014. Here we can see in red which funds are lagging the S&P 500 by the most.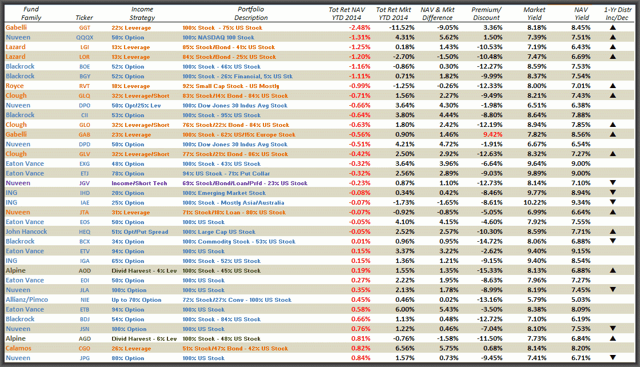 These two tables provide a good snapshot of the leadership change that has occurred so far in 2014 as "risk on" growth funds have given way to more value oriented funds. However, if you want to uncover which funds present good buying opportunities, you have to dig deeper since in the world of CEFs, total return NAV performance (column #1 in the data columns above) is one thing and total return market price (column #2) is another.
Total return NAV performance may be the truer measure of performance by a CEF but most investors are only familiar with a fund's market price and tend to base their investment decisions around this metric as well as a fund's market yield. This is one of the unique characteristics of CEFs, having both a market price and an NAV price, and this is what gives rise to opportunities in these funds as many investors will not see when a fund's NAV is turning the corner or is starting to fade. In other words, a CEF's market price can be a lagging indicator of where its NAV is going.
One of the best ways to see this is to sort the above tables by column #3 of the data columns showing the difference between the YTD market price and NAV performance. In the interest of brevity, I am only going to show the top 10 funds since this is the list I would like to work off of.

Though my analysis also takes into account longer term NAV performances and valuations (Discount/Premium) as well as market & NAV yields, this table provides a good starting point to see which fund's market prices may be lagging their NAVs.
Funds To Buy
The first fund to buy is the Nuveen Tax-Advantaged Dividend Growth fund (NYSE:JTD), $15.30 market price, $17.36 NAV, -11.9% discount, 7.5% market yield. JTD shows up as #2 on the list above and is a fund I have liked for a long time based on its strong historical NAV performance. JTD struggled a bit in 2013 with its market price only up 15.6% as its income strategy was not as optimized last year, partly because of its fixed-income preferred holdings and partly because of its short index option positions during a strong up market. JTD is a 30% leveraged equity (74%) and preferred security (19%) CEF with 28% of its total holdings in overseas markets, primarily Europe.
Though JTD uses leverage as its primary income strategy, i.e. leveraging up its preferred securities as well as dividend yielding stocks primarily in the banking, insurance, energy and pharmaceutical sectors, JTD can also sell options against indexes such as the NASDAQ-100 for additional income opportunities. For a snapshot of JTD's top holdings and portfolio breakdown, go to this link.
JTD is a perfect example of a fund whose NAV is now outperforming but yet its market price has yet to catch up. This is shown in JTD's 1-year Discount/Premium graph in which JTD's current -11.9% discount is at its widest since late 2011.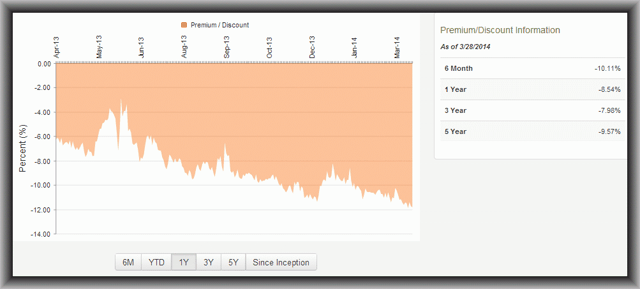 Now, of course, things could change and JTD's portfolio and income strategy might not be as optimized going forward if value stocks and fixed-income lose leadership and growth and technology move back into the lead. But for a balanced fund at a historically wide discount, a distribution increase late last year and a 7.5% current market yield paid quarterly, JTD presents an excellent risk/reward value in my opinion.
My next pick is in the top 10 list for both NAV Total Return and NAV & Market Price Difference columns. The Macquarie/First Trust Global Infrastructure/Utilities Dividend and Income fund (NYSE:MFD), $17.14 market price, $18.07 NAV, -5.2% discount, 8.2% market yield, is a bit different than most of the other leveraged utility and infrastructure sector CEFs in that it has a large Senior Loan component in its overall portfolio, i.e. 34% of its net assets. In other words, MFD's fixed-income portion of its portfolio could act as a buffer in a rising interest rate environment.
This is the first time I have recommended MFD though it has earned a reputation over the years as a solid global utility, infrastructure & energy MLP CEF with a generous 8.2% current yield. The senior loan component could make it particularly attractive for investors who want to stay in yield oriented securities but are concerned about rising interest rates. Though senior floating rate securities are generally tied to LIBOR or the prime rate and only actually benefit if these rates go up, we may be getting closer to such a time.
MFD at a -5.2% discount, is not the most undervalued utility & infrastructure CEF available and this does not mean that I wouldn't still recommend others that I have written about positively such as the Wells Fargo Advantage Global Dividend Opportunity fund (NYSE:EOD), the BlackRock Utility & Infrastructure fund (NYSE:BUI) or the Duff & Phelps Global Utility Income fund (NYSE:DPG), all of which trade at double digit discounts.
Other funds in the top 10 of the NAV & Market Price Difference column include the Gabelli Healthcare & WellnessRX fund (NYSE:GRX) and the Gabelli Dividend & Income Trust fund (NYSE:GDV). I have endorsed GRX many times and I don't want to sound like a broken record, but I can't help but feel that this fund, which is a cross between the healthcare and consumer staples sectors, is still very undervalued at a -10.6% discount. GDV at a -9.8% discount is also very attractive in a continued bull market as both of these funds use leverage on pure US based large cap stock portfolios.
Surprisingly, GRX's and GDV's market prices haven't gone anywhere so far this year but yet both fund's NAVs are outperforming and should continue to outperform in a strong up market environment, particularly if value stocks continue to outperform. You would be hard pressed to find better funds than these two and if it wasn't for their relatively modest yields at 4.7% for GRX and 5.5% for GDV, they would be trading at much higher valuations in my opinion.
Funds To Sell
I find it ironic that another Gabelli fund that is struggling YTD on its NAV is the one that has seen its market price continue to rise to one of the highest premium valuations of any CEF at +9.4%. The Gabelli Equity Trust (NYSE:GAB), $7.74 market price, $7.10 NAV, 9.0% premium, 7.8% market yield, gets all of the attention as Gabelli's flagship CEF and is very popular among investors but it's also the most growth oriented and the most risky.
I read recently where The Street called GAB a good value fund if the stock market looked bubbly. Huh? This is one of the most ill-conceived recommendations I have ever seen as GAB is not a value fund at all. Not only is GAB leveraged but it's also at its highest premium valuation in years. Gabelli may classify GAB as a value fund because of its equity holdings but its primary objective is still growth of capital. Disclosure: I am short a small position in GAB.
Another CEF looking pricey is the Nuveen NASDAQ Premium Income and Growth fund (NASDAQ:QQQX), a fund that mimics the PowerShares NASDAQ-100 Trust (NASDAQ:QQQ) but uses an option-income strategy to offer a higher yield. Unfortunately, not only is QQQX underperforming the QQQ's on its NAV, down -1.3% YTD, but its market price has risen to a slight 1.5% premium valuation.
The NASDAQ-100 has come under increased pressure recently as the leading technology and biotech stocks have seen bouts of selling. You would think an option-income fund would thrive under this scenario but so far, QQQX is not exhibiting that. The NASDAQ may be losing its market leadership but I wouldn't call QQQX a safe alternative to the QQQ's.
Conclusion
A transition from "risk-on" growth to value securities should be expected as the Federal Reserve continues its stimulus tapering. Certainly, investors have to put their money somewhere and after the run that many growth stocks, ETFs and CEFs have seen over the past couple years, it's about time for value funds to assume leadership.
Disclosure: I am long GRX, GDV, JTD, MFD, HQH, HQL, BUI, EOD, DPG, GGN, GNT. I wrote this article myself, and it expresses my own opinions. I am not receiving compensation for it (other than from Seeking Alpha). I have no business relationship with any company whose stock is mentioned in this article. Short GAB