We released an earlier article (before the 2014 calendar year began), in which we picked our top four gold stocks for FY2014. Let us take a quick look at their performance:
(Source: Ycharts, click to enlarge)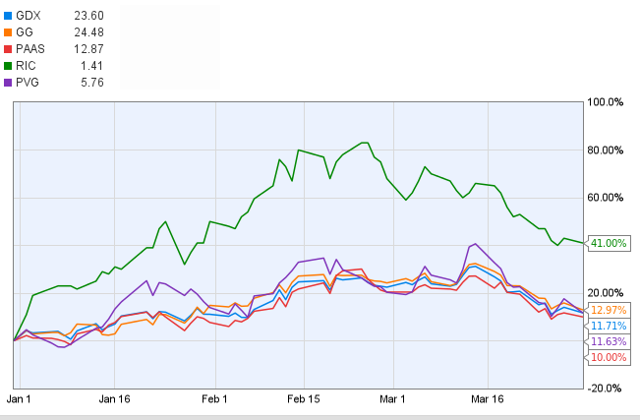 Most of our picks tracked the Market Vectors Gold Miners ETF (NYSEARCA:GDX) (which is our comparable index), but Richmont Mines (NYSEMKT:RIC) helped propel the total return of the basket to 18.9% for the quarter versus GDX's 11.71% return.
What we want to do for the second quarter is offer investors four of our top picks for the second quarter that we think offer short-term catalysts that can help investors outperform. As with any investment in the mining industry, we highly recommend that investors understand the companies thoroughly and follow events that affect their valuations - catalysts can be positive or negative, after all.
Goldcorp
Goldcorp (NYSE:GG) remains our top pick amongst the majors, as it has one of the strongest balance sheets amongst the majors, with relatively low debt levels (though it has been creeping up) and a growing production profile.
(author-created table, click to enlarge)

In fact, the company's production in the fourth quarter hit an annual high, even as costs remained relatively low compared to other miners, and Goldcorp is forecasting rising gold production in FY2014 to around 3 million gold ounces. Finally, the company has enough cash to take advantage of the beaten-down mining sector to make smart acquisitions, which will allow it to pick up assets at a fraction of the cost of what they sold for a few years ago. When it comes to the majors, we feel Goldcorp offers investors much better prospects than the rest.
Premier Gold Mines
Premier Gold Mines (OTCPK:PIRGF) is one of our top overall picks, even though many gold investors may never have heard of the company. We've previously covered this company, but in a nutshell, it has three very interesting projects in Canada and Nevada that each has significant upside - with two of the projects having Newmont Mining (NYSE:NEM) and Goldcorp as partners. The company has plenty of cash to continue explorations without the need for additional financing, and it's one of the few mining companies that insiders have been buying as of the end of March.
The company's Hardrock project has some excellent comparative open-pit grades in a very accessible location.
(Source: Premier Gold Mines Investor Presentation, click to enlarge)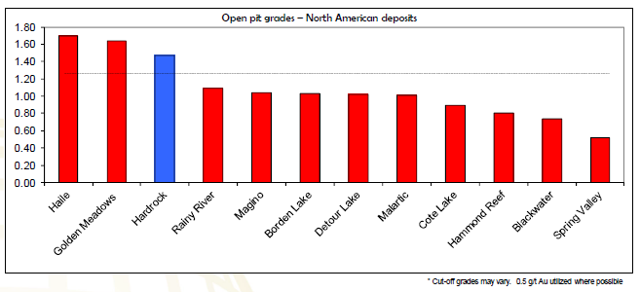 Finally, we expect the company to be releasing news from its Cove [partnered with Newmont] and Rahill-Bonanza (in partnership with Goldcorp) projects in the upcoming months. Investors should seriously consider an investment in this company with excellent potential and strong insider ownership and recent buying.
First Majestic Silver
First Majestic Silver (NYSE:AG) is a best-in-breed company that has underperformed, but that we think offers investors a compelling investment at its current price. The company's share price has been hit hard because of a combination of the weak silver price and the poor investor sentiment for companies with Mexican operations (all of First Majestic's operations are based in Mexico) due to the recently implemented Mexican Mining tax.
We believe First Majestic will be focusing on generating cash with its operations for the rest of the year and significantly cut expenditures, rather than increasing production or looking towards acquisitions. The result of this is that we think the company will be generating very good cash flow, despite the Mexican tax, which will help soothe some investor worries about Mexican miners. Investors should remember that this company has excellent management, which has grown a small company into one of the top primary silver miners in the world - at these prices, it is worth a look.
Midas Gold
Midas Gold Corporation (OTCQX:MDRPF) is a company that we feel is significantly undervalued by the market, and we have done some in-depth coverage to prove this. Its Golden Meadows project is one of the largest open-pit mining projects in North America, and has shown enough promise that Teck Resources Limited (TCK) owns 9.9% of the company and is probably a possible suitor, provided the project can get the necessary permitting. We think the preliminary feasibility study offers a near-term catalyst that can show how profitable Golden Meadows can be - and we think it will surprise investors.
The biggest risks we see here are all related to the environmental permitting, but with such a high-potential gold project in a safe political jurisdiction, the company should have a much higher valuation, despite the risks. Even at a gold price of $1200 per ounce, we believe the company is undervalued at its current price, and the expected issuance of the preliminary feasibility study may be a wake-up call for investors.
Conclusion
There are many more companies that we like, but these are four that we believe do offer investors some excellent potential returns in the second quarter.
Having said that, we are firm believers in monitoring investments and buying or selling positions if warranted by news and events - if the facts change, then we change. So while we like and own positions in all four of these companies, there are different criteria for each one of the companies that would cause us to sell shares or add to our positions (unfortunately, we couldn't go into a lot of detail in this article, but we hope to in the future), thus investors must do their due diligence.
Disclosure: I am long GG, AG, PIRGF, MDRPF. I wrote this article myself, and it expresses my own opinions. I am not receiving compensation for it (other than from Seeking Alpha). I have no business relationship with any company whose stock is mentioned in this article.
Editor's Note: This article covers one or more stocks trading at less than $1 per share and/or with less than a $100 million market cap. Please be aware of the risks associated with these stocks.