In this article, let's assess the prospects of Johnson and Johnson's (NYSE:JNJ) dividend. Please see the video here about how we think about dividend analysis.
Let's get started. Please take a look at the image below. It addresses dividend safety, dividend growth, and a firm's dividend track record. Under the framework, the safety of Johnson & Johnson's dividend is excellent, as Johnson & Johnson's Dividend Cushion score is materially over 1 (in fact, it is 2.2). The high score indicates to us that the company can cover its dividend and even increase it at a level slightly higher than our forecasts before we would even start growing concerned about its safety.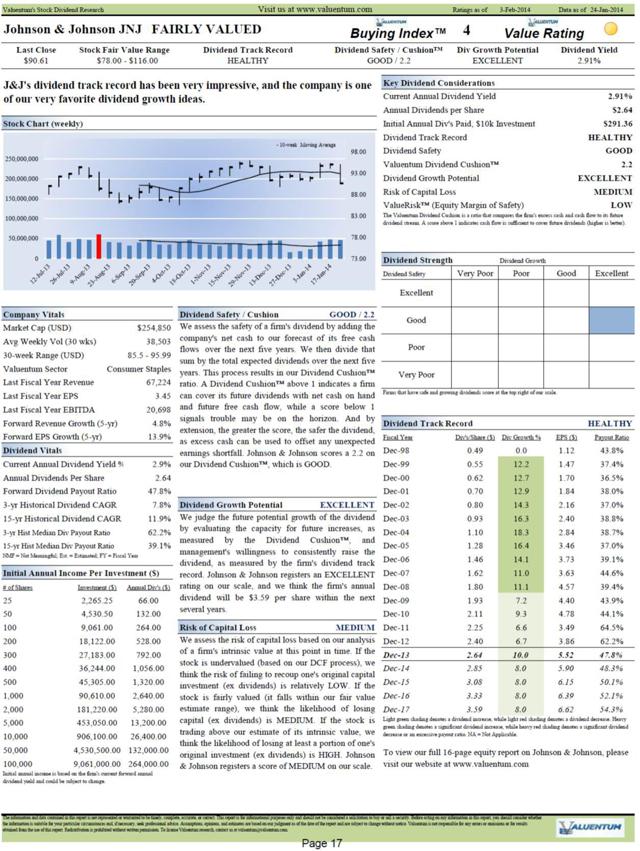 Click to enlarge
Now on to the potential growth of Johnson & Johnson's dividend. As we mentioned above, we think the larger the "cushion" the larger capacity a company has to raise the dividend. Such dividend growth analysis, however, is not complete until after considering management's willingness to increase the dividend. Capacity and willingness are two key concepts for dividend growth to materialize -- you can't have one without the other. We evaluate the company's historical dividend track record to assess willingness. If there have been no dividend cuts in many years, the company has a nice growth rate, and a nice dividend cushion, its future potential dividend growth would be excellent, which is the case for Johnson & Johnson.
Johnson & Johnson's dividend has years of growth ahead of it, and with a 2.8% annual yield, the firm should be on any dividend growth investors' watch list. Though we peg its fair value estimate at $97 (right where it is trading), the company's fundamental strength is undeniable.
Valuentum's Take
Johnson & Johnson is one of the very few companies in the world that has a AAA debt rating, the highest mark on the credit-rating scale. The company's cash flow generating capacity is top-notch, and we peg its cash-flow-based Valuentum Dividend Cushion score--or how many times the firm can cover its dividend with cash flow and after considering its balance sheet-at more than 2 times, a very healthy measure. We think some of the best dividend growth stocks are ones that have the strongest balance sheets - strongest credit ratings. We continue to hold Johnson & Johnson in the portfolio of the Dividend Growth Newsletter.
Disclosure: I have no positions in any stocks mentioned, and no plans to initiate any positions within the next 72 hours. I wrote this article myself, and it expresses my own opinions. I am not receiving compensation for it (other than from Seeking Alpha). I have no business relationship with any company whose stock is mentioned in this article.
Additional disclosure: JNJ is included in the portfolio of the Dividend Growth Newsletter.