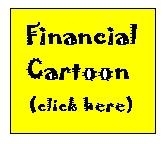 Outlook: Stock market dropped this week as buyers failed to show up for work. Share volume traded for the S&P 500 this week continued to be anemic. (For financial cartoon, click on image or see footnote [1].)

Investors Are Grumpy: Economic news was mixed but it was offered up with a negative spin. The emergence of a "double dip" scenario gained support as GDP and consumer spending was revised downwards and business inventories rose. Housing surprised on the downside in the initial wake of the government's cessation of funds.
Not All Bad: Counterbalancing that news was that disposable income, consumer savings and corporate profits all were revised upwards. Non-defense capital spending excluding air-craft orders rose 2.1% in May versus April; it was up 18.4% year-over year. Additionally, the employment picture didn't further deteriorate. Several of the commodities remained firm, e.g., oil, steel and copper indicating either a technical pattern or yet a global recovery may be in the making.
Further Uncertainty: While the first phase of financial reform has been "put to bed", uncertainty over future tax policy remains hostage to fiscal health of federal and state finances. The "Keystone Cops" antics of BP, in resolving the gulf oil spill, provide little comfort that our government can provide adequate solutions to crisis situations.
Earnings Season: As June draws to a close, all eyes will be on second quarter earnings announcement. More importantly is the assessments by corporate managers regarding their outlook. The outlooks will likely be cautious as managers set low expectations.
Hand Wringing: Overall, there's a lot to be worried about. However, the market has an uncanny tendency to confound at this point in the cycle. We may just be at the base of the "Wall of Worry" that will take this market up another leg.
CEF Weekly Review: The 13 closed-end fund (CEF) types on average posted a 0.3% decrease for the week ending 6/25/10. The high-low spread was +3.8 vs. +3.5% the previous week with respective highs of 1.5% vs. 3.2%. On an aggregate, unweighted basis the weekly average price change for the 500 plus CEFs was down 0.2%.
The PowerShares CEF Income Composite (NYSEARCA:PCEF), an ETF that invests in taxable income CEFs, declined 1.3% for the week. The S&P 500 dropped 3.6% for the week and has now turned negative YTD (3.4%).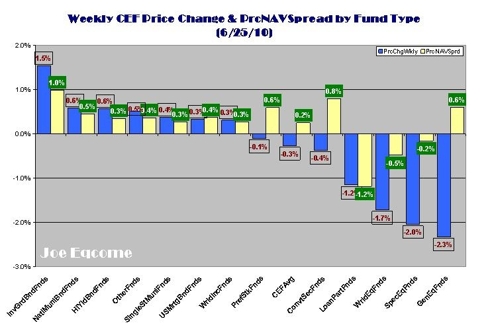 (Click here [2] for YTD CEF Performance. The table is based on a smaller CEF sample size as all the data fields are not available for the CEF universe.)
The Eqcome CEF Fear Index eased slightly for the week. The average price decrease was 0.2% versus a 0.4% decrease in the NAV. The CBOE Volatility Index (VIX), which typically moves inversely with the stock market—but is mostly a measurement of volatility based on stock options' premiums—jumped 19.1% advancing to 28.53 as the VIX broke its slide from its mid-May peak.
The S&P 500 average daily trading volume was flat for the week to 4.7 billion shares. With the exception of Friday's 6.8 jump in volume, this week's average volume remains anemic.
CEF Weekly Fund Type Performance: Investors experienced a reoccurrence of anxiety this week. CEF fund type performance shifted back to fixed-income oriented fund types. InvGrdFnds was the leader advancing on average 1.5%.
The PrcNAVSprds [*] typically move in the direction of stock prices. PrefStkFnds, ConvtSecFnds and GenEqFnds experienced a decline in price but experienced an even greater decline in respective NAV. So, in theory the stock price failed to reflect the underlying drop in net asset values.
Weekly CEF Winners and Losers: One of the CEFs with the greatest positive spread was Cornerstone Total Return Fund (NYSEMKT:CRF). CRF's share price advanced 1.7% while its NAV declined 3.7% generating a positive PrcNAVSprd of 5.4%.
CRF is essentially a ruse played on unsuspecting investors. CRF essentially pays out its capital in the form of a distribution dissipating in NAV. Its current nominal distribution yield is 13.9%. The portfolio is no more than a closet index fund for the S&P 500 and it trades at a premium of 62.1%. This is an idiotic investment.
The CEF having one of the greatest negative PrcNAVSprd for the week was Alpine Total Dynamic Dividend Fund (NYSE:AOD). AOD stock plunged 30.6% while its NAV declined 4.8% generating a negative spread of 25.9%. AOD slashed its dividend by 54% from a monthly rate of $.12 per share to $.055 per share. Prior to the distribution announcement, the stock was yielding 19.3% indicating an imminent distribution cut.
Both CRF and AOD are investment ruses perpetrated on investors chasing yield. Both end up distributing cash from capital. In the case of AOD, its algorithm was clever as its dividend roll program generated net investment income but on a net basis dissipated its capital by buying the "rolled" shares at lower prices net the dividend.
In life, you get what you pay for. Just make sure you understand what you're paying for. Long-term investors will end up losing money in CRF—albeit, there may be a case for trading the stock.
Economic & Earnings Outlook: (Click here [3] for next week's economic calendar; click here [4] for earnings announcements and estimates.)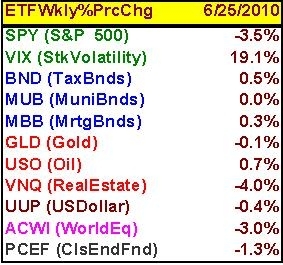 ETFs: For a more detailed EFT performance by sectors, click here [5].
Insider Trading: During the month of June there were insider sellers of Gabelli Global Deal Fund (NYSE:GDL), which include the fund's name sake, Mario J. Gabelli. Insider sold 10,802 shares at $53.05 per share for a total capital value of $573,075. The transactions were flagged as a private transaction and it's unclear if it was an exchange of securities.
The Horejsi Group (Horejsi) added to its position in Boulder Growth & Income Fund (NYSE:BIF) by another 10,802 shares at a price of $5.48 per share bring the total month-to-date to $421,237 in expenditures.
Jerrold B. Harris, a director of Blackrock Municipal Income Trust II (NYSEMKT:BLE), purchased this week 3,978 shares (2,478 was an indirect investment for a trust) at an average price of $14.27 per share. There have been several insider purchases of Blackrock muni CEFs.
Insiders at Hercules Technology Growth Capital (NASDAQ:HTGC) added 5,000 shares at an average price of $8.88 per share by Joseph J. Chow, a director, to a smaller insider position earlier in the month of 559 shares by the CEO.
(Click here for a hyperlink to the Joe Eqcome's CEF Weekly Insider Report.)
CEF Distribution Announcements This Week: The following is a link to a table of CEF distribution announcements this week as well as the previous week's with yet expired ex-dividend dates. The list is not intended to be inclusive. (Click here for Joe Eqcome's Weekly CEF Distribution Announcements)
Significant CEF Corporate Events: In response to The Taiwan Greater China Fund's (TFC) semi-annual 5% repurchase offer, it re-purchased 10.6% of the 11,788,968 shares tendered which represented 47% of the outstanding shares. The repurchase offer expired on June 11, 2010.
The Asia Tigers Fund (NYSE:GRR) announced its 5% semi-annual repurchase offer will commence June 25, 2010 and terminate on July 16, 2010.
Prospect Capital Corporation (NASDAQ:PSEC) announced it has closed a $25.5 million senior secured credit facility for EXL Acquisition Corp. ("EXL" or the "Company"), a leading manufacturer and marketer of consumable lab testing equipment and supplies.
CEF Focus Stock for the Week: The Thai Fund (NYSE:TTF) is the focus CEF of the week. I scanned my CEF database for the 5 largest current discounts to average historical discounts to determine the 5 greatest favorable spreads.
The five largest spreads turned out to be WrldEqFnds located in region of political or financial instability. Four of the five CEFs were Asian of which two were Thai related. The remaining CEF was related to Spain.

Of the 5, Thai Fund (TTF) looked interesting for the following reasons (see "Thai Fund Attractive on Relative Discount Basis [2]" (6/25/10)).
Currently trading at an 18% discount, TTF has the largest discount spread on average for the 3 measurement periods -18.2 and the second deepest spread discount of the 5 WrldEqFnds during the 3 year measuring period (see table below);

Historically, TTF has gone through periods of the stock trading at a discount to be followed by longer periods of it trading at a premium;

It has recently paid a distribution for a yield of 2%;

There is no leverage;

The expense ratio is a moderate 1.16%;

If TTF were to gravitate toward its 5 year average of a 2.1% premium, its stock price would appreciate approximately 25% without a change in NAV.
Holding Period and Risk: This investment has a two year holding period and investors must assume greater than average investment risk. It is also a thinly traded stock.
Thailand has reeled from political unrest of the Red Shirt protests along with the resultant economic chaos. Thailand remains an important hub in the global supply chain and will unlikely relinquish that role to the Philippines.
Disclosure: Author owns a diversified portfolio of CEFs that include BIF, PCEF, TTF; no position long or short in CRF.

---
[*] All things being equal, price and NAV should move in tandem. A price movement greater than the NAV generates a positive PrcNAVSprd and may be interpreted as negative on a near-term basis and indicate that the stock is overvalued relative to its NAV which in theory is the stock's intrinsic value. The opposite would be true for a negative PrcNAVSprd.
---
[1] here

[2] here

[3] here

[4] here

[5] here

[6] here
---