My first trade on Tuesday morning was to pick up a small position in fast-growing Bakken E&P play, American Eagle Energy (NYSEMKT:AMZG). This fast-growing producer seems to be picking up very positive analyst support, is showing huge production gains, is cheap given its growth prospects and also has long-term technical support at just under its current price level.
Company Overview:
American Eagle Energy Corporation is an independent exploration and production operator focused on acquiring acreage and developing wells that target the Bakken and Three Forks shale oil formations in the Williston Basin of North Dakota and Montana. The company has a market capitalization just north of $200mm.
Analyst Commentary:
The shares of American Eagle Energy currently go for ~$7.25 a share. Wunderlich initiated the shares with a "Buy" rating and a $14 a share price target today. Wunderlich's analyst cites American Eagle as a "Williston Basin pure play. While AMZG is trading below peer average, as the company continues to grow production and deliver strong returns, we expect steady multiple expansion" a core reason for the rating.
Earlier this week, Canaccord also initiated the shares as a "Buy", with a more conservative $10 a share price target. The median price target by the five analysts that cover the shares is also $10 a share.
Production Growth, Valuation & Balance Sheet:
American Eagle has done an impressive job growing production, both organically and via a series of small strategic acquisitions. Revenues should grow better than 50%, both this fiscal year and in FY2015. Almost 90% of the company's production is oil.
Consensus earnings estimates for both FY2014 and FY2015 have consistently risen over the past three months. Consensus EPS stands at 37 cents a share for FY2014 and 60 cents a share in FY2015.
Given its growth prospects, AMZG is not expensive at 12x 2015's projected EPS. Looking at Enterprise Value/reserves or Enterprise Value/Bakken Acreage, American Eagle is selling at a substantial discount to larger Bakken players, such as Oasis Petroleum (NYSE:OAS) or Kodiak Oil & Gas (NYSE:KOG). The stock also appears to have good technical support at just under current price levels (See Chart).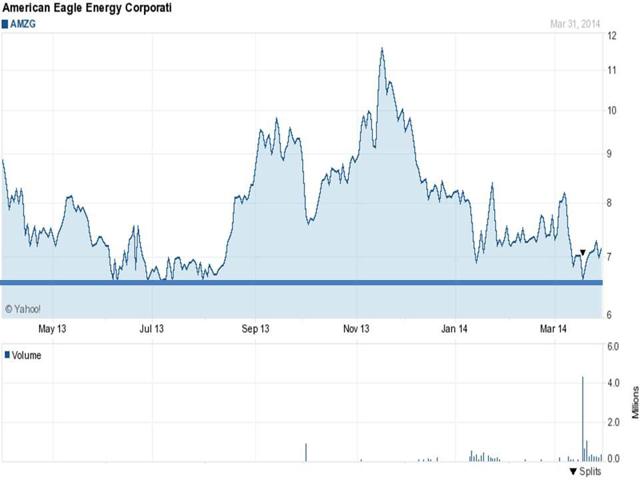 The company sports a solid balance sheet, with just over $100m in debt balanced against just over $50mm in cash & marketable securities. Like small Bakken players like Abraxas Petroleum (NASDAQ:AXAS) or Triangle Petroleum (NYSEMKT:TPLM), both of which I hold; American Eagle is a higher-risk/higher-reward play than the mid-majors in the region. In my opinion, it is worth a small position in an aggressive growth portfolio. SPECULATIVE BUY
Disclosure: I am long AMZG. I wrote this article myself, and it expresses my own opinions. I am not receiving compensation for it (other than from Seeking Alpha). I have no business relationship with any company whose stock is mentioned in this article.