Amarin Corp. (NASDAQ:AMRN) is developing AMR101 (Ethyl-EPA) as a prescription-grade omega-3 fatty acid that has been marketed in Japan for over 10 years as EPADEL by Mochida Pharma (OTC:MCPMF). Ethyl-EPA is differentiated from Glaxo's (NYSE:GSK) $1 billion dollar product LOVAZA (omega-3-acid ethyl esters) in the following key areas:
no fishy smell/taste or GI side effects such as burping = better patient compliance since these are both taken every day
lacks Ethyl-DHA omega-3 fatty acid component, which can raise bad cholesterol (LDL) levels
potential to address a much larger patient population including those with triglyceride levels of 200-500 mg/dL vs. LOVAZA, which is indicated for patients with triglyceride levels greater than 500 mg/dL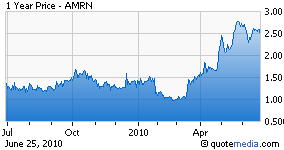 Amarin is fully funded through a potential NDA filing with ongoing partnership discussions. My current estimate is for patient enrollment to conclude by late 2010 to early 2011 (ahead of the most recent company guidance) with results expected by mid-2011 under this scenario since both studies have 12-week treatment periods. It should also be noted that both studies are being conducted under Special Protocol Assessments with the FDA without the need for Phase 2 studies, supported by over 10 years of use in Japan and previous studies conducted by Amarin for a variety of neurological conditions.
ANCHOR study: ClinicalTrials.gov ID NCT01047501 was last updated on 5/3/10 and is currently recruiting participants: "Evaluation of the Effect of Two Doses of AMR101 (Ethyl Icosapentate) on Fasting Serum Triglyceride Levels in Patients With Persistent High Triglyceride Levels (≥ 200 mg/dL and < 500 mg/dL) Despite Statin Therapy."
MARINE study: ClinicalTrials.gov ID NCT01047683 was last updated on 6/9/10 and this study is no longer recruiting patients, which provides a strong hint that enrollment is likely to be completed soon and well ahead of the Company's previous guidance. The primary objective is to determine the efficacy of AMR101 (ethyl icosapentate) compared to placebo in lowering fasting triglyceride levels in patients with very high fasting triglyceride levels ≥ 500 and ≤ 2000 mg/dL.
Looking at the financials, Amarin is fully funded through a potential NDA filing and ended 1Q10 with $44 million in cash and no debt with approximately 99 million shares of common stock outstanding. On a fully diluted basis, Amarin has about 148 million shares of common stock, which includes 7.8 million options outstanding with an average exercise price of $2.71 and 41.2 million warrants outstanding at an average exercise price of $1.75.
Amarin is currently the largest holding in my Ameritrade account because of the following factors:
an under the radar opportunity with little research analyst coverage and largely unknown by Wall Street
targeting an enormous market opportunity that encompasses cardiovascular disease and the evolving recognition of the need to treat triglycerides, which has the potential to become a multi-billion market opportunity similar in scope and size to statin drugs such as the world's top selling drug Lipitor that is about to face generic competition
many potential big pharma suitors, including obvious names such as Glaxo, given the potential threat to their billion dollar drug LOVAZA, which is currently the only FDA-approved prescription omega-3 fatty acid product and Pfizer (NYSE:PFE), which will soon face generic competition for Lipitor and may look for another potential blockbuster drug in the area of cardiovascular disease
potential for a milestone-based partnership ahead of the pivotal results since Ethyl-EPA represents a relatively low-risk of clinical development since it has been used for over a decade in Japan and represents a purified version of the major component in LOVAZA
potential for the Company to complete patient enrollment and report results from the pivotal studies ahead of current guidance (please note the timeline has already been shortened by one year from the Company's original guidance of reporting Phase 3 results in 2012)

Disclosure: Long AMRN