March Performance
What a glorious month it has been! The Sensex closed at 22,386, up 5.99% for the month, only to be outdone by the NIFTY which closed at 6,704, up 6.81% for the month. Both the large cap indices were beaten by mid cap indices: the S&P BSE Midcap closed at 7,083, up 8.96% for the month and the CNX Midcap closed at 8,612.45, up 10.34% for the month. And U.S. dollar investors did even better because the rupee closed the month at Rs 60.10 to $1, compared with $62.07 to $1 at the end of February.
Risk aversion is relegated to the back seat. Of course the upward trend was no surprise; I implied as much in the closing paragraph of my post covering February. But I am taken aback by the strength of the advance.
What Outperformed
We saw mid caps out-perform large caps. And within mid cap low quality beaten down stocks outperformed better quality mid cap stocks. In the large cap segment we saw weakness in Dr Reddy's Laboratories Ltd (NYSE:RDY), HCL Technologies Ltd, Infosys Ltd (NASDAQ:INFY), Lupin Ltd, Sun Pharmaceutical Industries Ltd, Tata Consultancy Services Ltd (TCS.BO) and Wipro (NYSE:WIT). All of these stocks lost in excess of 5% for the month and belong in the technology and healthcare sectors. These stocks saw pain associated with the strengthening of the Rupee. These stocks were ignored, because as exporters they are more in tune with the global economy: the rally we see in India is driven by a domestic theme.
The NIFTY includes 50 stocks. This list of twenty-one NIFTY constituents all returned in excess of 15% for the month. The bias if firmly to cyclical stocks and to those with the highest exposure to the domestic economy.
Source: MaxKapital Archives
Equal weighting with a value bias top strategy for March
A simple strategy - the NIFTY Equal Weighted Adjusted for Value returned 11.44% during March, compared with the Free Float Market Capitalization Index. This suggests that the money flows are not passive index allocation flows. When investors are willing to wander away from index allocations to a stock, they are embracing risk and perhaps seeking alpha. And given that this strategy has a PE of 12.09 and a beta of 1, at the end of March, 2014, a value bias is also evident.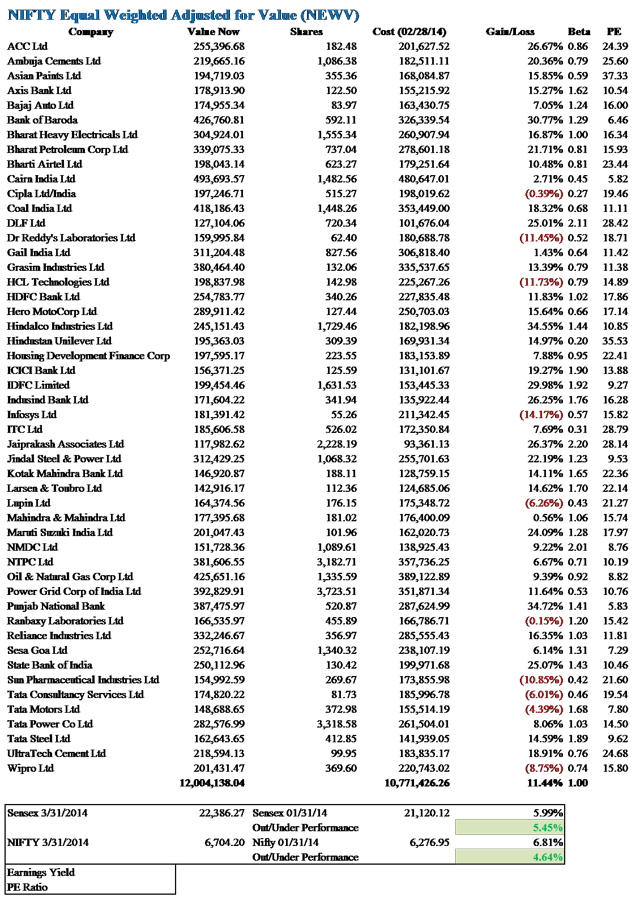 Source: MaxKapital Archives
Index Changes
Late in March, the NIFTY dropped Ranbaxy (OTC:RBXLY) and Jaiprakash Associates, replacing them with Tech Mahindra and United Spirits.
Ranbaxy has had problems with the FDA, while Jaiprakash Associates suffers from a capital structure which employs excessive leverage. Thus to see then leave the index is good: it improves the index quality.
Tech Mahindra's entry into the index is welcome, the company is performing well and is managed by the Mahindra Group, which is amongst the best governed groups in India. United Spirits now has Diageo (NYSE:DEO) as the majority shareholder; this is a welcome change as quality of governance at United Spirits is greatly improved. The balance sheet of this company remains stressed, but it is a market leader in a solid Indian growth market. And there is great hope that balance sheet quality will slowly improve under the new leadership. The stock is expensive, trading at 97 times estimated earnings for the year ended March 2014, and 57 times estimated earnings for the year ended March 2015.
What lies ahead?
The longer term outlook remains largely unchanged from my last update: the economy continues to drag along a bottom, but it is likely that we are at the start of a new growth cycle. Having said that, I am now willing to revisit my prior view that we are more likely to see a rate cut than a rate hike next.
I am now seeing a build up in inflation pressure during March. Particularly on the food and energy side, but also on consumer prices, as companies pass on costs to consumers. This might be partially offset by relief on imports as a result of a stronger rupee. I am looking for an acceleration in the month-on-month inflation, even if the year-on-year inflation remains contained. The response of inflation to monetary policy has also been meek. And I suspect until structural issues are addressed, inflationary pressures will remain.
With the 10 year government securities yielding 8.8%, interest rates are 70 basis points over six-year median levels. And given a renewed build up in inflationary pressures, there is little incentive to cut rates. Add to that a changing global interest rate cycle evident from building of rate hike expectations in U.S. in 2015, and possibly in Europe too, and I am inclined to accept that interest rates in India will follow that trend. In my view, risk on long duration debt is rising everywhere.
In the near term, the fact that an equal weight strategy outperformed so strongly is worrying and unexpected. It is clear that the Indian markets have moved primarily on foreign institutional capital inflows. That is something expected. Normally foreign institutional capital is patient money: it allocated to indices, and so the expectation is that the free float methodology will outperform. The extent of outperformance of the equal weight adjusted for value strategy over the free float market capitalization based indices suggests that investors pursued risk aggressively. In all probability the capital inflows represent speculative capital: fast money moves out just as quickly as it moves in. Speculative capital lacks longevity and is of dubious quality. For this reason, I believe that near term risks are high. The good news is that fast money often leads higher quality patient institutional money and even higher quality capital in the form of foreign direct investments.
This past month we have seen risk and low quality outperform, and this suggests risk has run too far in the short term. In the near term, I do believe that we have seen risk aversion fall to levels where expectations of a further vigorous advance in the coming month are built on little more than hope. I guess what I am saying is buy the dip, don't sell the rip; though if you have been in the markets since September last year, it does make sense to book profits and return to allocation. Investors in ETFs such as WisdomTree India Earnings (NYSEARCA:EPI), iShares MSCI India (BATS:INDA), iShares India 50 (NASDAQ:INDY), iPath MSCI India Index ETN (NYSEARCA:INP), PowerShares India (NYSEARCA:PIN) and EGShares India Infrastructure (NYSEARCA:INXX) might want to consider buying the dip. The currency risks associated with investing in India do exist, but with the rupee at Rs 59 to $1, it is trading at or very near fair value. So hedge your risk, or smile and take the risk after reading that Citi recently opined that the Rupee could gain as much as 35%.
Balance sheets of corporate India remain stressed. We are seeing some rights issues, and corporate dispositions to strengthen balance sheets. And with the recent strength in capital markets, we should see further increased efforts to raise equity to reduce balance sheet stress. And that could set the stage for a further advance after a while. Improvement in balance sheet quality and more visibility of the commencement of a new cycle of growth are needed to support rally continuance.
Earnings Estimates
For now, the Sensex is not expensive, or cheap. Earnings estimates for the year ended 3/31/2015 show a slight increase from the 1,519 I posted in my previous post of February 21st, to 1,525 at present. These estimates are on the optimistic side, but perhaps not overly so. I am looking for 1,475, with downside risk to 1,450 and upside to 1,525. A return in confidence in the growth cycle could drive the Sensex to 25,000 (16.5 times forward earnings) very quick.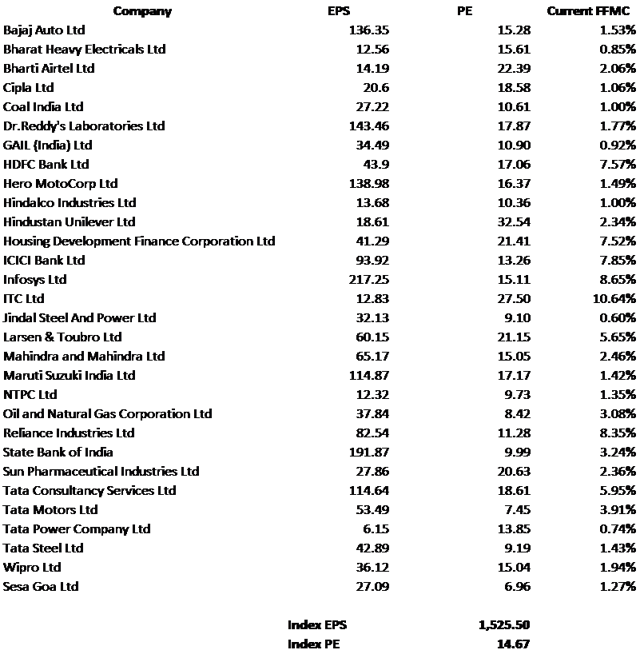 Source: MaxKapital Archives
Disclosure: I have no positions in any stocks mentioned, and no plans to initiate any positions within the next 72 hours. I wrote this article myself, and it expresses my own opinions. I am not receiving compensation for it (other than from Seeking Alpha). I have no business relationship with any company whose stock is mentioned in this article.
Additional disclosure: I am not long India in U.S. markets, however, I have long positions in India in the following stocks: ACC Ltd, Ambuja Cements Ltd, Asian Paints Ltd, Axis Bank Ltd, Bajaj Auto Ltd, Bharti Airtel Ltd, Cipla Ltd/IndiaDr Reddy's Laboratories Ltd, Grasim Industries Ltd, HCL Technologies Ltd, HDFC Bank Ltd, Hero MotoCorp Ltd, Hindustan Unilever Ltd, Housing Development Finance Corp, Infosys Ltd, ITC Ltd, Lupin Ltd, Mahindra & Mahindra Ltd, Maruti Suzuki India Ltd, Tech Mahindra Ltd, Reliance Industries Ltd, Sun Pharmaceutical Industries Ltd, Tata Consultancy Services Ltd, Tata Motors Ltd, Tata Power Co Ltd, UltraTech Cement Ltd, Wipro Ltd, Yes Bank Ltd, Divi's Laboratories Ltd, Godrej Consumer Products Ltd, Dabur India Ltd, Marico Ltd, Tata Global Beverages Ltd, Shree Renuka Sugars Ltd, Welspun Corp Ltd and CESC Ltd.