Earnings season is once again upon us and I'm here to give insight on AudioCodes (NASDAQ:AUDC), which will report its 1st Quarter, 2014 earnings around the end of the month. Last quarter, AudioCodes showed that it was back on track with strong numbers for Microsoft (NASDAQ:MSFT) Lync and a healthy outlook for new product ramps in 2014. I believe AudioCodes will deliver a solid quarterly report with an even stronger quarterly outlook as Microsoft Lync and the overall Unified Communications (UC) space finds itself in a strong global secular growth trend.
| | | | | | | |
| --- | --- | --- | --- | --- | --- | --- |
| Q1 2014 | My Estimates: | Consensus Estimates: | | Q2 2014 | My Outlook: | Consensus Outlook: |
| Revenue: | $35.6M | $35.5M | | Revenue: | $37M | $36.7M |
| EPS: | $0.04 | $0.04 | | EPS: | $0.05 | $0.04 |
| Gross Margins: | 58% | | | Gross Margins: | 58% | |
| Cash Generation: | $2M | | | Cash Generation: | $3M | |
| Debt Reduction (low interest rate on $16M): | $2M | | | Debt Reduction (low interest rate on $16M): | $3M | |
William Blair: Bullish on UC Space:
William Blair's analyst recently attended Enterprise Connect 2014 (March 20th), a communications equipment trade show and came away with a very constructive take on the space and on the names it covers; BroadSoft (NASDAQ:BSFT), 8x8 Inc. (NASDAQ:EGHT) & ShoreTel (NASDAQ:SHOR). In its report, he was very positive on Microsoft Lync being a "disruptor" in the UC space, with it gaining market share especially with larger corporations. In addition, he wrote that carriers are "beginning to embrace, not shunt OTT services" as they begin to deploy their own Over the Top (OTT) services in order to compete with Skype, WhatsApp and Viber. He also believes that BroadSoft is benefiting from the tailwinds in UC spending from the Service Providers it has recently done deals with.
These points can be construed as reasons to own AudioCodes: Microsoft is a key partner for AudioCodes and its One Voice for Microsoft Lync garnered some big customer wins in 2013 such as Cargill, with 140,000 employees and Amgen to name just a few. In February, AudioCodes signed a One Voice deal with BroadSoft to supply the on premise communication equipment to its customers. This deal is not in AudioCodes' $150 million annual revenue estimate for 2014 and as such could prove constructive and could jump start Q2 outlook and revenues for the 2nd half of 2014. With carriers moving to create their own OTT services, AudioCodes could start to see big customer wins for its Mobility Plus Business Edition (BE) platform that enables Service Providers to deliver OTT service to its customers.
Deutsche Telecom (OTCQX:DTEGY) Win:
AudioCodes had one of its biggest customer wins go totally unnoticed as the announcement was overshadowed by its secondary. I believe the Deutsche Telecom deal, to provide its small-to-medium (SMB) business owners with the Multi-Service Business Router (MSBR) is all upside to its 2014 revenues, it probably doesn't get started until Q2 and will not get material until the 2nd half of 2014. However, I will remind you that this MSBR is not a typical router, but rather it's a SBC, gateway and router all in one. AudioCodes made its name in the early 2000s when it went from chipset builder to gateway market share leader (Cisco (NASDAQ:CSCO) competitor). It knows how to own a market and this all-in-one product has the makings to allow AudioCodes to be a market leader again with this product. Deutsche Telecom will help AudioCodes showcase this new product and help it win comparable deals to the one with Deutsche Telecom in the near future. Do not overlook this press release like the market did due to poor timing as the MSBR is a versatile solution to many large corporations (banks, accounting firms, etc.) and small to medium businesses.
Mobility Plus Business Edition (BE):
By the end of 2015, Mobility Plus BE could be AudioCodes' number one product and by the end of this year, it could turn AudioCodes into a massive growth story. While not many investors are familiar with Mobility Plus, (I highlighted it in "AudioCodes Acquires Mailvision: Let the Mobile VoIP Play Begin") I believe the Service Providers are, and that they are turning to it in their attempt to challenge the OTT players such as Skype, WhatsApp and Viber. AudioCodes' Mobility Plus is known for its strong voice engine and software management software that allows for secure high quality voice calling. The Mobility Plus BE is a Software as a Solution (SAAS) which is 180 degrees different than its current VMAS edition for consumers. Currently VMAS is generating approximately $1 per download, which equates to roughly $3 million per year. Mobility Plus BE has more bells and whistles / features than VMAS and as a result will generate more revenue per download, I conservatively predict $3 per download and this higher fee will be on a recurring monthly basis. SaaS is more a recurring revenue model as opposed to the one time licensing fee that VMAS was based on. This is a game changer, a barn burner and a momentum trader's dream. Why? AudioCodes claims to have Liberty Media, Vonage, and Telefonica along with other service providers using its mobility products as well as 10 Israel companies that were using it on a trial basis for 10 plus months. Liberty Media has 25 million enterprises alone. I predict that in 2015 AudioCodes will conservatively have 1 million customers using its Mobility Plus BE for a conservatively low price of $3 per month. This is an all software type service and as such should garner 90% margins. Here's the table below to highlight how profitable it can be to AudioCodes:
Here's an idea of how that goes to AudioCodes' bottom line:
| | | | | | | |
| --- | --- | --- | --- | --- | --- | --- |
| Subscribers | Price per Month | Monthly Total | Quarterly Total (3 months) | Margins | Total per Qtr | EPS per Qtr |
| 100K | $3 | $300K | $900K | 90% | $810K | $0.02 |
| 500K | $3 | $1,500K | $4,500K | 90% | $4,050K | $0.09 |
| 1 mil | $3 | $3,000K | $9,000K | 90% | $8,100K | $0.18 |
Coverage:
AudioCodes' secondary is now over and the company has $29.7 million more in cash, which makes it a more formidable competitor with a solid balance sheet. More importantly, I expect the firms on the deal William Blair and Needham and Co, to join Oppenheimer and initiate coverage on AudioCodes. The increase in research reports, updates and conferences attended will give it more institutional interest. Maybe one of these analysts will really like it. I certainly believe AudioCodes is the best play in the space and will be 2-3 times today's price in 12-18 months.
Chart: The Pullback has been the longs friend.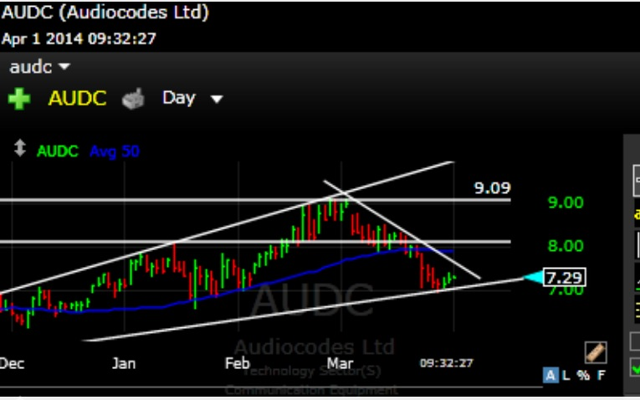 AudioCodes has found support at $7, a break out above the down trend resistance line will take it to new highs. When AudioCodes reports it Q1 2014 earnings my target price for that date, based on the break out is $11. Once again, the pullback should be bought; I made a great call last April with my article "AudioCodes: A Pullback to Remember."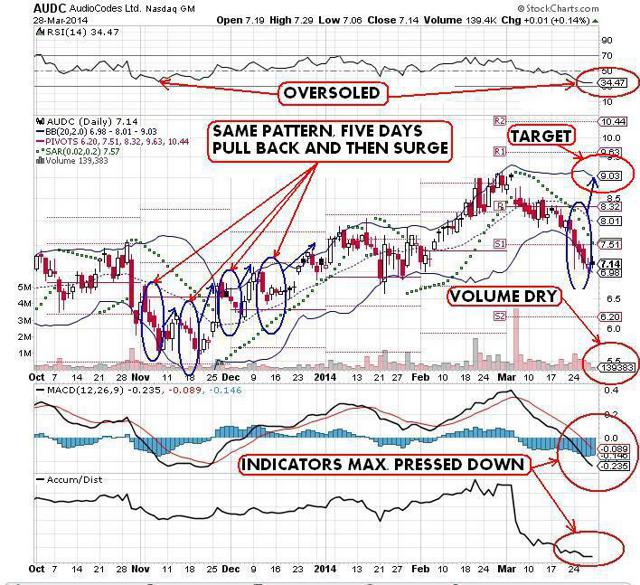 I have included a chart supplied by investor LorenGold. As you can see on the chart, at current levels it is as oversold as it was in November 2013 prior to a 60% move higher. The indicators are suggesting a bottom has been made and a short-term price target would be a reversal to $9 and a longer price target of $14-$15.
CEO's Commentary:
AudioCodes will trade based on the CEO's comments and his outlook as Q1 is usually a seasonally slow quarter for the industry. I get the feeling from the IR/PR flow from the company that he'll be the most confident he's ever been in the past two years. To me, this is the best time to own AudioCodes as institutional and momentum investors will love this name once they look under the hood for the next 2-3 months bringing the stock into double digits.
Disclosure: I am long AUDC. I wrote this article myself, and it expresses my own opinions. I am not receiving compensation for it. I have no business relationship with any company whose stock is mentioned in this article.