Perhaps the most difficult task an investor faces is determining the future profit levels of targeted investments. One can assume the new iteration of the iPhone will be a smashing success or a dismal failure and act accordingly. An investor can peruse several years of 10K and 10Q reports for supplier and customer trends in hopes of determining future growth prospects for a particular enterprise. While research of this sort is often helpful and sometimes profitable; it is, as my grandfather would say, "only a guesstimation."
Why then, when we are presented with a company with nearly a quarter trillion of backlogged orders, are we hesitant to invest?
THE CASE FOR A NEAR TERM INVESTMENT IN GE
General Electric (NYSE:GE) currently boasts a backlog of$244 billion. The company's backlog has grown over 15% from the fourth quarter of 2012 through the 4th quarter of 2013. In 2007, shares of GE traded as high as $42 with a backlog less than two-thirds today's number. Furthermore, the GE of 2014 has shed the risky assets that led to the stampede from GE as an investment during the opening days of the Great Recession.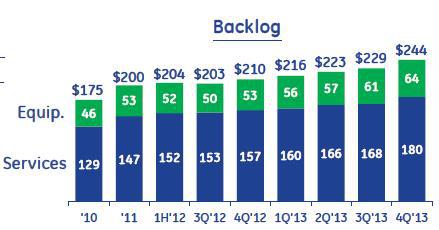 GRAPHIC FROM GE WEBCAST PRESENTATION
It is reasonable to assume much of the blame for the current level of General Electric's share price is related to the debacle GE suffered in 2009. Weighed down by the company's financial arm, GE cut its dividend by 68% as investors watched the stock plummet into the mid-single digits.
In the intervening years, however, GE has rebounded. General Electric made major progress by shrinking GECC, the company's financial component. By 2015, with the spin-off of Synchrony Financial (SYS), GE should complete the final stage of its planned divestment of unwanted portions of GECC. GE could raise $3.5 billion in cash for SYS and decrease GE shares by approximately five percent with the divestiture (For an in-depth summary of the SYS spinoff, see my article: GE: How The Upcoming Spin-Off Will Prove Profitable).
By the end of 2014, GE Capital's ending net investment should be cut to approximately $350 billion or less. This contrasts sharply with the $630 billion held by GECC in 2007, just before the financial crisis.
GE has also shown contrition for the sin of sharply cutting its dividend during the height of the financial crisis. In 2013 alone, GE returned $7.8 billion to investors in the form of dividends and an additional $10.4 billion in the form of buybacks. The company set a target of reducing its float to 9.5 billion by 2016. Should that initiative reach fruition, the buybacks alone would increase the stock price by 6.5% over the next two years.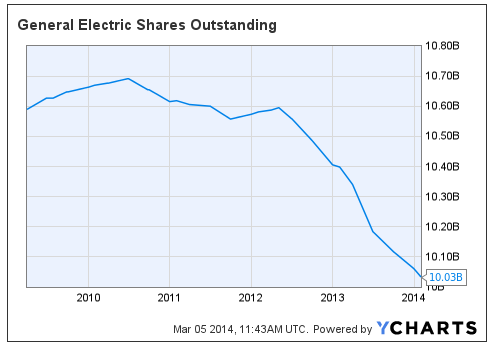 GRAPHIC FROM YCHARTS
In 2013, GE increased its dividend by sixteen percent, and in the past five years, the company's dividend has soared by 120 percent. With a payout ratio of 51% and projected robust growth in EPS, one can anticipate substantial growth in future dividends.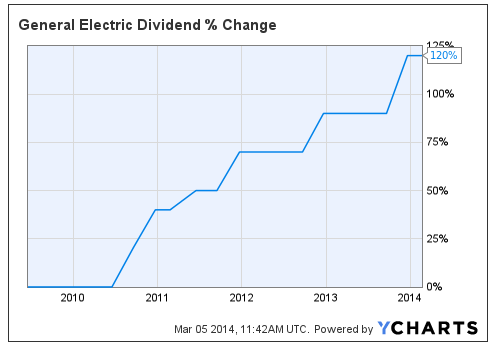 GRAPHIC FROM YCHARTS
General Electric is now a company geared towards industrial expansion and infrastructure development. The various segments of GE manufacture a broad array of products to include subsea drilling and production systems, consumer appliances, locomotives, wind turbines, water treatment equipment, jet engines, medical imaging equipment and much more.
The product diversity is matched by the company's geographic reach. Today's GE now reaps revenues of $1 billion or more in 24 countries.
The industrial arm of GE boasted a 10% YOY increase in revenues in the last 4th quarter.
Revenues in six of nine regions increased by double digits:
China up 13%
Russia up 18%
Latin America up 17%
Canada up 23%
ASEAN up 30%
SSA up 59%
Global infrastructure spending is projected to reach $60 trillion by 2030. GE is arguably better positioned than any other company in the world to capitalize on the demand for increased infrastructure expenditures, fueled largely by a growing world population and a burgeoning middle class.
INSIDERS AND NOTED INVESTORS ARE BULLISH ON GE
It is old news to those who invest in General Electric that Jeffrey Immelt, the CEO of GE, recently invested his entire bonus in the company's stock. It is my guess that fewer are aware of the purchase by two General Electric directors of GE shares to the tune of six figures.

GRAPH SOURCE YAHOO FINANCE
According to the latest 13-F filing by Berkshire Hathaway (NYSE:BRK.A) (NYSE:BRK.B), Warren Buffett recently increased his stake in GE from 600,000 shares to over 10,000,000. I also note that throughout last year, an investor I hold great respect for, Ken Fisher, held GE as one of his ten largest investments. While I never follow Buffett's, Fisher's or any other investor's lead, I consider it a positive when my independent analysis corresponds with the holdings of insiders and market gurus.
THE CATALYST FOR GROWTH IN COMING DECADES
The title of this article promised to provide the investor with a basis for a very long-term investment in GE. While I hope I have constructed a cogent argument for investment in GE for the immediate future, I believe I can convince investors that GE warrants consideration as a legacy investment.
Before I embark on that journey, I must pause to provide the reader with the following insight. Global warming issues have become fraught with political connotations. That which I will present has nothing to do with global warming. The shortages I outline will occur independent of any weather trends. The science behind these prognostications are literally universally accepted, and while they present tremendous challenges, they also offer the investor the prospect of huge rewards.
Many readers have been told for a number of years that water shortages are the next huge crisis. If you are one of those readers, you may consider this as another in a series of articles to be easily dismissed.
The evening after I wrote this piece, the following headline appeared, prompting me to include it within this article: "Water shortages pose growing risk for American companies." The article quotes industry leaders as voicing concern over current and pending water shortages.
It is ironic that on a globe encompassed by water, mankind faces a looming shortage of the fresh water needed to sustain civilization. Current projections indicate demand for fresh water will exceed supply by 40% by 2030. Agriculture requires 70% of the world's fresh water supply. Surface water only accounts for one percent of the world's fresh water supply. Thirty percent of all fresh water resources are underground; the remaining fresh water is preserved in glaciers. As the global population increases, strains on water resources mount. The threat of water scarcity, if left unaddressed, will surely lead to political and social upheavals of epic proportions.
The primary problem is the global reliance on underground aquifers to supply fresh water (For information on the importance of underground aquifers to the world's freshwater supply and an overview of aquifer depletion rates, see my recent article: General Electric, Veolia And More: Investments For A Thirsty World).
The most likely source of fresh water in the future will come from the construction of desalination plants, and GE currently stands as the second largest supplier of equipment and expertise in that industry. It should be noted, there are very few companies positioned to benefit from looming water problems, and many of the corporations competing against GE in the field are relatively small enterprises.
While water from desalination plants currently costs six to nine times that of fresh water, recent technological advances promise to lower the cost of desalination. Power requirements represent one third of desalination costs. Less than two years ago, GE introduced a new pumping system that reduces energy costs by ten percent. Meanwhile, Lockheed Martin (NYSE:LMT) recently developed a desalination product that promises to filter water "at a fraction of the cost of industry-standard reverse osmosis systems."
As these and other technologies collide with pent-up demand for essential water resources, GE stands to profit mightily. General Electric's Water and Power segment already boasts the greatest growth within the company.
Now consider this; today there are approximately 11,000 desalination plants worldwide. Those 11,000 desalination facilities have a cumulative capacity of around 4 billion gallons daily. This represents only 0.26% of world demand. Assuming future desalination plants have the same average capacity, the world will need 1,760,000 desalination plants to meet global fresh water needs by 2040.
Add to that other factors, such as Africa's current 100-gigawatt deficit in electricity, and you can envision the quiescent growth potential for General Electric's Water and Power segment. Yes, GE is a legacy stock, an investment one can pass down to future generations.
AN ASIDE
A few weeks ago, a friend of mine asked for my assessment of GE. I conducted a quick overview of the company and advised him an investment in the company was not to my liking. The company has a balance sheet that does not meet my usually rigorous standards, and I consider it to be trading at fair value.
Since that day, events lead me to conduct an in-depth investigation of General Electric. Obviously, my position on the company has changed. While I generally require a company to trade well below fair value prior to making an investment, I see General Electric's future prospects as compelling.
I currently view the recent dip in GE's stock as a buying opportunity. I purchased GE's stock on two occasions last week with an average price of $25.83 per share. It is my hope to extricate myself from a position I currently hold in a differing investment and increase my share count in this corporation.
Disclosure: I am long GE. I wrote this article myself, and it expresses my own opinions. I am not receiving compensation for it (other than from Seeking Alpha). I have no business relationship with any company whose stock is mentioned in this article.