Well, the market has got many folks scratching their heads. Things were fairly obvious once the S&P 500 was rejected by its 50-DMA back in early May. Indeed, that was the first time we'd seen a rejection like that since the rally began back in March 2009. And it sent a clear signal: stocks are going down.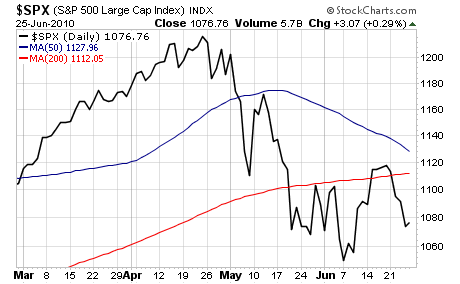 Things continued to be pretty obvious for about three weeks, with stocks collapsing, then posting a weak dead cat bounce that failed to break above even the 200-DMA (again a first).
We then had some choppy action followed by a second failed re-test of the 200-DMA, which again kept things pretty straightforward: stocks have STILL got more work to do on the downside.
By the time we hit early June, it was Crash or Rally time: either the market was staging a full-scale Crash right then and there, or we were going to be a strong bounce.
The market went with option "B."
And this was when things started getting a bit confusing. First we had a strong rally with the S&P 500 breaking above its 200-DMA. However, rather than simply making a clean break, it struggled at this level for some time as if neither the bulls nor the bears wanted to take control. In trader speak, the market was "churning."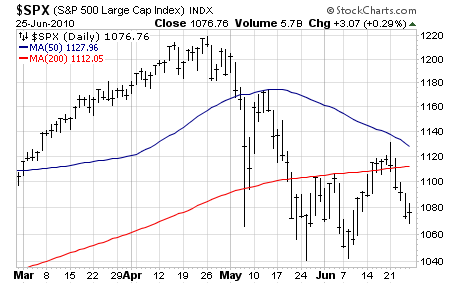 We then had a major break higher on the intraday chart with the S&P 500 rallying to test its 50-DMA. However, this challenge was beaten down hard and Monday June 21 ended up being a "reversal day": a day in which stocks break to a new high but then close at a new low.
This sent a clear signal that we were likely to see additional downside in the near-term. The only confusing thing was that the market internals were not showing the kind of "selling pressure" we'd need for a full-blown rout. Indeed, market volume had dropped significantly on every successive plunge since the April top.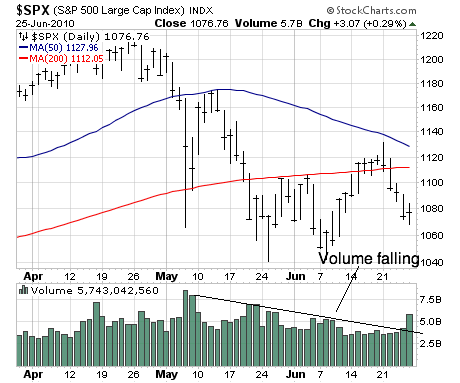 Note how the one-day that broke this trend by posting a swell in volume was last Friday, which was an "up" day. This sends a message that we are likely entering into a significant bounce here, perhaps even a final test of the 200-DMA.
Indeed, as I told subscribers of my Private Wealth Advisory newsletter last week, there is a very specific "institutional" reason for stocks to rally now.
By all counts, May was an awful month for most mutual funds and institutional investors. Indeed, it was the worst May monthly performance since 1940.
Now, all of these guys have to post their monthly returns to their shareholders. So there is a HUGE incentive to claim May was a "fluke" and not the start of something bigger. In other words, MOST of the big boys are going to do all they can to end June better than they did in May. This means doing EVERYTHING they can to keep stocks positive for the month.
The proverbial "line in the sand" for this is 1,070 on the S&P 500 (the S&P 500's level at the start of the month). As long as the market stays above this line most institutional investors will be able to record a positive month for June.
So I think we will likely see a bounce into the end of the month. It could even be a sharp bounce, the kind of move to sucker some folks into believing that the downtrend is broken and that stocks could potentially make for a significant rally or even a re-test of the 200-DMA.